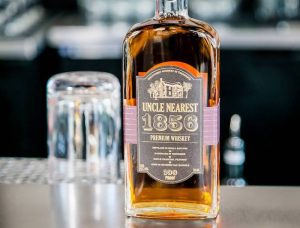 This past weekend I spent some time back in the good ol' home state of Iowa, as I met up with my parents to swap vehicles while they move, and then continued on to my buddy John Waters' house in Clear Lake. It was a simple weekend filled with great friends, good food, and some damn fine whiskey. Going into Iowa gave me a chance to scope out some stuff I can't find here in South Dakota and I found some gems. I came across an Elijah Craig B519 Barrel Strength, a Very Old Barton Bottled in Bond, and a 2017 release of Basil Hayden's Rye. To be quite honest, I would have been shocked to find one whisk(e)y of this caliber, but three was a real treat. My initial plan was to bring all of them back to add to the personal bar, but all of 20 minutes into John and I being together and we had cracked open the Barton's and Elijah Craig. The Basil Rye made it until dinner the next day, but in a matter of hours our group had polished it off. All were stellar, but sadly none of them made it back to Sioux Falls with me. They all served their purpose and made for a weekend I won't soon forget.
I wish I could say that what I was drinking this weekend was what we were focusing on this week, but unfortunately only one of the bottles can be found around us and we haven't seen any Elijah Craig B519 for some time now. But much like the whiskies I found in Clear Lake, we have some spectacular hidden gems that people don't always know to look for. That said, this week we are emphasizing Uncle Nearest Tennessee Whiskey, Michter's Barrel Strength Rye, Knob Creek Twice Barreled Rye, and Blood Oath Pact #5.
Uncle Nearest is a new whiskey to us, but not a new whiskey to our market. Nearest Green was the greatest Master Distiller to not be recognized at his time; without Nearest, there is no Jack Daniel's. Nearest was the first African American Master Distiller for Jack Daniel's, aiding in the creation and perfection of the Lincoln County charcoal mellowing process still used to make premium Tennessee whiskey. Today, we have only one picture of Uncle Nearest, but we have a whole lot of whiskey to remember him by. When drinking Uncle Nearest 1856, this whiskey is a caramel silk bomb. Light and lavious for a whiskey of 100 proof, it is quite enjoyable as a sipper.
Michter's Barrel Strength Rye is one of those ever elusive whiskies. We're lucky to see a couple bottles a year, and luckily for you as well, we have it in our bar. At 101.8 proof, it's plenty hot on top of the rye spice. With a finish that is long and drawn out, you really get a chance to appreciate the pepper spice balanced with vanilla oak notes.
Knob Creek Twice Barreled Rye is the latest twist on rye that Knob Creek has experimented with. About a year ago, you'll remember that they released a barrel strength rye that was superb, and this one doesn't disappoint either. Having been refined by the second barrel, this whiskey is balanced between spice and sweetness. A nice mix up to the everyday notion that rye is spicy.
And finally, Blood Oath Pact #5. A blend of 13, 11, and 8 year old bourbons each with varying cask finishes that impart unique flavor characteristics from smoked wood, to Caribbean spiced orange. A very dark and heavy whiskey, this one is my favorite of the week, not just because of its rarity, but also just because it's so beautifully crafted. It truly shows how skillful one must be to blend whiskies to create something so delicious.
That's it for this week's Whisk(e)y Wednesday. As always, Tom and I will be your bartenders in the 3.0 Cocktail Bar with all of our tips made being donated to a local charity at the end of the month. This month's charity is Coat's for Kids, a local program that provides children in the Sioux Falls area with coats for the harsh winters.