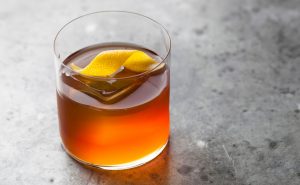 We're back! I've been in and out of the rotation the last few weeks, but hopefully going forward we're more consistent with our Whisk(e)y Wednesday write-ups. This week is a little different from past weeks, as we'll shift our focus to whisk(e)y based cocktails. Why are we doing that when we offer half price whisk(e)y flights you might ask. Well, frankly, we're waiting for our big unveiling of the Knob Creek Single Barrels we have coming, but their status is still in limbo. While we impatiently wait, let's talk about some easy, yet fun cocktails for you to enjoy on the patio or take home and make for your significant other. Let me preface this with the fact that all  of these cocktails are courtesy of Michael Dietsch, the author of Whiskey: A Spirited Story with 75 Classic and Original Cocktails. This book has been extremely informative in my journey of gaining knowledge about whisk(e)y. For those curious about basic history and production of whisk(e)y all around the world, as well as some kick ass recipes, I highly recommend you give it a read.
The first one this week is the Presbyterian. Inspired by my love for a good Kentucky Mule (Kentucky bourbon, lime, ginger beer), when I found this one I had to try it. The Presbyterian dates back to probably around the 1890s, but no one knows for sure. It isn't very clear where the name came from either, as many of the cocktails I'll share have a similar story, but does it really matter? As I said before, this drink is easy-blended Scotch, ginger syrup, lime juice, and club soda. For an at home version in the case you don't have ginger syrup, use 2 ounces blended Scotch, 2 ounces spicy ginger ale, and 2 ounces of club soda poured over ice.
The next cocktail is yet another Scotch cocktail. The Rob Roy came about in the 1890s as well and was named after a musical about the life of Scottish hero Robert Roy MacGregor. Served in the style of a Manhattan, this drink requires 2 ounces of blended Scotch, 1 ounce sweet vermouth, 2 dashes orange bitters, and an orange peel for garnish. After stirring with ice in a mixing glass, strain into a chilled glass and serve neat.
For our third cocktail, I figured I would pay respect to Tom and his love for Boston and the New England Patriots. The Ward Eight Cocktail is similar to a whiskey sour, but with some vitamin D. It's believed to be named in honor of a fellow who was elected from Boston's Ward Eight in the 1898 election. This drink calls for 2 ounces of rye whiskey, ¾ ounce lemon juice, ¾ orange juice, and 1 teaspoon grenadine. Shake everything with ice and strain into a chilled glass.
Each of these cocktails will be available during Whiskey Wednesday along with the usual half price flights this week. Or,if you're feeling creative, visit the retail side and we would be glad to show you where you can find the ingredients to make these great drinks. A reminder that Tom and I will be your bartenders and we will be donating all tips to charity. We are excited that this month we will be donating all of our tips to Team Kayley and her goal to help find a cure for Spinal Muscular Atrophy.