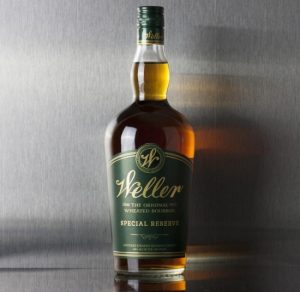 Last week I teased the Knob Creek Single Barrels that we have coming, a 120 proof bourbon and a 115 proof rye, but unfortunately there has been a few mishaps on the post-pick production side and we won't see those barrels until likely sometime in November. Do not fear, we still have plenty of good stuff to drink in the meantime, and while we don't have a new single barrel, we have gotten our hands on a few really good bottles of whiskey including Weller Special Reserve, Knob Creek Twice Barreled Rye, Knob Creek Barrel Proof Rye #2, and a new one to the market, Peerless Rye. All of these whiskies are finely crafted works of art that you won't find forever, and each will be poured this week in our featured flight.
Weller Special Reserve is a wheated bourbon from Buffalo Trace that is somewhere around 7 years old. While it isn't super pricey, it can be hard to find around here. Last week we got in a few bottles and one made its way to the bar side for straight pours. As a whiskey, it is very light on the nose and palate, with hints of light apple, caramel and vanilla. It's not a bold heavy hitter, but it is a smooth bourbon that would be perfect for a relaxing sipper.
Knob Creek Twice Barreled Rye is a 100 proof limited edition bottling that takes the regular Knob Creek Rye and secondarily ages it in a heavily charred barrel. This secondary finish adds more vanilla and caramel notes than what are typical of a rye, but it still provides the peppery, dry, oak spice we are accustomed to in rye. While a bit sweeter than conventional rye, this edition is certainly treats us to a unique side of the craftsmanship that goes into making whiskey.
Knob Creek Barrel Proof Rye #2 is the second batch release of the rye that won "Best Rye Whiskey" at the 2018 San Francisco Spirits Competition. At 9 years old, uncut and unfiltered, this is no whiskey for the faint hearted. On the nose you can tell it is hot and spicy, but with a little bit of time to breath, it opens up nicely revealing some nice dark chocolate notes along with plenty of vanilla. It is a big bodied whiskey and is quite dense when it is on the tongue, coating the inside of your mouth so the finish lingers. I tasted a lot of red cherry licorice when I had it, but I'll let you try it and tell me what you taste.
Finally, Peerless Rye is a three year old rye whiskey bottled at barrel proof. A revitalized brand that had been dormant for 98 years, Peerless has placed an emphasis on creating balanced, flavorful whiskey. Originally located in Henderson, Kentucky, when the distillery was reopened, it found a home on Whiskey Row in downtown Louisville. While only three years old, this rye still packs in plenty of spice with a touch of maple and brown sugar sweetness.
That's it for this Whisk(e)y Wednesday with Zac. Tom and I will be your bartenders this Wednesday with all of our tips being donated to Kayley Shade and Team Kayley in their goal to cure Spinal Muscular Atrophy.