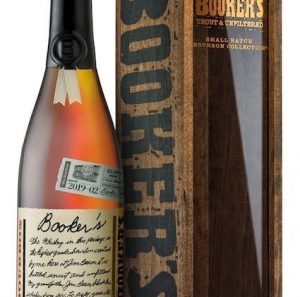 We're in the dog days of summer, kids are going back to school, and football hasn't quite got into its full swing yet. There's not much that is getting us out of the house right now, but how about some new whisk(e)y?! The last week has brought us a few new goodies in the bourbon category and in the blended Scotch category from the likes of Jim Beam with a new batch of Booker's, and from Johnnie Walker with new additions to their Game of Thrones line.
As workers sample the barrels, they rub off the dust, leaving behind evidence that the barrels has been tapped into. The less dust on a barrel, the more likely it is that it's been visited multiple times, telling the Master Distiller it's a favorite of the warehouse workers. While hot on the palate at over 120 proof, like the rest of the Booker's line, this bourbon delivers incredible flavor and complexity. A caramel bomb that makes for a fantastic sipper for those that like a hearty burn to accompany the brown sugar and caramel notes in this gem. I may be a bit bold in saying this, but I wouldn't be surprised to see this show up as a top 25 whiskey worldwide for 2019.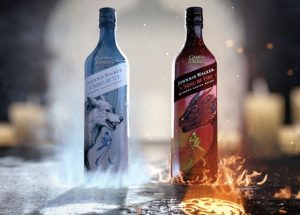 Next, comes 2 new editions from Johnnie Walker. Continuing their relationship with HBO and Game of Thrones, Johnnie Walker has unveiled A Song of Fire and A Song of Ice, representative of House Targaryen and House Stark respectively. Each are unique blends of single malts of distinct regions. Johnnie Walker A House of FIre is a blend of single malts from Caol Ila distillery, providing peat and smoke notes with dark fruit tones, ending warm and spicy. Johnnie Walker A Song of Ice takes blends of single malts from Clynelish, Scotland's northernmost distillery and capitalizes on the clean, and crisp notes of honey and vanilla. Both come in badass bottles and are part of their limited Game of Thrones series. Available on the retail side for a limited time. If you're looking to begin the collection, or even bolster your current collection, we do still have a few bottles of the first release in the series, the White Walker Edition.
Finally, for the feature flights this week we will have a few. The first one, will be any four of the Booker's in a flight. I'm a big fan of Booker's for the most part because I like the big, bold, brash bourbons that are on the market right now. I want to taste what it was like as close to straight out of the barrel as possible and Booker's delivers that with every batch release. Even if high proof isn't your thing, the beauty of the Booker's line is that it holds up with water added, so you can add a cube or a splash of water and still experience the complexity and beauty of master blended bourbon.
Along with our bourbon flight, we will also have two Scotch flights. Sticking with our theme of Game of Thrones, I figured, why not revisit the Game of Thrones Series that was released back in November. The first flight will feature the Night's Watch Edition from Oban, House Tully from Singleton, House Tyrell from Clynelish, and House Stark from Dalwhinnie. The second flight features House Lannister from Lagavulin, House Greyjoy from Talisker, House Targaryen from Cardhu, and House Baratheon from Royal Lochnagar. While the show is over, and full bottles of these whiskies are no longer available, we can still sip and reminisce what was one of the greatest shows ever created.
We hope you get a chance to stop in this week, even if not for Whisk(e)y Wednesday with Zac, just to chat. There's nothing that I enjoy more about my day than getting a chance to talk whisk(e)y with our customers. Well, maybe cutting fruit to prep the bar, but that's for therapeutic reasons. Anyways, I want to wrap up by saying thank you to all of YOU who have made the last few months of Whisk(e)y Wednesday so much fun. I'm looking forward to seeing where it grows.
Reminder that for Whiskey Wednesday with Zac all tips are donated to a charity each month. This month, Kayley Shade and her organization of Team Kayley will be the recipients of our donation with all money raised being used to help find treatments and a cure for Spinal Muscular Atrophy.