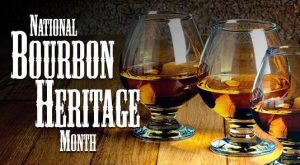 Happy National Bourbon Heritage Month to all the fellow bourbon lovers out there! In August of 2007, the United States Senate officially passed a bill recognizing September as National Bourbon Heritage Month after a campaign led by Kentucky Senator Jim Bunning. After being recognized as the United States national spirit in 1964, bourbon has grown in popularity and history, making it a key factor in our economic, and socioeconomic cultures. So how do you celebrate National Bourbon Heritage Month? Well, responsibly of course, but you also celebrate with bourbon. This entire month we will focus in on key players in the development and growth of bourbon, and how the work they did is still important today.
This first week we will focus on George Garvin Brown, the man responsible for bottling bourbon for the first time. George Garvin Brown was a pharmaceutical rep turned bourbon distiller, who is credited with bottling bourbon because he wanted to insure its quality. Having the pharmaceutical background, George was accustomed to elixirs and drinks coming in glass containers, so when he was ready to sell his bourbon, he did so the same way rather than sell by the barrel. With the help of his accountant and partner George Forman, Brown-Forman was created, and Old Forester Bourbon was their product. As pressure for a national prohibition began to rise, so did sales of Old Forester. In 1920, when Prohibition began, Old Forester applied for and received a license to continue to distill whiskey, as long as it was for medicinal purposes. Old Forester remained open throughout all of Prohibition, and because of that they have remained a staple in the bourbon industry. Today, Old Forester is one of the most recognizable brands in the bourbon industry, and Brown-Forman as a corporation is one of the largest American-owned spirits and wine businesses. Bringing us products from Jack Daniel's, Woodford Reserve, and Old Forester, their portfolio is well rounded with bourbons and whiskies of complexity, depth, and of course great flavor.
For our featured flights this week, strictly Brown-Forman products. The first flight will be emphasize Woodford Reserve with offerings of the Woodford Reserve Straight Rye, Woodford Reserve Straight Bourbon, Woodford Reserve Double Oaked, and Woodford Reserve Master's Collection Cherry Oak. This flight is going to impress a lot of bourbon lovers out there, and it might even get you to open up to the idea of more rye whiskies. Our next flight will be from Mr. Jack Daniel's with pours of Gentleman Jack, Jack Daniel's Single Barrel Rye, Jack Daniel's Sinatra, and Jack Daniel's Store Pick #2 Barrel Proof Single Barrel. I love this flight mostly because that last one on there is a barrel I picked myself, and I think it's the greatest whiskey ever made. While it's very hot, it's full of vanilla and chocolate notes. And our final flight is brought to us by none other than George Garvin Brown. A compilation of bourbons made in the style Mr. Brown would have done himself, Old Forester Signature 100, Old Forester 1870 Original Batch, Old Forester 1897 Bottled in Bond, and Old Forester 1920 Prohibition Style. This bourbons have some heat to them, but underneath of it, you'll find a real gem of a sipper that you can play with proof on to fit your exact needs and desires.
That's it for this week, with a new month means a new charity that our tips will be donated to. This month, we are partnering with Great Plains Dental and Dr. Kris McKinney to present our donations to Kilts for Kids. Tom and Kris have each agreed to match the tips made this month in the donation as well. We look forward to seeing you and chatting about whisk(e)y!