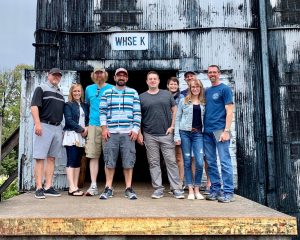 We have just one week left in National Bourbon Heritage Month, and Tom is celebrating accordingly with a group in Kentucky by picking out 6 more single barrels that will grace our shelves around the holiday season. These trips are always a lot of fun, and also very vital to our business. It gives us a chance to educate our employees, as well as our customers that travel with us. Plus, you get to spend 2-3 days drinking some of the best bourbon available, and you see the behind the scenes process that goes into making America's spirit. Seeing downtown Louisville doesn't suck either, and getting a drink at the historic Seelbach is an experience that any true bourbon fan should have on their to-do list. If you're interested in making one of these trips with us, stop in and talk to Tom or myself about openings in our upcoming trips. We'll make our next barrel selection trip in January, and are looking to take another group of bourbon lovers with us. No dates are nailed down yet, but we would love to tell you more about what all the trips entail.
Single barrel bourbons are unique in the fact that they cannot be replicated, and no two barrels are ever the same. 70% of whisk(e)y's flavor and 100% of it's color comes from the barrel. Blanton's is recognized as "The Original Single Barrel Bourbon" with other high quality year round single barrel offerings from brands like Evan Williams, 1792, and Henry McKenna.While these offerings are delicious, I believe that our store pick single barrel program provides bourbon drinkers with an experience similar to what master tasters and master blenders go through in training and developing their palate. We take great pride in what our Single Barrel program provides to our customers-high quality bourbon from some of our favorite distilleries that has some subtle differences from their regularly bottled product. As I have said before, we don't distill our own whisk(e)y so our single barrel program allows us to bring you expressions of bourbon that we find to be exemplary. It also helps you as a customer put yourself in a situation to get your hands on some of the rarest and most allocated bourbons produced. By purchasing our single barrels, you are accumulating additional points on our allocation list. At the end of November when we have all of our allocated bourbons for the year, we pull those point totals and invite our top 30 to participate in our allocation draft. The more points you have, the earlier you pick, allowing you an opportunity to get ahold of some elusive bourbons like Pappy 23 Year and Old Forester Birthday Bourbon. Purchasing our store pick single barrels is the quickest and most consistent way to work your way up our allocation list.
That all said, this week's featured whiskies are our single barrels. We have bottles that were picked over five years ago and are still delicious. I must admit, that at times it is fun for Tom and I to revisit some of his Knob Creek and Four Roses picks from years past, just to see how they compare to our current picks. The stories that go along with each pick are awfully cool, too. So without further ado, a list of our current single barrels available by the pour in The 3.0 Cocktail Bar-Old Forester SB #3 Winter Warmer, Old Forester SB #4, Blanton's SB #1, Blanton's SB #2, Elijah Craig SB #1, Jack Daniel's SB #2, Buffalo Trace SB #5, Buffalo Trace SB #6, Buffalo Trace SB #7, Knob Creek SB #3, Knob Creek SB #5, Knob Creek Kentucky Derby SB, Knob Creek SB #9, 1792 SB #4, Four Roses SB #1, Four Roses SB #2, and last but not least, Four Roses SB #3. While you can enjoy all of these great single barrels are the bar side, unfortunately, the only one we still have for sale by the bottle is Old Forester SB #4. Pick any 4 of these to complete your featured flight. Too many to choose from? Ask your bartender which ones they recommend pairing together.
As always, all tips from Whisk(e)y Wednesday with Zac will be donated to charity. This months tips will be going to our good friend Kris McKinney and his charity Kilts for Kids. All tips up to $1,000 will be matched by Tom, and with this being the final week of Whisk(e)y Wednesday in September, let's get that number.
I'll be out of the store next week, spending some time with Kenadi in the San Francisco/Napa Valley area expanding my knowledge on wine. Don't worry, San Francisco's annual WhiskyFest event is happening while we're there as well, so I'll still be keeping up on drinking plenty of bourbon.