To start Whisk(e)y Wednesday, I need to share some personal news. A few of you might have noticed that there was no post last week, and I wasn't around the store. I was actually out in San Francisco and Napa Valley studying wine and making the smartest decision of my life, proposing to Kenadi. She said yes, and we are both extremely excited for what life has in store for the two of us. To say it was the trip of a lifetime would be an understatement, but I won't bore you with too many details, but I do have to share about my experience at WhiskyF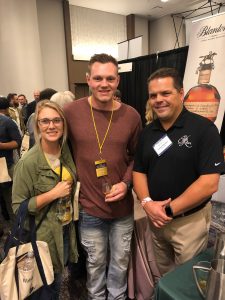 est.
When I originally planned this vacation, I jokingly told Kenadi that we were going to spend an evening drinking whisk(e)y from 70 different distillers anticipating she would tell me to kick rocks, but she said she'd be in as long as they fed us. Luckily, they did, so she and I spent about 3 hours floating from booth to booth sipping and talking about some 350+ whiskies from all over the world. For the most part, I stuck to American bourbons trying each of the 2019 Buffalo Trace Antique Collection, Woodford's Wheated Bourbon, Lux Row Double Barrel, Daniel Nicholson, and many many more. Kenadi got to try an oyster for the first time along with some Bowmore 12 year (both of which she found to not care for), and we enjoyed an all you can eat buffet of red meat, chicken wings, and potatoes. After my second trip to the Buffalo Trace booth, I finally mustered up the courage and asked Harlan Wheat, Master Distiller for Buffalo Trace, if he would take a picture with me. That was definitely a cool moment. When the night was over, I had sampled somewhere around 18-20 whiskies that were all brand new to me. Now we just have to figure out how to get them all distributed here so I can share with you. Overall though, an awesome experience that I was glad I got to share with my fiancée, and one that I think convinced her to let me have a giant whisk(e)y bar at the wedding.
So how do we top WhiskyFest at JJ's? Well I don't know if we do, but I can say we have almost 300 bottles of open whisk(e)y currently on our back bar, all of which are prime for drinking right now. From American bourbons and ryes, to Islay Scotches, to unique Japanese blends and single malts, we have you covered and with half priced flights all day on Wednesday, there really is no better time to try something new, or splurge on something you've wanted to try for a while.
For this week's feature, I want to emphasize Templeton Rye for a few reasons. One, the distillery is only 15 miles from where I grew up, but it took until about 8 months ago for me to finally put that together. Two, the whiskey they have on the market right now is really good, and is becoming increasingly popular. They had a stand at WhiskyFest, and every bar we visited had either the 4 year or the 6 year on the shelf available for pours. Pretty neat for me to see when I consider how small my hometown is and how much smaller Templeton is by comparison. Small town Iowa doing big things in the world. That all said, this week's featured flight will have Templeton 4 Year Rye, Templeton 6 Year Rye, Templeton Maple Cask Finish Rye, and Templeton Barrel Strength Rye.