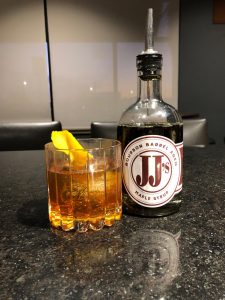 We're growing and evolving as a bar, and as that happens we have to make some changes and improvements. This week, those changes come in the form of additional offerings on our cocktail menu. If you listen to the radio, or even just stop in to shop or enjoy a drink or two, you probably know about our house 3.Old-Fashioned made with our exclusive Bourbon Barrel Aged Maple Syrup courtesy of Don and Mary Somers at Somerskogen Sugarbush in Minnetrista, MN. We think this little touch makes it the best Old-Fashioned in town, but ultimately that is up to you to decide. We have primarily showcased this magnificent alternative to simple syrup with one of our store pick single barrel bourbons, but we are excited to expand our Old-Fashioneds list to include some other spirits that go great with it as well.
Before I get too much into our Old-Fashioned expansion list, I want to give a brief history on the origin of the Old-Fashioned. Labeled originally as "The Whiskey Cocktail", the recipe called for a bartender to use water and bitters to dissolve granulated sugar, add whiskey and stir, finishing by adding ice so as not to dilute the drink too heavily. The word cocktail was first used in 1806, in a Hudson, New York newspaper. At the time, cocktail was synonymous with a "bittered sling", a drink comprised of whiskey, sugar, and water all stirred together. As bartending has evolved, so has the usage of the term cocktail, and what it means. As drinks got fruitier and fancier, people began to miss the good ol' days when a cocktail was as simple as whiskey, sugar, and bitters, so they would ask for their cocktail to be made in the Old-Fashioned way, hence the name. 
Bartenders all over argue about the exact way to make an Old-Fashioned, as simple syrup has begun to replace granulated sugar so it is fully dissolved, but there are still traditionalists out there that believe you should muddle your water, sugar, bitters, and sometimes an orange peel in the base of the glass before mixing since this was the way it was initially done. While we recognize the importance of paying homage to the past, we like to make ours more so in the new school way by using our maple syrup, bitters, and whiskey, with an orange slice as a garnish. Whatever your preference, it's delicious.
So what Old-Fashioneds are we adding you may be wondering. Well, we're going to use a few different spirits as our base to provide you with plenty of options depending on your palate including a Knob Creek Rye version, a rum Old-Fashioned made with Santa Teresa 1796, an Oatrage Old-Fashioned made wiith Corsair's Oatrage oat based whiskey, an Irish Old-Fashioned made with Slane Irish Whiskey, and finally, a mezcal Old-Fashioned made with Sombra Mezcal. Each of these are courtesy of our lead bartender and bar manager, Jon Lagge, so if you like them, make sure to give him kudos.
Don't forget, this week is Boss' Week with Boss' Day on Wednesday, and a gift card to JJ's is a great way to tell your boss you appreciate them so much that you want to let them pick out exactly what they want. Gift cards are redeemable at JJ's Axes and Ales, our retail store, or if used in full at the 3.0 Cocktail Bar. Don't want to do a gift card, bring your boss down for one of our new Old-Fashioned options, or a half price whisk(e)y flight all day Wednesday.
As always, all tips made during Whisk(e)y Wednesday with Zac will be donated to charity. This months charity is Feisty Fighters, a local charity that supports women in our community that are fighting breast cancer. We hope to see you all at some point this week!