It's a celebration of life today, as the man that leads our ship turns 49. It is only appropriate then that we commence this celebration with cake, but with a little JJ's twist. This "cake" has been patiently aging in a Knob Creek Single Barrel that you as our faithful customers helped us to choose about a year and a half ago when we were at JJ's 2.0. We're excited to be tapping Remedy's Cake Imperial Stout that has been bourbon barrel aged and appropriately named "Caketucky" in celebration of Tom's birthday, so stop by, grab a glass, and celebrate the countdown to 50!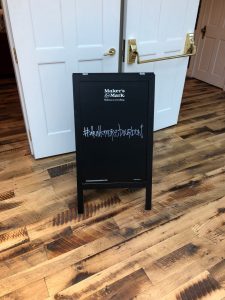 It would be a disservice to not mention the impact that Tom has had on JJ's since its inception. Opened initially on September 18, 1998, Tom remains as the only employee to be with the business through all three locations. Having bought the business in 2011, JJ's 2.0 and JJ's 3.0 have been constructed in his vision, and it is my pleasure to continue to ensure that we are meeting the high standards that Tom has established. He would be the first to tell you that no matter how difficult the days, weeks, and months may have been, it has been the most rewarding experience one could imagine to build relationships with our customers and be active in the community of Sioux Falls for over 20 years now. While we recognize how far we have come, our pursuit to provide top notch customer service in conjunction with premium and super premium adult beverages is never ending, and we are ready to embrace the road ahead. We look forward to continuing this journey and continuing to connect with our most vital resource, our loyal customer base.
Fear not brown spirit lovers, the birthday festivities won't get in the way of Whisk(e)y Wednesday with Zac. If there is anything that I have learned in my two years working for Tom, it's that no celebration is complete without whisk(e)y. Last week brought in some real gems, with plenty of new stuff to the market. Jim Beam's annual release of Little Book graced our shelves in the form of limited release batch #3 "The Road Home," as well as Booker's third release of 2019, "Country Ham." Both of these stellar bourbons are uncut and unfiltered, and never to be replicated again, so enjoy them by the pour in the 3.0 Cocktail Bar while they last. Angel's Envy Port Finished Bourbon finally found its way into the South Dakota market for the first time. While we sold out of all the bottles we had allocated to the retail side, we did manage to stash a few away for your enjoyment in the bar. This bourbon is great neat, or on the rocks. Barton 1792 recently released their limited batches of 1792 Sweet Wheat and 1792 12 Year. Like the Angel's Envy, these bottles didn't make it through the weekend on the retail side, but we did stash a few of these for the bar as well. The 1792 Sweet Wheat is a stellar wheated bourbon expression that provides soft, silky sweetness that makes for an incredible sipper for the cold days we have coming our way. 1792 Twelve Year is a new offering that I first got to try a few weeks back at WhiskyFest. At the time, I didn't think there was a shot in hell that we would see this in the South Dakota market because it was being made in such limited quantities, but we lucked out and they were smart enough to send some up for us. Sweet up front, with a long, peppery finish, this bourbon showcases the beauty that comes only from high quality ingredients and a whole lot of patience during the aging process. Pick 4 of these, or any combination of 4 from "The List" of over 300+ open bottles of whisk(e)y to fill out your half-price flight.
Not feeling a flight? Grab one of our variations on an Old Fashioned that we added last week. For all of you non whisk(e)y drinkers, we have something for you as well. Our wines by the glass rotate frequently, and every bottle on our retail side is available in the 3.0 Cocktail Bar for a scaled corkage fee (only $5 for any bottle during Happy Hour). We have also added a few simple cocktails including a House Cosmopolitan, White Russian, and a Bloody Mary made with Side Show Bloody Mary mix out of Jordan, Minnesota. Our revamped menu is primed for you to try something new. As always, all tips from Whisk(e)y Wednesday with Zac will be donated to charity. This months charity is Feisty Fighters, a local charity that specializes in assisting women that are fighting breast cancer.
Looking ahead, we are patiently awaiting Whiskey Tasting 101 that will be held at the Butterfly House & Aquarium on November 15th, from 6:00-9:00 pm. This is a ticketed event that serves as one of the major yearly fundraisers for the Butterfly House & Aquarium. Tickets are $75 and will secure you a chance to try 6 different whiskies, as well as give you an opportunity to bid on bottles of your favorite at the end of the night. JJ's will be donating the whisk(e)y and Sioux Falls Whisky Society will be pouring out the samples, as well as discussing the differences in the varieties. For more information, please visit https://www.facebook.com/Whiskey101, or for tickets, please visit https://butterflyhouseaquarium.org/WhiskeyTasting101. 
That's it for this week. A long post, but a good one. We look forward to seeing you soon!