I went back and forth a lot about what I wanted this week's Whisk(e)y Wednesday with Zac to be. We've focused a lot in the past few weeks on bourbon, and while I thought about mixing it up and going with a Scotch emphasis in light of the pending tariffs that will raise the price on goods from our friends overseas, I ultimately decided to stick with America's spirit because we just have too many goodies in right now to deviate from that. Now as I have said before, I am a bit biased towards bourbon because it is what I myself prefer to drink, but I think it is fair to say that so do the majority of our patrons. Of the 300+ bottles of whisk(e)y we have opened on our back bar, nearly 200 are American whiskies. But of those bottles on the back bar, we currently have 3 that are unopened, and they're whiskies Tom and I really want to try with you all.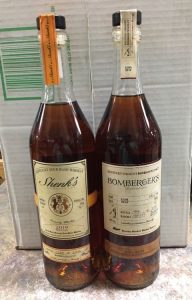 Two of the unopened bottles have been distilled and produced by Michter's Distillery, and pay tribute to the brands that paved the way for Michter's to become what it is today, an award-winning brand producing some high end bourbons and whiskies. Started in 1753 by John and Michael Shenk, the Shenk Distillery was founded in Schaefferstown, Pennsylvania and represented the shift in whiskey production from being for agricultural purposes, to being a large-scale commercial industry. At the time, rye was the grain of choice as it was the most readily available. After operating under the Shenk family until 1860, the distillery was purchased by Abraham Bomberger, and the name was changed. When Prohibition struck in 1919, the distillery was forced to close its doors. After Prohibition ended, Louis Forman purchased the distillery and renamed it Michter's by combining parts of his two sons names, Michael and Peter. While the Michter's distillery no longer resides in Pennsylvania, it's commitment to producing high quality whiskey still remains.
With this rich history in place, Michter's Master Distiller Pam Heilmann and Master of Maturation Andrea Wilson saw an opportunity to produce whiskey that would honor the path that their distillery has taken. We are excited to offer you Shenk's Homestead Sour Mash Whiskey and Bomberger's Declaration Bourbon as the products of this desire to honor Michter's humble beginnings. As I said, Tom and I haven't opened these bottles yet, so I can't describe a flavor profile, I can only invite you to try for yourself.
Our third unopened bottle comes to us from Four Roses in the form of their 2019 Limited Edition Small Batch Bourbon. This special bottling combines 11, 15, and 21 year bourbons. I got a chance to try this bourbon at WhiskyFest at the beginning of the month, and I must say, I was very impressed, and I think you all will be too. Bottled at barrel strength, it carries the typically spice and heat we are accustomed to in our Four Roses Single Barrel picks, while bringing out plenty of sweetness and complex depth that'll make you lick your lips.
While our flights are usually 4 whiskies, I want to leave that fourth option up to you. Let me know what you choose and why. Is it a personal favorite? Something new? Maybe you've had something on your mind, or a friend has made a recommendation. Whatever the reason, I'd love to hear why you chose it, and then whether you enjoyed it or not. Whether I myself have had your fourth choice or not, I'm curious to know what other people think.
Next week, Tom and I will be out of the store on Wednesday as we take a trip to Houston, Texas, to share in a bourbon dinner with Master Distiller Chris Morris of Woodford Reserve and select a barrel. It should be a good time, and I personally am looking forward to getting to see some family that lives in the Houston area.
As always, all tips made from Whisk(e)y Wednesday with Zac will be donated to charity. This months charity is Feisty Fighters, a local group that provides support for women in our community battling breast cancer.
Don't forget about Whiskey Tasting 101 with us and the Sioux Falls Whisky Society at the Butterfly House on November 15 at 6:00 pm. We will be sampling 6 whiskies, with all ticket sales benefitting the Butterfly House. Tickets can be found at https://butterflyhouseaquarium.org/programs-events/event-calendar/whiskey-tasting-101?fbclid=IwAR0fB2guQdF52OPIAN_gOpsGPS–SW1nVOkQbHsd_mBfUXw0re_Jx3i6lcY.
We have also begun selling raffle tickets for our Buffalo Trace 6,000,000th Barrel Bottle event on November 22nd. Each ticket is $20, or you can get 3 tickets for $50. Each ticket gets you one entry in the raffle. You do not need to be present to win the bottle, but you do need to be present to win any of the second chance raffle items.