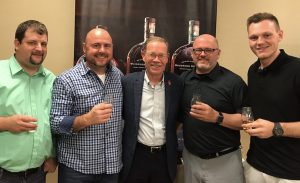 Last night was one that I cherish for a long time. For those of you that haven't seen yet, Tom and I spent the evening with a few other retailers creating our own unique blends of Woodford Reserve that will eventually be bottled and shipped to us in the next couple of months. We even made some friends with the guys from Happy Harry's in North Dakota, and it led to a collaboration project and barrel blend that will be dual released in South Fargo and Sioux Falls.  After the event, we headed downstairs to the hotel bar and shared a few drinks, some stories, and plenty of laughs with Woodford's Master Distiller Chris Morris. We might have stayed a little too late, and drank a bit too much bourbon, but it was one hell of a time. An early morning flight has us up and moving and we're currently en route to the airport and I'm hurting a bit, but it was worth it. 
This week's Whisk(e)y Wednesday with Zac is actually going to be Whisk(e)y Wednesday with Jon as I'll be catching up on some administrative stuff when I get back, so I won't be on the bar side. The good news is, Jon has picked out some really neat and tasty stuff. We got in a new bourbon last week from Smooth Ambler, so what a perfect reason to give all of their stuff a shot in this week's featured flight. With two fairly new selections from them, I don't know that many of you have had their juice, but it is solid. Old Scout American Whiskey, Old Scout Bourbon, Old Scout Single Barrel Select, and Big Level will round out the featured flight, and 3 of the 4 are available for sale on the retail side (the one exclusion is the Single Barrel Select). Reminder that all flights are half priced today, and all tips will be donated to charity. This month's charity is Combat Veterans Motorcycle Association which provides support and resources to combat vets in the Sioux Empire. 
And now a reminder about a couple of events we have coming up in the next few weeks. 
November 15th with the help of Sioux Falls Whisky Society, The Butterfly House and Aquarium will be putting on Whiskey Tasting 101 beginning at 6:00. This is a ticketed event, and should be a lot of fun as they use this as one of their big fundraisers for the year. For tickets, visit their Facebook page for the link. 
November 22nd beginning at 6:30pm we will be hosting a tasting/raffle event at the Sanford Event Barn for a Buffalo Trace 6,000,000th barrel bottle. Raffle tickets are available at the store for $20 each, or 3 tickets for $50. Buying 3 tickets gets you admission to the event and a punch card for 5 samples of Sazerac whiskey products. This event is going to be a lot of fun, and the money made through the raffle will be given to the Compass Center in Sioux Falls to help with funding for the next year. 
That's it for this week. We hope to see you all at some point in the next few days. Cheers