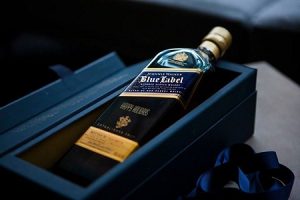 Last week we started a series of Whisk(e)y Wednesdays with Zac that will hopefully help provide you great options to fill your home bar, or find gifts for the important whisk(e)y lovers in your life. I started off with hot and spicy ryes, and toyed around with a few ideas about where I wanted to go from there. I decided after quite a bit of thinking that while the natural process would be to stay with American whisk(e)y, I really want to finish this series there because we have so many good ones to talk about. That said, this week we'll begin to explore the realm of Scotch, specifically blended Scotch. For the most part, blends tend to be much more approachable than single malts for those that are just getting into the Scotch category. The also tend to be more affordable, and while they don't carry the prestige of single malts, many are made with whiskies that have matured for at least 10 years and still carry exemplary character profiles and body. Single malt Scotch discussion dominates whisk(e)y magazines and writers focus on, but from a cocktail standpoint and also an overall sales standpoint, blends carry the load for the market. Blends provide drinkers with the prototypical peat flavor that is customary of Scotch, but it is toned down to make it possible to introduce yourself to that flavor and develop a palate to work into highly peated single malts. As we progress through this article, you'll notice that I will drop the "e" from whisk(e)y as the customary spelling in Scotland is just whisky.
So let's dive into some incredible options in the blended Scotch category. The first whisky I'll discuss is Monkey Shoulder. Made from 3 different Speyside distilleries, it is smooth and creamy with plenty of malt character, hints of cocoa and vanilla, and medium body that provides a lingering finish that won't overwhelm you. This whisky was made to be used in cocktails or poured on the rocks. At $31.99, it won't break the bank and is a great option to have around if you want to begin exploring what the Scots have to offer.
Next comes Dewar's 12 year. This whisky is blended and then spends an additional 6 months aging in an ex bourbon cask to provide richer flavors with a smoother marriage between the whiskies. A smooth, sweet expression that carries plenty of floral notes and a touch of almond and honey sweetness. This one is best enjoyed neat or on the rocks and makes for a fantastic sipper. Priced at $29.99, this whisky is perfect for the holiday season.
The third whisky to consider for your personal home bar is Buchanan's Master Blend at $39.99. Made with at least one whisky from every region of Scotland, this is a sipper. Loaded with citrus and herbal notes, it goes great on the rocks or with a splash of club soda. Having won Double Gold at the San Francisco Spirits Award in 2014, it is both complex and delicate, making it a must have for anyone looking to up their personal collection.
Recently launched is a 13 year expression from Chivas that has been finished in American Rye barrels to provide it with bountiful chocolate notes and a smooth, mellow finish with touches of cinnamon spice. A special release that pays homage to Sir Alex Ferguson who lead Manchester United to 13 English league titles while he was their manager. At $44.79, it is another very affordable option that will impress your friends with it's colorful bottle and easy to sip flavor profile.
Last but not least is Johnnie Walker Blue. A blend that combines smoky Scotches from the west with the sweeter Scotches of the east, it is extremely select as only 1 in 10,000 of their reserves make the cut. Light and delicate but with hints of citrus up front, and a lingering finish that has a light smokiness to it. At $189.99 a bottle, it is significantly higher in price than most blends, but it will impress any whisk(e)y drinker that sees it displayed in your personal collection.
Don't forget about our upcoming Buffalo Trace 6,000,000th Barrel Event at the Sanford Event Barn this Friday, November 22nd starting at 6:00pm. Tickets for the raffle are still available at the store for $20/ticket, or 3 tickets for $50. All money raised will be going to the Compass Center of Sioux Falls. We will have several whiskey options from the Sazerac Family brands of whiskey, as well as wines by the glass and beer for those that don't indulge in the greatest brown spirit ever created.
That's it for this week. Try any of these whiskies in a flight of four for half price, and if you like one, pick up a bottle for yourself or the whisk(e)y lover in your life on the retail side. As always, all tips made during Whisk(e)y Wednesday with Zac will be donated to charity. This months charity is Combat Veterans Motorcycle Associations which provides support for veterans of our Armed Forces in the Sioux Empire.