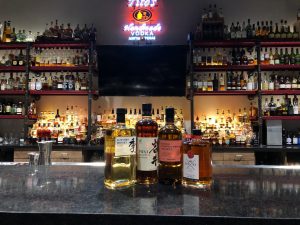 We're only two short weeks away from Christmas, and JJ's is right in the middle of our busiest time of the year. As always, we greatly appreciate each and every one of you that choose to shop with us for every day needs, as well as items for gifts/special usage. The holiday season is a lot of work for those of us in the retail environment, but we want each of you to know that the long days are worth it when we hear the stories about how much a loved one really appreciated the awesome bottle of bourbon you got them, or how well the Cabernet we recommended to you paired perfectly with your prime rib dinner on Christmas Eve. Tom and Jean have made quite the career out of serving others, and guys like myself and the rest of our staff here at JJ's strive to follow in those footsteps. No matter how high end the products are that we bring in, our most important asset will always be you, our loyal customers. If at any point in time there is something we can do to enhance your adult beverage buying experience, please let me or anyone else on our staff know. I like to think that we have assembled the best group of individuals to fill out our team, and we will continue to work to prove that.
Now to the good stuff. We're on week five of our Home Bar Building series, and so far it seems to be going pretty well. My goal with this series is to provide you all with whisk(e)y options that you find both affordable and delicious. Not every week will have whiskies that you will say, "Damn, I have to have that in my bar," but hopefully you're learning something and having your interest peaked along the way. So far, we have worked through American Ryes, Scotch Blends, and slightly peated and highly peated Scotch Single Malts. I think this week would be a great time to showcase some incredible whiskies produced in Japan.There isn't much in the South Dakota Market yet, but what we have is really good stuff. 
The art of whisky making was brought to Japan in the 1920s by Masataka Taketsuru who had learned to distill in Scotland. Having studied under the Scots, it only made sense that Japanese style whisky would follow closely with predominantly malt whiskies, both blended and single malt.Unlike Scottish blends, Japanese blends contain whisky that has only been produced by distilleries owned by one parent company. Competition is fierce in Japanese whisky making, and trading with a competitor is highly frowned upon. 
I'll start off with the Suntory Toki Whisky. In 2014, Suntory purchased the Beam name for about $16 billion dollars. Since then, it's been full go ahead to produce whisk(e)y for the entire world, and they're doing a bang up job. A soft and slightly sweet blended option that is very affordable, and great for someone looking to get into Japanese whisky for the first time. Honey, green apple, and a touch of white pepper round out this bottle which is available for $33.59.
Made in the "traditional" style, Mars Iwai Tradition is distilled at the highest elevation distillery in Japan. It is a blend of malt and grain whiskies, and is named after Kiichiro Iwai, the mentor of Masataka Taketsuru. Finished in ex-bourbon casks, ex-sherry casks, and ex-wine casks, this whisky provides drinkers with great malt character with honey and toffee notes to round it out. Available for $50.39, this is a fantastic expression of Japanese whisky brilliance.
The second largest producer in Japanese whisky making is Nikka Distillery. Founded by Taketsuru after he helped launch Suntory, this distillery has quickly grown to world wide acclaim. Last year, Nikka Straight from the Barrel was Whisky Advocate's Whisky of the Year. While we don't have that expression, we do have their Coffey Grain Whisky. Distilled in a column or Coffey still, this grain whisky has plenty of tropical fruit notes such as mango and coconut on the nose and palate, finished with cinnamon spice. Priced at $65.99, this is a great gift for this holiday season.
Our fourth and final whisky of emphasis this week is a brand new one to our market having just released last Thursday. Kamiki Maltage Whisky is my first experience with any whisk(e)y that has been aged in cedar casks. With a solid malt backbone that provides earthy tones, with a beautiful floral component. The cedar is definitely noticeable on the nose and the palate and makes for a nice change of pace from traditional malt whiskies. Priced at $67.99, I highly recommend giving this whisky a try in the bar and at home.
That's it for this week's whiskies of emphasis. When you stop in you'll notice a few treats that have found their way to the back bar. We received our shipment of allocated bourbons last week, and a few of them made it over to the 3.0 Cocktail Bar for you to enjoy by the pour. I'll dive more into what all we got with next week's Whisk(e)y Wednesday article so stay tuned. One little plug I will make is that of everything we got, my personal favorite is this years edition of the Jack Heritage Barrel. I loved, loved, loved last years edition. Honestly, it was what was on my mind when I made my Jack Daniel's Full Proof Barrel pick back in March. This year's whiskey is a bit sweeter than last year with more maple and brown sugar on the palate, but by god it is spectacular.
As always, tips made during Whisk(e)y Wednesday with Zac are donated to charity. This months charity is the Bishop Dudley House of Sioux Falls. Last month we raised $750 in tips which were matched by Tom and donated to CVMA, Combat Veterans Motorcycle Association, and we hope to raise as much, if not more this month.
One last thing before I let you go, we have a tequila tasting event this evening (12/11/2019) in which we will be tasting through the Gran line from Patrón. For $40 you will get four ½ ounce pours of Patrón Smoky, Gran Patrón Platinum, Gran Patrón Piedra, and Gran Patrón Burdeos, as well as a cocktail before the event made with Patrón Anejo Tequila. I know it's cold out, but this event will be a great opportunity to try some of the highest quality tequila on the market, and learn more about the process that goes into making these delicious offerings. Maybe you stop in for a half priced whisk(e)y flight and a quick personal pizza before heading to our event room at 6:30pm for what should be a great time.