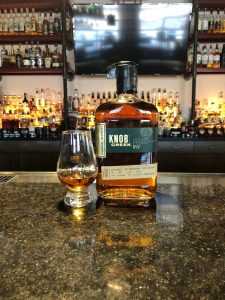 So this week is going to be THE week for Whisk(e)y Wednesday with Zac for 2019. We're winding down the calendar year and because of the way that Christmas and New Years fall this year, this will be the last true Whisk(e)y Wednesday of 2019. Adding to the fact that this is the last Whisk(e)y Wednesday is the fact that we received our final Single Barrel of 2019 as well. We branched out a bit on this one, choosing something that wasn't bourbon, but was still whiskey. We're extremely excited to offer you the first Knob Creek Single Barrel Rye to make it to South Dakota. This rye is chock full of nuance and deliciousness. Starting off smooth and sweet, white pepper hits the mid and back palate, eventually giving way to a lingering finish that has a touch of smoke, cinnamon, and baking spices. After a few moments, it's heat transforms into a sweetness that reminded me of drinking cider. Truly a spectacular whiskey that will make a great present to yourself or anyone looking for something unique this Christmas.
Now a shameless plug on my self reflection. What a year it has been. I started these posts back in March, just in time for St. Patrick's Day, and I've started going back through the last few months of posts to see how far I have come as a writer (not very far, I still use way too many commas), and to see what all we have covered. No surprises, bourbon has dominated the posts and for good reason. I am definitely biased in my belief that there is no better whisk(e)y on the market than American bourbon. Now, that is an opinion, not a fact, so you can certainly tell me that I am wrong, but we'll have to agree to disagree. What has me hooked on bourbon you ask? Well, there are a lot of factors that have lead to my affinity to America's National Spirit, but let me start with a bit of a story. 
Sometime about 3 months into working at JJ's I was called in to make a delivery of wine to someone that was looking to fill their home cellar (names will be omitted for privacy). It was a snowy, cold day in February and I had about 20 cases of wine that I needed to get inside and stock in the cellar. To add some difficulty, I had to climb one flight of stairs and then descend 2 flights to get to the beautiful cellar, and because of the cold, I was bundled up pretty heavy. Once inside though, the temperature was much warmer and it took only about 2 trips before I started to sweat. After trip 7, I was dripping sweat pretty profusely. All in all, it took me 10 trips to get everything into the cellar, and then I needed to unpack everything and place it in the lie down racks. After about 3 hours, I was finally done and headed back to the store to finish my shift. Tom asked how it went and he could see I was worn out from lugging all that wine around. As a token of appreciation he offered me a bottle of Old Forester 1920. That was my introduction to bourbon and I loved it.
I would continue to grow in my appreciation as I learned how to sip, and as I learned more of the backstory behind bourbon and how it was made. I am a science guy at heart. I like to know the what, the why, and the how behind everything. I firmly believe that I could love any job if there is some science behind it because I can spend the rest of my life learning the ins and outs and still never know it all.  What finally cemented in my mind that I would be a bourbon drinker for the rest of my life was my first trip to Kentucky in September of 2018. I'd recant the entire trip for you, but I don't have enough words in my vocabulary to share exactly what it meant to me. What I do know for sure is that it surpassed my expectations of what a "work trip" could be. Tasting bourbon straight from the barrel really is one of the purest things you can do in life, and to think that I got to do it so early in my professional career has made me fiend for that experience even more. It really is something that should be experienced at least once if you drink bourbon, and honestly, we do it the best I think. My one regret from my first trip was not getting on stage at the Third Street Dive Bar to sing karaoke, but I can guarantee that the next time I'm down there I will.
So what does all of this have to do with this week's whiskies of emphasis? Not a whole lot honestly. I thought now would be as good a time as any to share with you all what it is that got me into drinking bourbon and why I have grown to love it so much. This week's whiskies of emphasis don't need a whole lot of introduction or tasting notes as their reputations precede them. I teased about our allocated items on the bar side last week, so I will officially let you all know what we have available by the pour from our newest collection of allocated and rare items.
Without further hesitation, I present this week's whiskies of emphasis: George T. Stagg Kentucky Straight Bourbon, William Larue Weller Kentucky Straight Bourbon, Eagle Rare 17 Year Old Kentucky Straight Bourbon, Elijah Craig 18 Year Old Kentucky Straight Bourbon, Elmer T. Lee 100 Year Anniversary Single Barrel Kentucky Straight Bourbon, and Woodford Reserve Master Collection Chocolate Malted Rye Kentucky Straight Bourbon. Pick any of these 4 to fill out your flight and let me know which one is your favorite. For those curious, we also have Thomas Handy Straight Rye and Sazerac 18 Year Old Straight Rye open from last years allocation. You really can't go wrong with any of these selections from the Buffalo Trace Antique Collection.
As always, all tips made during Whisk(e)y Wednesday with Zac go to charity. This month's charity is Bishop Dudley House of Sioux Falls.
My final remarks as we wrap up Whisk(e)y Wednesday with Zac for 2019 are quite simple. Thank you to all of you who have participated in conversation, read my posts, and shared some pours with us on your Wednesday evenings. You have a lot of things that vie for your time, and I greatly appreciate any bit of time and attention that you have given to my passion. There really is nothing better about my job than when I get to talk about whisk(e)y for a few hours. I'm excited to see what 2020 has in store for us. Cheers!