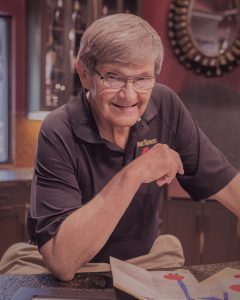 Happy New Year! Hopefully you are able to celebrate responsibly. Our team at JJ's is looking forward to 2020 and what is in store for us. Our presence in the Sioux Falls community is sure to grow as we have even more concerts at Levitt Schell that we will be providing adult beverages for, and in case you haven't already seen, we will also be handling the bookings and facilitation of external events at the Sanford Event Barn. In house, we will be continuing to enhance the adult beverage buying experience by providing you with exceptional products, and a great place to stop after work to grab a drink with friends and colleagues. Our live music schedule has brought a wide array of genres and artists into our space and made evenings in the 3.0 Cocktail Bar truly a delight. What most excites me is our lineup of single barrel bourbons that we have planned. We've got around 20 barrels planned with some staples and a few brand new offerings that are sure to excite our fellow bourbon lovers.
For those of you that follow the bourbon world closely, you may have seen that we unfortunately lost an important member of the bourbon community, Four Roses Brand Ambassador Al Young. Having served Four Roses for more than 50 years, Al was an integral player in developing Four Roses as a power player and also helping to pull bourbon out of its lowest point and into the boom it is experiencing now. The Four Roses Al Young 50th Anniversary Limited Edition is one of my personal favorites in the employee stash that is kept hidden behind the back counter. On the really long days, or the really good ones, we'll steal a pour, and as we do it now it will be with heavy hearts as we remember the legacy that Al leaves behind. Our thoughts and condolences go out to the Four Roses and Young family during this difficult time.
We don't have Whisk(e)y Wednesday with Zac this week as we will be closing at 4:00pm on New Year's Day so that our staff can spend some much needed and deserved time relaxing after this busy holiday season, but we will be back next week with plenty of good whisk(e)y and information to share with you. As we gear up for an eventful 2020, keep an eye out for announcements regarding an opportunity to join Tom and Zac on a trip to Kentucky to pick out your own round of Store Pick Single Barrel Bourbons. Opportunities like this don't come around every day, and space on the trip is very limited. We'll see you next week to kick off a great year of Whisk(e)y Wednesday with Zac!