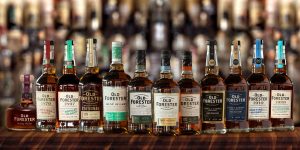 Last week's Whisk(e)y Wednesday with Zac was a lot of fun. It felt great to be back in the routine behind the bar, and we poured a lot of flights. On top of that, our release of rare and hard to find bourbons seemed to work a little smoother than when we would release it at 9:00am on Fridays. We'll continue to handle it this way so as to give more people an opportunity to be there when these hard to find bourbons are available for sale. We'll have plenty more good ones to release this week, including more Blanton's, Old Forester 1910, Rock Hill Farms, and Henry Mckenna. I'll touch base on how you can get your hands on one of these bottles later in the post.
Football season is sadly winding down and coming to an end and it is bumming me out. I tend to follow the college game more than the NFL with my loyalty belonging to LSU and my alma mater, Augustana University. Since Augie's season has been over for a couple weeks, I've been able to shift my focus to watching LSU play on Saturday afternoons. It's been a great deal of fun to watch their offense come out of the Stone Age and into the 21rst century ultimately leading to a National Championship victory this past Monday night. Needless to say, but Geaux Tigers came was yelled at least 100 times while I watched the game with Kenadi.
Why do I bring this up? Well, because usually when I'm watching football I'm also enjoying a pour of something dark. My go to is Old Forester 1920 when I want something I can enjoy for a while. I usually put 2oz on a cube and sip on it for a good 45 minutes. It has a lot of cherry cola notes and vanilla tones to it that make it ideal for me. I'm also a fan of the higher proof that it carries so that it can stand up to that cube for an extended period of time. When the occasion is a little more special, like the College Football National Championship, I sip on my lone bottle of Old Forester 1910. Both are incredible expressions that are in my top 5 whiskies all time. What makes the 1910 so good to me is it's rich sweetness. It carries extra sugar from being aged in a second charred oak barrel which adds a layer of dark berries to the finish. It really is a delight.
When I feel like having more than a couple pours, I like going with an Old Forester Single Barrel store pick that I have. I've found that of all the store picks we do, I gravitate to those Old Forester picks the most so I have a pretty nice little stash of them. They're cut at 90 proof (for now) so I can enjoy them neat or on a single cube. I really believe that the barrels available in Old Forester's Single Barrel program are some of the best whiskies available on the market right now, and with some changes coming in May, they're only going to get better. We've got a couple selections from them coming up in 2020, including one that Kenadi will help me choose for our wedding in September. The let down about me talking up these single barrel selections is that we don't currently have any available for you to buy and take home, but we do have a couple still available by the pour on the bar side. Word came out on Tuesday that there are some changes coming to Old Forester's Single Barrel program, exciting me for the second half of 2020. As I hinted at earlier in the paragraph, their single barrel selections will soon be available in 2 different proofs, either 100 proof (50% ABV), or cask strength 130 proof (65% ABV). I'm always a fan of drinking whisk(e)y as close to cask strength as possible, so the news that we will now be able to get ahold of a cask strength edition of my favorite bourbon brand really gets my juices flowing. 
This week's featured whiskies then are Old Forester 1920, Old Forester 1910, and Old Forester Store Pick Single Barrel #3 Winter Warmer. We'll let you pick another whisk(e)y to round out your half price flight. For those that want to get their hands on one of the rare and hard to find bourbons I discussed in my first paragraph, getting these whiskies in a flight gets you additional tickets in the drawing that we will do at 6:00pm. Like last week, between 3:00pm and 6:00pm anyone can stop in and get a ticket for a chance to buy the rare bourbons we have in stock this week. Each featured whiskey that you get in a flight will get you an additional ticket up to a max of 4 tickets total. At 6:00pm we will draw for the order of purchase on these hard to find items. There will be a limit of one bottle per VIP account, and you must be present when drawn to buy.
As always, tips made during Whisk(e)y Wednesday with Zac will be going to charity. This month's charity is Big Paws Canine which helps to pair combat veterans with a service dog to help with various aspects of day to day life.
Also, stay tuned as I will be launching a new social media page that will showcase the great whiskies that I indulge in weekly. I hope to use this platform to engage with you all as well and find out what you're drinking and why. Cheers!