I know this is a little weird for a "Wineguy" post…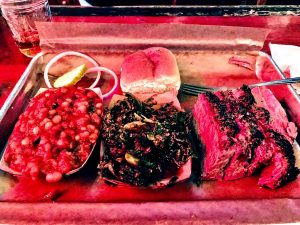 Zac and I are in Louisville selecting single barrel bourbons (7 barrels over the next two days), so I couldn't not talk about whiskeyland… a little.
This place is magical. The bourbon, the people, the food (see photo… This is from "Feast BBQ". Highly recommended). My early visits down here a few years ago were the impetus to the evolution of JJ's, and the development and ultimately the opening of JJ's 3.0. I knew, from the experience I encountered here, that I wanted to be able to offer an experience based business to our customers, and not just sell adult beverages. We could save a lot of money on these purchases by ordering sample kits, but we continue to come back here, year after year, because it's the experience and the stories that shape the foundation of what we are offering, not just the liquid in the bottle, although the liquid in the bottle has been pretty stellar as well.
Zac (Follow Whiskey Wednesday with Zac on his blog page, or follow @whiskeywithz on Instagram) is going to share more with you later about this trip, and what we are selecting, but let's just say you will not be disappointed with what we are going to be offering later this year. One of which has never been done before in the South Dakota market.
Join us on a Whiskey Adventure!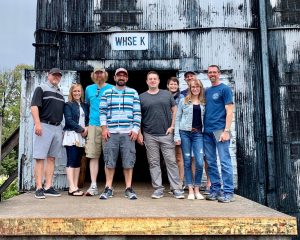 Want to go along on a trip of a lifetime? We are now accepting reservations (and deposits) for a trip in September. This will be a VIP trip for no more than 7 people (maybe 8). Private air travel, accommodations, meals and ground transportation included. Also included are barrel selections, tours and ONE bottle each of the whiskies we pick out. This trip will take place September 14th-16th with wheels up at 6:00am on the 14th and returning before 3:00pm on the 16th. Talk to myself or Zac about the price, and let us know if you want to go!
Evolution of the American Drinker
It's crazy how much this industry evolves on a regular basis. I was asked earlier this week to do an interview about the "decline in wine sales", according to the reporter. I wasn't able to participate in the news piece as I was traveling, so I recommended they speak to a colleague. If I had participated in the news piece, I would have said… Are you kidding?
Wine is strong in our market, especially at JJ's! While the trend in drinking wine has slipped a bit nationally (supplanted with hard liquor and hard seltzer trends), we continue to grow and evolve our wine selection to fit the changing needs of the people in our community. Cultivating new relationships with burgeoning wine drinkers and teaching them about what they are drinking, and not just selling a bottle. This is why we connect with our customers. We know you want to learn more about what we are offering, so we feel as though we provide a platform for learning, as well as enjoying!
Part of learning is trying new things. So, starting today, we are going to be exploring new wines each week, through the Weekly Wineguy Blog, but also through our weekly tastings at our tasting bar, and JJ's Adult Beverage University classes. Each week you will find a information each week about those three things. Sometimes they will overlap, but more often they will be offering something different. Like this week!
Thanks for reading. See you when we get back!
The Prisoner Wine Co. – Unshackled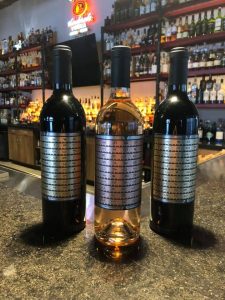 Three new wines from The Prisoner Wine Co. are this week's features. We will probably be sampling them next Thursday, but that is still to be determined. These wines were introduced as a bridge between some of the entry level wines in the market and more complex wines from The Prisoner Wine Co., like The Prisoner Red Blend. We tasted all three and here is what we thought…
2018 Unshackled Rosé – Rosé season isn't really a thing anymore. People are drinking rosé all year-round now. The versatility of rosé with food pairing is compared only to the versatility of Pinot Noir, in my opinion. This wine is no exception. Bright and crisp with juicy tropical and red fruit aromas, this wine's bright acidity couples with flavors of grapefruit, tangerine and strawberry to create a refreshing rosé with a crisp finish. – JJ's VIP Price – $19.99/bottle
2017 Unshackled Red Blend – Do you like The Prisoner Red Blend? Most people I know love that wine, but not the price. Occasionally we can get it to you for around $40/bottle, but it usually hovers around $45-50. Unshackled Red Blend is a very worth substitute for the novice wine drinker that is not ready to shell out $50 for a bottle of wine. This wine opens with aromas of raspberry, blueberry and crushed violets. On the palate, it offers flavors of spiced dried cherries, florals and a hint of white pepper, with a generous mouthfeel. JJ's VIP Price – $21.99/bottle
2018 Unshackled Cabernet – Who doesn't like a good cab? This wine is a mouthful of complexity for the money. This wine spoke to me the most out of these three wines, but mostly because I like wines that have a degree of subtlety amidst the current big, bold style of most domestic red wines these days. Bold and flavor-forward, with aromas of plum, blackberry and a hint of olive, this Cabernet is blended with small amounts of Petite Sirah, Syrah and Merlot. Its flavors of black stone fruit and dried herbs are complemented by solid tannin structure and balanced acidity. JJ's VIP Price – $21.99/bottle
Weekly Tasting Feature
Thursday from 4:00pm-6:00pm – This week, we will be featuring wines from William Hill Winery. Paired with a selection of cheeses from our cheese case and some morsels from The Boozy Bakery. We will be sampling wines every Thursday from 4:00pm-6:00pm, if you like to plan your visits!
JJ's Adult Beverage University – Block 1 – French Wine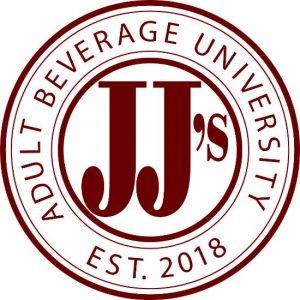 We are halfway through the month with our French Wine Block. People seem to be enjoying what we are offering from an educational perspective. Tonight is no different as we explore Rhone with our friend Shauna Wallace (as I am in Kentucky). We have a few seats left, but will cap this tasting for a group of about 20. Next week, I will be back leading the class on Bordeaux wines, but will have a special guest with me. John Thuringer from Okoboji Wines is quite the Francophile, and an expert in all things Bordeaux. We will be offering a few additional seats for this one, but will cap it at 30 people. You can find tickets and more information for each of these tastings at JJ's, or on our Facebook page.