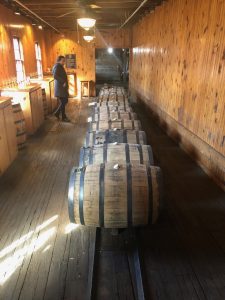 Happy Whisk(e)y Wednesday everyone. Have you been in to see the changes that we've made to the store yet? On Sunday, we completed a reset of the store with the hope of opening it up. We wanted to create better flow and elevate your shopping experience. We spent the better part of the month getting this all planned out, and while it isn't a finished product yet, we are extremely excited about what it has shaped up to be so far. This couldn't have been accomplished without the incredible help of our retail and bar staff, as well as our partners and friends from our wholesale distributors. To them all, I say thank you. With that said, we want to make sure that you are able to find any and all needs, so if you there's something you're looking for, just ask any of us in a JJ's polo and we'll be happy to show you.
Bourbon Trip
Last week Tom and I took a business trip to Kentucky to pick out some new single barrels. We tasted through 26 barrels, ultimately picking out 7. The trip down was smooth and the first night we found ourselves at Third Street Dive Bar. I got a chance to try the Knob Creek 12 Year Old while there, which was much woodier than most Knob Creek I've had in the past. The next morning, we were up early to head to Four Roses, then made the trek to Buffalo Trace, and finished the first day at Barton 1792. The stop at Buffalo Trace was definitely the most productive. We had a tour of the new fermenters, and stopped to see the E.H. Taylor copper pot stills, then headed to taste through 12 barrels. There were a total of 6 barrels of Blanton's, 3 Eagle Rare, and 3 Buffalo Trace. Out of the bunch, the Eagle Rare was my favorite. The next morning, we had one final pick at Heaven Hill. This was my first stop to Heaven Hill and I must say I was impressed. Getting to see the behind the scenes of the entire operation and how it was set up so smoothly, and everything seemed to work together perfectly was magnificent. It is incredible to see a business that large opperate on such a large scale like it does. While eye opening, the extended tour took a bit longer than anticipated and ultimately we were late arriving to the airport and missed our first leg of the flight home. We can look back and laugh at it now, but it kind of sucked in the moment. I was excited to get back and share last week's Whisk(e)y Wednesday with everyone, but unfortunately we didn't land back in Sioux Falls until after 9:00 p.m. The good news is though, I'm back all this week with some stories and pictures from the trip. Hopefully you were able to check in to the @whiskeywithz Instagram page to keep up with the travels.
Featured Whiskies
I'm still on a bourbon kick since we got back, so we're going to ride that out again this week. I had such a great time at Buffalo Trace and their stuff is good enough that it warrants a week dedicated to their products. With us also just getting in a new Store Pick Single Barrel from Buffalo Trace that has been named "Have You Met Brad," it's a good time to show their stuff off. For those that didn't make it last week for the release, the bottle was named after a good friend of the store to commemorate an important date in his life. I'll let him share the story. The bourbon is selling quite fast, and I don't expect it to be around through the weekend. Don't worry, I've stashed several bottles on the bar side so it can be enjoyed by the pour. This week we will be featuring this new pick alongside the regular shelf Buffalo Trace. To round out the featured flight will be the E.H. Taylor Small Batch, and E.H. Taylor Barrel Proof. We will have limited numbers of the E.H. Taylor Small Batch available for sale at 6:00 p.m. tonight. 
Changes to Pour Sizes
You'll notice when you stop in that we have made some changes to "The List" of all of our whiskies. We've gone to 15ml, 45ml, and 90ml prices on everything. We want to provide the most value for your pours, so we've gone to a true single and double for our standard pours of whisk(e)y. Flight's will still consist of four 15ml pours and will remain half off on Whisk(e)y Wednesday with Zac.
Bottle Draw
Like we have done the past few weeks, we will release our rare and hard to find bourbons at 6:00 p.m. during Whisk(e)y Wednesday with Zac. Just stopping in gets you a ticket in the drawing, and each featured whiskey that you get in a flight will get you an additional ticket in the drawing for a total of up to 5 tickets. This week for sale we have some Eagle Rare, E.H Taylor Small Batch, Blanton's, Weller, Angel's Envy, and Old Forester 1910. If a flight isn't you're thing, try a 3.0 House Whiskey Sour made with any of the feature whiskies for $3 more than the 90ml price. You'll get 4 tickets for the bottle draw if you do the Whiskey Sour instead of the flight, so your odds are just as good.
As always, tips made during Whisk(e)y Wednesday with Zac are donated to charity, with this month's charity being Big Paws Canine which provides service dogs to veterans. Hopefully you get a chance to stop in and see the new store layout as well as the updates to the 3.0 Cocktail Bar. We think you'll really enjoy the changes we're making to elevate the customer experience.
For those that can't join us on Wednesday night, we are hosting Ben's Brewing from Yankton for a tap takeover with 4 of their beers going on tap including their Strawberry Blonde Ale and the Peanut Butter Cup Porter. These guys are a lot of fun to hang out with, and they make some really good beer too, so we hope you can join us one or both nights. Cheers!