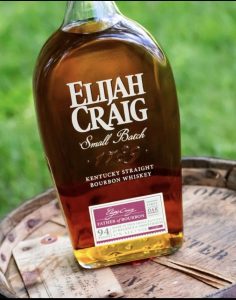 Happy Whisk(e)y Wednesday everyone!  We're currently right smack in the middle of a round of Store Pick Single Barrel Bourbons arriving. This week, an Elijah Craig Single Barrel that we picked out last September has arrived. We've been blowing through our store picks in the last few weeks, with all of our most recent Buffalo Trace Single Barrel selling out in two weeks, our Knob Creek Rye is down to only a few bottles left, and we anticipate that this Elijah Craig barrel won't last long either.  Our first pick EC pick lasted a whopping 10 days. I wish I had some tasting notes on this one, but unfortunately I wasn't with the group on this pick and I am writing this post before the barrel has arrived in the store, so I'll be trying it for the first time with you all when we start pouring flights.
Featured Flight
We're going to have a little bit of fun with the new Elijah Craig Single Barrel for this week's featured flight. Instead of writing on the board which whiskey is which, we're going to do a bit of a "blind" tasting to see which variation you enjoy the most. All of the whiskies in the flight will be Elijah Craig of some sort. Unfortunately, neither Tom nor myself hoarded a bottle of our first Elijah Craig Single Barrel pick, but thankfully we have some really good friends that had an extra that they were willing to trade with us. So what does that mean? Well, it means you'll get a chance to do a side by side tasting of our first and second picks, while also comparing them to the regular Elijah Craig Small Batch, and the Elijah Craig Barrel Proof. We'll let you decide which one you like the most before we tell you what was what.
Whiskey With Z
In light of recently launching an Instagram page (@whiskeywithz) to engage with you all about what I've been drinking lately and where, I've decided to start including a quick tidbit about my recent pours in the weekly Whisk(e)y Wednesday blog so those without social media don't feel left out. I'll use this section of my weekly post to share tasting notes and hopefully create some discussion about what you all have been drinking as of late. 
This past weekend, I had the apartment to myself as Kenadi was in the cities to do some wedding shopping, so I took the chance to treat myself a bit. Friday night, I enjoyed a couple pours of the newly revamped Baker's Bourbon from Jim Beam. Previously a 7 year small batch blend, the new and improved offering is now a single barrel that has been aged a minimum of 7 years. The release that I currently have is actually 8.5 years old and 107 proof. I was a fan of the older releases, as I found a great deal of similarities between Baker's and Booker's, but with just a little less heat and a lower price tag. This particular bottle has a rich vanilla nose, with a touch of smoky spice on the palate, balanced by orange peel and burnt caramel, and a long lingering finish that rounds out with great cinnamon notes and a touch of tannic wood.
Saturday, I made my way over to my favorite restaurant in town, Barrel House. When I say favorite restaurant, what I really mean is my favorite place to eat while I drink good whiskey. Don't get me wrong, I really enjoy JJ's 3.0 Cocktail Bar, but sometimes it's nice to get a change of scenery and try some stuff we don't have. I decided to try a couple different Barrel House Single Barrel picks to go with my burger and fries. The first pour I had was an Old Forester Single Barrel that I was quite pleased with. It reminded me of a more cinnamony Winter Warmer. I then switched over to a Jack Daniel's Barrel Proof Single Barrel that they had on hand. I was again very pleased with my selection, and decided I needed to have one for home. Diving deep into the flavor profile, this Jack Single Barrel has an earthiness to it that I haven't found in Jack Daniel's before. Heavy char notes and a gritty, earthy taste dominate the profile, and the bite on the back end is nothing to play with. Overall, I really enjoy this one on the rocks as I find the alcohol bite to be a bit too powerful for me to handle neat.
Bottle Draw, Charity of the Month
This week we have some really good rare and hard to find whiskies in the bottle draw. We'll have a total of 11 bottles available this week including Sazerac 6 Year Rye (VIP $27.99), Eagle Rare (VIP $37.99), Angel's Envy (VIP $49.99), Old Forester 1910 (VIP $57.99), Stagg Jr. (VIP $57.99), and E.H. Taylor Rye (VIP $67.99). You'll get one ticket just for coming in, and an additional ticket for each featured whiskey you get in a flight. If you accurately guess which Elijah Craig is which in the featured flight, we'll give you one additional ticket for a grand total of up to 6 tickets this week. We have live music with Elisabeth Hunstad from 5:00-7:00 p.m., but she'll be taking a break promptly at 6:00 p.m. so we can do our drawing.
This month, all of the tips made during Whisk(e)y Wednesday with Zac will be donated to the Boys and Girls Club of Sioux Falls. Last month was incredible in helping to raise funds for Big Paws Canine, and we look forward to doing something similar for the Boys and Girls Club.