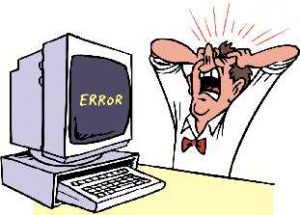 Early last week, we did a complete reset of the store. It was a lot of work, and we can't thank everyone that helped enough! The reviews are in, and you love it! We spent the majority of last week getting everything finished up. New location codes, repricing a few things, re-tagging everything. Usual stuff we do every year. Plus we had a full calendar of events and it was Super Bowl weekend, so we were quite busy doing the normal everyday stuff.
Every Sunday morning, especially after a busy weekend, I will connect remotely to my computer at work to check sales and tidy up some book work. It was when I tried to connect to that computer is when things got complicated. After failing to connect a couple of times, I went through a "back door" and still had no success. So, I jumped in the truck and drove down to the shop. Only to find my computer, which is also the machine that drives our point of sale and accounting systems, sitting in what is called a "boot loop". Stuck, and inaccessible.
I called our support team and they tried the tricks they knew, but nothing worked. So we decided to move in a different direction and get our backups installed on a different machine. This is a complicated process, so we couldn't get open on time the morning of the Super Bowl. Right, not great. After we got the backup systems rolling we started noticing some strange things with regard to the data we were working with. Apparently our automated backup hadn't automated for about 3 weeks. Right, not good.
So I panicked. A little. We muscled through Super Bowl Sunday. I contacted some of my nerd friends to see if they could figure out what was wrong with my drive, but no one had any concrete solutions. So, Jean and I took a trip to St. Cloud to drop the drive off with the folks who support our POS software. They were up to the challenge.
It took about two days to get the drive cracked open, so that we could retrieve our data. Fortunately, all of our data was intact! This isn't always the case in these situations, so we feel very fortunate, and relieved that everything was there. We spent all of yesterday getting caught up on book keeping and transactions for the last four days. Now, I am happy to report, we are back to normal.
This week has reminded me of a few things. One, We have good people tending our business. Everyone was ready to do whatever it took to get through this without compromising customer service. Two, Jean is a very patient person. Three, backups are great, when they work, so have a backup plan for your backup. Four, nerds are awesome, even if they are a little difficult sometimes.
We still have some work to do, to complete the recovery. Our website will not have any pricing on it for about a week. We have to get a new permanent server installed to get that rolling again. Thanks for your patience!
I promise next week, I'll talk about wine again! Mark February 20th on your calendars. We will be offering a special opportunity to taste some really nice wines from Nickel & Nickel Winery in Napa Valley. Tickets will go on sale next Tuesday!