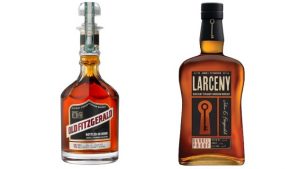 Often times when I get ready to write my Whisk(e)y Wednesday posts I've been inspired by something I've read, but this week, I'm inspired by a conversation that I had with a good friend and customer of ours. Last week was by far our most successful Whisk(e)y Wednesday yet for feature flights, and I didn't get a whole lot of time to float around and talk to everyone like I usually do. Mingling with you all gives me a chance to get some feedback and find out what you like, what you don't, and what you'd like to see more of in the future. Since I didn't get that chance last Wednesday, I thought I might be going into this week having to wing it. That was until Friday when I popped over to the bar side to say hello to a couple people. One of the conversations I had was about how much difference proof and mashbill makes in the whisk(e)y drinking experience. It got me thinking about distilleries that were producing whiskies with a variety of proofs and mashbills.
Heaven Hill's Expansive Portfolio and Featured Flight
Heaven Hill Distillery was fresh on my brain from our Elijah Craig flight last week and I also just cracked a bottle of batch B519 Barrel Proof at home. I got to thinking about what else Heaven Hill has in their portfolio. The last few years have been very good for the family owned distillery in terms of recognition, as they have produced some of the most awarded whiskies on the market lately. Elijah Craig Barrel Proof Batch B517 was Whisky Advocate's Whisky of the Year, and Henry McKenna 10 Year Single Barrel won Best in Show, Best Single Barrel Bourbon and Best Bourbon at the San Francisco Spirits Awards in 2018. First started in 1935 by the Shapira family, Heaven Hill has strived to provide high quality spirits at a fair price. While bourbon is what got them started, they have since expanded their reach into several different spirits categories, continuing to emphasize family ownership and high quality goods.
Within the whisk(e)y portfolio are 12 different American whiskies being produced, all with different proofs and mashbills. This leads to plenty of variety and tasting experiences. This week's feature flight will highlight four key players for Heaven Hill. The first is 7 year old Bernheim Wheat Whiskey. Purchased in 1999 by Heaven Hill, the Bernheim Distillery in downtown Louisville, Kentucky, serves as the main distilling location for all of Heaven Hill's American whiskey brands. Bernheim was the first whiskey after Prohibition to introduce a new kind of wheat using winter wheat as the main grain. It is smooth, almost creamy on the pallet while remaining soft and sweet. 
The next whiskey I'd like to highlight is Larceny Barrel Strength Bourbon. Larceny gained its name remembrance of John E. Fitzgerald who was the keeper of keys to the Federally Bonded Warehouses that distilleries used to store their bourbon. Larceny is a wheated bourbon, meaning the secondary flavor grain is wheat, with no rye in the mashbill at all. This produces a bourbon with a solid backbone, but a touch of soft coolness on the palate. Having been released historically at 92 proof, this barrel strength edition packs a bit more punch, but also adds depth and character to an already stellar bourbon.
Next comes Evan Williams Single Barrel. What makes this offering unique is that it is vintage dated, similar to wine. Each year, Heaven Hill Master Distillers come together to find the best barrels of Evan Williams to use for this expression. Each bottle is dated with when the barrel was filled, as well as when it was dumped. Coming in at 86.6 proof, this bourbon is the lowest proofed of this weeks whiskies of emphasis, but what it lacks in burn, it makes up for in rich oaky flavor and caramel sweetness.
The final whiskey of emphasis is a new one to the bar. At the end of last week, we got in a special shipment containing some really good stuff. One of the bottles was an Old Fitzgerald 15 Year Old Bottled-in-Bond from the fall release of 2019. I haven't opened this yet, but just going off the quality of previous releases of this stuff, I trust that it will be another really good release. 
Try these 4 whiskies in our featured flight, or any other 4 whiskies of your choice in a flight for half price all day on Wednesday. Each featured whisk(e)y that you get in your flight gets you one additional ticket in our bottle draw which will be loaded with good stuff this week. If a flight isn't your thing, snag a house whiskey sour made with any of the above whiskies for $3 more than a double shot. Keep reading below to find out what we have for you this week.
Whiskey With Z
Last week was a little slow and uneventful in my world as far as drinking whisk(e)y is concerned. For the most part, I dabbled in drinking our newest Elijah Craig Single Barrel throughout the week, mixing in an Old Forester Single Barrel that I had still on my bar cart. It wasn't until Sunday that I really got into anything crazy. 
We celebrated Christmas late as a company, finally having our end of the year celebration party at Tom and Jean's house on Sunday evening. Tom has a pretty impressive collection of stuff at his house, which makes sense considering how long he's been in the industry and the many places that he has traveled and gathered bottles from. I made it my mission that while I was there, I would only drink things that I've never had before. Unfortunately, I didn't take any photo documentation of what I was trying, but I think I remember pretty well what I had.
I started the evening by trying High West's A Midwinter Night's Dram. From what I can recall, it was velvety on the palate, almost creamy, with a nice balance of sweetness and spice. I was happy I started with that one, as I think with the stuff I tried later it would have been washed out had I saved it for later. From there, I found a bottle of George Dickel 17 Year Rye that was calling my name. I was a bit disappointed in how this one went, but Dickel is really hit or miss for me. Sometimes I like it, sometimes I don't. It all depends on my mood and what I am pairing it with for food, and this one just didn't hit the spot for me. Next up was an offering from Wild Turkey that caught me off guard a bit when I saw the bottle. It was in a sampler vile, and the label on it said Wild Turkey 1980 Lore Decanter. It's not every day that you find a whiskey, especially a bourbon, that was bottled before I was born so of course I had to try it. I would have to say that it was probably my favorite from the bunch that night, so good in fact that I made Tom try it with me so he could experience it for himself. 
I took a little break and drank some water (as a responsible whisk(e)y drinker should), and then began raiding the rest of Tom's stash to see what goodies he had tucked away. I stumbled upon a Weller Antique 107 in the old style bottle and knew right away that it needed to be sampled. Usually with something above 100 proof I would consider adding an ice cube, but I wanted to see how this did neat first. I was quite pleased, and decided to enjoy the rest of what was left neat as well. No need to water this one down, as the proof was offset by the natural sweetness of a wheated mashbill, so it went down without any bite. 
I wrapped up my raiding adventures by looking at all of the JJ's Store Pick single barrels that Tom has in his collection, including a full lineup of all 14 Knob Creek Single Barrel picks that he's done. The bottle from his first selection was barrel number 989 of Knob Creek's single barrel program. I bring that up only because now, Knob Creek is averaging almost 800 single barrels sold per year. Pretty crazy to consider how early Tom was able to get on board with the single barrel program, and even crazier to consider how much it has grown in the last six years both for JJ's, and for the industry. While I briefly considered finishing my night with one of his early picks, I ultimately settled on Jack Daniel's Heritage Barrel #2 as my final pour of the night. I had Heritage Barrel #1 last year when it was Whisky Advocate's number 3 whisk(e)y, but hadn't gotten a chance to try this year's edition. I found myself enjoying this variation almost as much as last year's, although the flavor profiles were vastly different. I picked up much more woodiness and raisin like flavor in Barrel #2, which made it perfect for my last drink of the night as the aftertaste was bitter and lingered for a long time. All in all, I thought my evening was very productive, besides not getting any pictures of my pours.
For more of what I'm drinking and where, follow me on Instagram @whiskeywithz as I chronicle my whisk(e)y explorations with tasting notes and other info that you may find interesting about our favorite brown spirit.
Charity of the Month, Bottle Draw
This month, we are donating all of our tips from Whisk(e)y Wednesday with Zac to The Boys and Girls Club of Sioux Falls. You'll notice more of our staff joining me behind the bar on Wednesdays for a couple of reasons. The first is that I need some extra help getting everyone served with as much as our Wednesday crowd has grown in the last few months. It's a good thing to be busy, and it also gives me a chance to put some new faces in front of you on the bar side. As a business, we are really rallying around and placing an emphasis on our charitable donations so you'll start to see more and more faces joining me behind the bar on Wednesdays as we look to promote the "team" aspect of our donations. If there is someone you don't recognize, please ask as we would love to get to know you better and build relationships that will continue to bring you into our wonderful store.
For the bottle draw this week, we have an incredible selection of hard to find bourbons and whiskies. Items available this week include Sazerac 6 Year Rye (VIP $27.99), Henry McKenna 10 Year Single Barrel (VIP $37.99), 1792 12 Year (VIP $51.99), Stagg Jr (VIP $57.99), Angel's Envy Bourbon ($49.99), and Woodford Reserve Master's Collection Chocolate Malted Rye (VIP $139.99).
That's it for this week. A long post, but hopefully one you found enjoyable. Cheers!