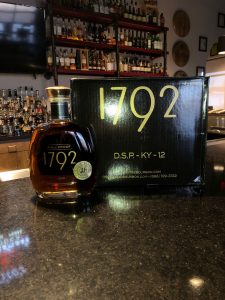 Happy Whisk(e)y Wednesday everyone. The last two weeks have been a blast for our team, and we expect this week to be no different. We've got a new 1792 Full Proof Single Barrel to release to you. Along with that, our bottle draw has some really good stuff in it this week. We've got two weeks left in the month of February, which means two more opportunities for your tips to go to The Boys and Girls Club of Sioux Falls. Keep reading below to find out what all we have in store for you today.
It's About Relationships
When I think about my job and what we do at JJ's, I think about fostering relationships. I've met some incredible people in my time here, and that is never more clear than when I get to chat with you about whisk(e)y. I've been spoiled with opportunities because of how many store pick single barrels we've had come in lately, so there have been lots of you in to chat about those. I want to say thank you. Those conversations are my favorite part of my day, and they are what prove that I have the best job any whisk(e)y lover could ask for.
Tied with that, I want to make sure that we are doing the best we can to assist you with your adult beverage needs.  We're not just here to get you something and send you on your way. We want to get to know you and what you like so we can best help you find something you'll be excited to have. Over the next couple of months, we'll be placing a larger emphasis on our knowledge of all the things we sell. Starting in March, you'll see a lot of our team around on Monday nights as we spend time learning together with the help of our wholesale suppliers. We're excited about what is in store for us, and all the good things it will mean for you as our customers. Stop in, meet the team, and maybe listen with us and learn a thing or two about our incredible industry.
With more emphasis on education coming, you're going to get more chances to interact with the awesome staff that we have here at JJ's. My goal is to make it easier for you all to get to know them by introducing small bio's on our website, as well as getting them out to talk to you more. As I mentioned last week, Whisk(e)y Wednesday has really grown, and I need all the help I can get, so you'll be seeing and talking to them a great deal more. I think you'll find them to be as fun to get to know as I have.
Feature Flight
As I referenced earlier, we have a new 1792 Full Proof Single Barrel that we are unveiling for you today. We're pretty excited about it as these have historically proven to make our best rendition of the 3.Old Fashioned. It's also a great addition to our current single barrel collection. If you caught our posts last week, we added a Woodford Reserve selection that Tom and I blended with Chris Morris at a dinner back in November. We now have 5 single barrel selections in the store. I figure now is as good a time as any to do a feature flight with them in it. Pick any combination of 4 from our Elijah Craig Single Barrel, Knob Creek Rye Single Barrel, Maker's Mark Private Select, Woodford Reserve Select Small Batch, and 1792 Full Proof Single Barrel to round out your feature flight. If you find one you really like, the good news is that you can buy one to go along with your bottle from the bottle draw.
This week we're introducing something new with the feature flight. Now with every whisk(e)y flight, get a specialty flatbread for only $8.95. This week's feature flatbread is a garlic herb and cheese, a masterpiece courtesy of our prep cook, Kade. 
Whisk(e)y With Z
If you haven't gotten a chance to follow me on Instagram yet, check out @whiskeywithz to see what I've been drinking lately and where. It's been a couple weeks since I was out and about to have a pour, but I've been enjoying some good stuff at home. For Valentine's Day, Kenadi made chicken enchiladas and had some red wine while I enjoyed some Colonel E.H. Taylor Small Batch. Every time I have something from the Taylor line I am impressed. I'm a particularly big fan of the Barrel Proof and consider it to be in my top 5 favorite bourbons. The other pour I've enjoyed quite a bit lately has been a Four Roses Small Batch Select that I received from a friend. It makes for a great sipper while Kenadi and I sit around and catch up on our days. I can't say it enough how lucky I am to meet the people I do through this industry.
Bottle Draw/Charity of the Month
This week's bottle draw has some goodies in it again. Pikesville Rye (VIP $51.99) has been a tough whiskey to find lately, but we have a bottle for sale this week to go along with Colonel E.H. Taylor Rye (VIP $67.99). For bourbons, we have Old Forester 1910 (VIP $57.99), 1792 12 Year Bourbon, Henry McKenna Single Barrel Bourbon (VIP $39.99), and Angel's Envy Port Cask Finished Bourbon (VIP $49.99). We also have a few hard to find bottles of Scotch. Dewar's recently released a 21 Year (VIP $49.99) and 32 Year edition (VIP $147.99), with the 21 Year Old making it into Whisky Advocate's Top 20. These are only available in 375ml bottles, and we have a very limited number of each. If you like Scotch, or maybe just want a chance to own something that old for an affordable price, these would make great additions to your home bar.
As always, tips made during Whisk(e)y Wednesday with Zac are donated to a different charity each month. At the end of the month, we total it all up, Tom matches the amount, and then we present it to a local charity. This month is the Boys and Girls Club of Sioux Falls. So far, the first few weeks have been stellar for donations and we look to keep that up for the next two weeks. That's it for this week. We hope to see you all sometime in the near future. Cheers!