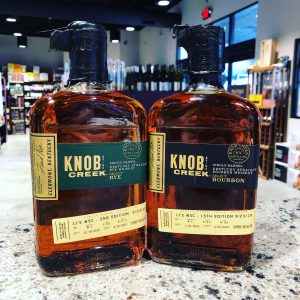 Happy Whisk(e)y Wednesday everyone. Lock in for what is set to be a good week as we're set to unveil not one, but two new single barrels from Knob Creek, one rye and one bourbon. To go along with these new Store Pick Single Barrels, we have some great new whiskies from the likes of Bickering Brothers and Balcones. Our bottle draw is set to be a good one as we have Blanton's, Weller, E.H. Taylor Rye, E.H. Taylor Small Batch, Old Forester 1910, Sazerac 6 Year, Angel's Envy, and Henry McKenna 10 Year Single Barrel. This month our ABU classes are exploring the whiskies of the world on Tuesday nights, with 3 classes remaining. Our charity of the month is the Ronald Mcdonald House Charity of Sioux Falls, and we have an awesome plan for the tips raised this month. Let's get down to the details.
New Whiskies
We've got several new whiskies that will be hitting the shelves today, the most exciting for me being the new Store Pick Single Barrels that we have coming from Knob Creek. These barrels were picked back in September of 2019 and are the last two barrels to arrive from that trip. Each of the whiskies that has arrived from this trip so far has been pretty stellar, and I am looking forward to doing a side by side of these picks with the last two Knob Creek picks. We'll be working these into tonight's feature flight, but we will also have them for sale on the retail side.
To go along with these new barrels, we're also excited to be offering Bickering Brothers and Balcones whiskey for sale. There isn't much for Texas whiskey in the South Dakota market, so we're excited to have the Balcones line for you to see what kind of whiskey is being produced there. Because of the high heat, these whiskies tend to age faster so their color is richer and flavor is deeper at a younger age than their Kentucky or Tennessee counter parts. We invite you to give them a try and let us know what you think. The Bickering Brothers products are a great addition to our lineup as well as they are South Dakota made, tasty, and unique. We're in the process of lining up a single barrel selection with them as we think this is a whiskey that many will enjoy.Stay tuned as Tom and I plan a trip out to see them in the next couple of months.
Feature Flight
Just like every week, all flights are half priced all night. This week's feature flight is going to highlight our new store picks in combination with some other great Knob Creek offerings. Tom is being very generous and pulling out an early edition Knob Creek Single Barrel pick that he has stashed so we can try it next to our new offerings. To round out the fourth whisk(e)y in the flight is Knob Creek 25th Anniversary Single Barrel. Getting these four whiskies in a flight will also get you 4 tickets for the bottle draw. Substitute a Whisk(e)y Sour made with any of these whiskies to also receive 4 tickets. 
Whiskey With Z
If you haven't gotten a chance to follow me on Instagram @whiskeywithz, I strongly suggest you give it a shot. I've been a little inactive on there the last few weeks, but with the weather warming up, so will the action on the page. Kenadi and I have a busy summer ahead of us, and a lot of it involves whisk(e)y in some way. This week I celebrated National Bottled-in-Bond Day on Tuesday by enjoying a pour of E.H. Taylor Rye, and also enjoyed a pour of some 1792 Single Barrel that I was able to sneak back with us from our trip to Kentucky in January. 
I also invite you to join us on Tuesday nights as this month we are focusing on world whiskies with our JJ's ABU series. This week we discussed Canadian Whisky, with Scotch, Irish, and Japanese whiskies to be discussed in the impending weeks. The cost for the classes is only $10 and gets you several samples as well as some in depth knowledge about each of these great whisk(e)y categories.
Charity/Bottle Draw
This month, we are going to be giving all of the tips collected on Wednesday to the Ronald Mcdonald House Charity, but we're doing it with a twist. Normally, we collect the tips, Tom matches the amount, and we write a check to the charity to present to them. This month, we're going to take all of the tips, match them, and then bottled Kentucky Derby raffle tickets with them. Each person that stops in for Whisk(e)y Wednesday this month is going to get a card to fill out with their name and phone number. We will collect all of these cards and hold them to do a final drawing at the end of the month. If your card is chosen, and one of the tickets that we purchased with the tips is selected, you and a plus one will get to go on a one day, all inclusive trip to the Kentucky Derby this year. This is honestly a once in a lifetime opportunity, and it's a great way to raise funds for an awesome charity.
This week's bottle draw has some really good stuff. Blanton's, Weller, E.H. Taylor Rye, E.H. Taylor Small Batch, Old Forester 1910, Sazerac 6 Year, Henry Mckenna 10 Year Single Barrel, and Angel's Envy Bourbon will be in the raffle for a total of . For those that aren't sure how the bottle draw works, you'll get a ticket just for coming in on Wednesday before 6:00 p.m. You get an additional ticket for each featured whiskey that you get in a flight. At 6:00 p.m., we will draw a ticket for however many bottles are available through the raffle. Once you've been drawn, you will have the choice to buy any of the rare/allocated items that we have available. You can only be drawn for one bottle, and can choose to pass if there isn't a bottle that you want to buy.