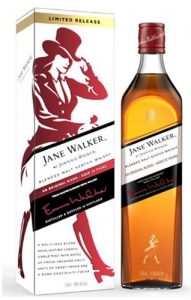 Happy Whisk(e)y Wednesday! I like to think that every week is special for Whisk(e)y Wednesday, but in my opinion, this week is extra special. We're unveiling a barrel that previously we thought was lost, but are certainly glad was found. International Women's Day was this past week, and Johnnie Walker has relaunched their Jane Walker Edition to celebrate.  This week's feature flight will be highlighting the entire portfolio from Jim Beam, with some high end specialty items lined up for you. Our charity of the month is the Ronald Mcdonald House Charity of Sioux Falls, and we have a creative way to present them with the tips we collect on Wednesday's this month. Keep reading below for all the details
The Lost Barrel 
If your memory serves you well, you will recall that last March our crew took a trip to Kentucky to pick out some new single barrel bourbons. There was a bit of a hiccup in production from Knob Creek, so we ended up waiting almost 9 months for the two barrels that we picked from them to show up. In an effort to find out what was taking so long, Tom made a few phone calls and discovered that we were supposed to be getting two bourbon barrels and one rye barrel. This contradicted previous information, as during the selection process we had only chosen one bourbon and one rye. When the barrels arrived in December, there was one bourbon and one rye, just as we expected. Now fast forward to this week and you can imagine our surprise when another barrel of Knob Creek Single Barrel Bourbon arrived with the pick date of March 11, 2019. With the releasing of last week's 15th Edition Knob Creek, it seemed a bit odd that they skipped from the 13th Edition to the 15th Edition. We didn't have an explanation at first, but found it when we began to open up more cases to display on the barrel and low and behold, intermixed with the 15th Edition were also bottles labeled 14th Edition. We opened a bottle to try and of course we were impressed. It may have taken a while, but at 15 years old, this barrel was absolutely worth the wait.
Feature Flight
We want to really show our new single barrel off, and there is no better way than to put it in a flight next to some other stellar offerings from the Jim Beam Distillery. Accompanying the Knob Creek Single Barrel 14th Edition is Little Book #3, Baker's 7 Year Small Batch Bourbon, and Basil Hayden's 10 Year Bourbon. Getting all four of these whiskies in half priced flight ($15 for all 4) will also get you 4 additional tickets for the evenings bottle draw which you won't want to miss out on.
Whiskey With Z
Hopefully you all have been able to follow along with me on Instagram @whiskeywithz as I venture through life trying to enjoy the good stuff. Last week I got a chance to enjoy some pours at a few new spots. With a couple days of nice weather, I wanted to get out and enjoy the sunshine while also sipping on my favorite spirit. Kenadi and I ventured downtown to meet up with some friends and found ourselves at Tommy Jacks for some food and drinks. My drink of choice was the ever trusty Jack Daniel's which I sipped on while we swept the floor on the bags boards. After dinner, we ventured over to Lucky's where I found a bottle of Buffalo Trace on the back bar. I enjoyed a double on the rocks to give me the boost I needed to win a couple games of pool before calling it a night.
So far this week, my whisk(e)y drinking explorations have been pretty subdued, but I have plans for an eventful Friday. I'll be joining a group of friends to try out several different ryes that each of us will be bringing. My bottle of choice will be the second edition Knob Creek Store Pick Single Barrel that just arrived last week. With very typical rye flavor profile, I think it will be a great whiskey to encapsulate the category.
New Things
Last week was International Women's Day, and to celebrate, Johnnie Walker rereleased their Jane Walker edition. Still a blend of single malts, this offering has more floral notes on the nose and palate. It is soft and easy to drink, with plenty of complexity. It is also handcrafted by female Master Blender Emma Walker. This whisky was distilled and aged at the Cardu Distillery, which flourished under the leadership of Elizabeth Cumming. This whisky highlights and celebrates the many achievements of women in whisk(e)y making. 
We've launched some new programs and themes in our event room and bar in the last few weeks, and if you haven't stopped in to check it out I want to invite you in to see what we've got going on. On Tuesdays for the month of March we are hosting a Whiskies of the World ABU series in which we discuss whiskies being made outside the United States. So far, we have discussed Canadian and Scotch whiskies, with Irish whiskey next week, and Japanese whisky slotted for the following week. We've also launched our Tap It Tuesday theme in the bar which features $2 off draft beers as we try to push through some stuff to make room for new beers going on tap Wednesday. Thursdays are now Tequila Thursdays with $10 Codigo Margaritas, $2 off taco pizzas, and $2 off single pours of tequila. And finally, Friday is Comfort Food Fridays with a new form of comfort food every week courtesy of Mrs. Boozy Baker, Jean Slattery. Each Friday we will have a limited supply of our comfort food theme for the week. This Friday we will have Irish Beef Stew and Irish Soda Bread as we gear up to celebrate St. Patty's Day. We hope you're able to join us soon.
Charity of the Month + Bottle Draw
This month, we are going to be giving all of the tips collected on Wednesday to the Ronald Mcdonald House Charity, but we're doing it with a twist. Normally, we collect the tips, Tom matches the amount, and we write a check to the charity to present to them. This month, we're going to take all of the tips, match them, and then purchase Kentucky Derby raffle tickets with them. Each person that stops in for Whisk(e)y Wednesday this month is going to get a card to fill out with their name and phone number. We will collect all of these cards and hold them to do a final drawing at the end of the month. If your card is chosen, and one of the tickets that we purchased with the tips is selected, you and a plus one will get to go on a one day, all inclusive trip to the Kentucky Derby this year. This is honestly a once in a lifetime opportunity, and it's a great way to raise funds for an awesome charity.
Our bottle draw this week is loaded with goodies again, 11 total bottles of goodies to be exact. Blanton's, Weller, E.H. Taylor Rye, E.H. Taylor Small Batch, Sazerac 6 Year, Henry McKenna 10 Year Single Barrel, and Angel's Envy Bourbon round out this week's list of available bottles. For those of you that are new to how the bottle draw works, you'll get a ticket just for coming in on Wednesday before 6:00 p.m. You get an additional ticket for each featured whiskey that you get in a flight. At 6:00 p.m., we will draw a ticket for however many bottles are available through the raffle. Once you've been drawn, you will have the choice to buy any of the rare/allocated items that we have available. You can only be drawn for one bottle, and can choose to pass if there isn't a bottle that you want to buy.
That's it for this week. As always, I appreciate everyone that follows along in this journey that is drinking whisk(e)y, and look forward to engaging you in enthusiastic conversation about our favorite spirit.