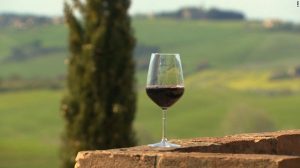 These two things have nothing to do with each other, but it seems to be what people are talking about, so I guess that should include us to a degree. We have long said that our role in this crazy world is to provide an escape from those things that weigh on us the most. This current COVID 19 pandemic, is no exception.
I was at Sam's Club this morning buying cleaning supplies for the store and was shocked by the amount of, wait for it, toilet paper people were buying. What exactly this has to do with a pandemic, I can only assume, but the lengths to which people were "planning" for an impending sequestration was a little nuts.
What you really need to do is stock up on wine. If you are going to be sequestered to your home for any duration while we wait this thing out, the last thing you want to run out of is wine! Good thing we have the Spring Wine Sale right now! It's a great time stock up! Check out our Wine Page to see how great the deals are. The price indicated on the right is the Sale Price when you purchase 12 items.
There are many reasons, other than impending quarantine to stock up. You probably have a few things coming up this Summer that require copious amounts of wine. Weddings, graduations, family reunions. All of these require a fair amount of product, and the price isn't going to get any better than it is right now, through March 28th!
Featured Wines of the Week – This week I am featuring wines from J Winery and Ghost Pines. We have added a couple of these wines to our wine list (glass pours) in The 3.0 Cocktail Bar, but I will also be sampling on Thursday this week from 4-6pm! We will be tasting J Pinot Noir, J Chardonnay, Ghost Pines Red Blend, Ghost Pines Zinfandel & Ghost Pines Chardonnay. These wines have always been longtime favorites, I hope you get a chance to stop in and revisit them!
Schedule of Activities – This week it's all about the Spring Wine Sale! But we do have some other funs stuff going on as well…
Tuesday – Tonight, it's our second tasting featuring non-American Whiskies. For $10, you will be tasting SIX different Single Malt & Blended Scotch Whiskies. Presented by our friend Brad Palmer. It's also Tap It Tuesday in The 3.0 Cocktail Bar. All beers are $2 off and only $1 open fees for any of the hundreds of bottles and cans on our mix and match rack.
Wednesday – It's Whisk(e)y Wednesday with Zac! This month we are raising money for Ronald McDonald House Charities, but we are also giving all WW participants an opportunity to go on the trip of a lifetime! 100% of your gratuities are being matched by ME, then we are purchasing Kentucky Derby Raffle Tickets with 100% of the proceeds benefitting Ronald McDonald House Charities of South Dakota. If one of our tickets is drawn, we will be doing a second raffle on April 22nd to determine who gets to use the winning raffle ticket! We will draw THREE names that have been collected through the month of March, during Whisk(e)y Wednesday with Zac, with each winner getting TWO tickets to the Kentucky Derby and a private jet to get you there and back. The Boozy Bakery is also stocked and loaded up for what is sure to be a busy St. Patty's Day Weekend! Check out The Boozy Bakery Blog to see what's available this week! Chris Champion will be LIVE from 6-8pm!
Thursday – Tequila Thursday! Last week was our first installment of Tequila Thursday, and you seemed to love it! Who doesn't love $10 Codigo Margaritas, $2 discounts on all tequila cocktails, and $2 Coronas! Our famous Taco Flatbread is also only $8.95.
We will discuss the weekend in Friday morning's email!