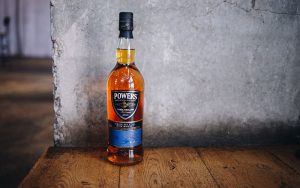 Happy Whisk(e)y Wednesday everyone. We aren't up and running at full capacity quite yet, but we do have a plan in place to get back to enjoying our whisk(e)y flights and bottle draw like we are accustomed to. For the foreseeable future, we'll be hosting our bottle draw over Facebook Live so that we can enjoy a virtual happy hour together. With that virtual happy hour, we want to make sure that you have some good drams to enjoy, and some appropriate glassware to enjoy them out of. We're extremely excited to share that we now have Glencairn glasses with JJ's Wine, Spirits, and Cigars etched in them so you can enjoy your favorite whisk(e)y from your favorite liquor store, in the perfect sipping glass. Keep reading below for all the details about how we're going to pull all of this off.
What's New at JJ's
The COVID-19 pandemic has changed the way we do business at JJ's, and not all in a bad way. I'm a big believer that change is good, and that obstacles and setbacks are a great chance to take a step back, reanalyze our processes, and make adjustments to improve the customer experience. We, much like you, are navigating through uncharted waters. I've learned a thing or two from Tom in my time here, and what sticks out most to me now is that you must adapt or die, no business can ever afford to simply remain the same. With that said, we've done some major adjusting in the last week.
One of those adjustments is how we are handling Whisk(e)y Wednesday and the rare and allocated whiskies we receive. Since we can't meet in large groups for a while, it's imperative that we get creative with our bottle draw so that you all can still get access to these highly sought after whiskies. To accomplish this, we'll be holding a Virtual Happy Hour on Facebook Live so that we can enjoy drinking together, without having to be together. Beginning at 5:45pm on Wednesday, March 25th, I will be taking over the JJ's Facebook page to join you all for a drink and to hold our weekly bottle draw. So how's it going to work? You will have until 4:00pm on Wednesday to stop in and get a ticket for the drawing, or if you are unable to get into the store, you can email me at zac@jjswine.com and I will enter your name for you. If emailing in, make sure to check your inbox for a confirmation email from me. If you do stop in, you'll have an opportunity to get additional tickets for the drawing by purchasing our "Whisk(e)y Wednesday at Home Kit," which consists of our featured flight for the week, as well as 4 brand new JJ's Glencairn glasses, all for only $60. The featured flight will consist of ½ ounce pours of Jameson 18 Year, Bushmills 16 Year, Redbreast 15 Year, and Powers Three Swallows Irish Whiskey, all packaged in To-Go containers. This is a great deal as you will get to keep all 4 Glencairn glasses for you to use in all of your future whisk(e)y drinking adventures. Once we go live at 5:45pm, we'll have 15 minutes of open conversation where you can chat with me about whisk(e)y. At 6:00pm, I will begin drawing names for our bottle raffle. You must be watching and participating in the Live video to ensure you get a bottle when chosen. Once selected, you can choose from the bottles remaining and will have 48 hours to pay for the bottle, or it will be reentered in next week's raffle. We'll keep the video going for a bit after the drawing to allow time for further conversation. This is exciting for me, as it is very rare that I get to imbibe in a drink with our customers. You all have made Whisk(e)y Wednesday with Zac an incredible experience, and I look forward to being able to enjoy the day with you in the form of a new adventure.
Whiskey With Z
If you follow me on Instagram @whiskeywithZ, you probably caught that I celebrated a birthday on Monday. I turned 25 and to commemorate it I finally cracked open my bottle of Old Forester Birthday Bourbon that I've had since 2018. I know, holding onto this bottle has gone against my fundamental belief that whisk(e)y is meant to be drank and not just sit on the home bar, but I just couldn't find an occasion special enough to open. I figured celebrating being a quarter of the way to 100 was a good reason to finally open it. 
While I sipped, I took some time to reflect on what year 24 of my life had for me, and I must say that it was pretty kickass. I started the year at Jack Daniel's making my first solo Store Pick Single Barrel trip without Tom. From there, Kenadi and I navigated a move to be back into Sioux Falls, ventured to San Francisco for vacation and also got engaged, began wedding planning, and found a dog through Big Paws Canine to adopt. Professionally, I saw my role as Store Operations Manager grow into the General Manager position, while also taking on a larger, more active role in the development of the 3.0 Cocktail Bar. It has been a wild and winding 366 days around the sun, but I wouldn't change it for anything. I have many people to thank for all this to be possible. 
That all said, I'll wrap up this week's post by saying "Thank You". Thank you to all of you who have shopped with us and given me an opportunity to get to know you. Thank you for all of your continued support during these uncertain times. Thank you to my fiancée who has put up with my crazy hours and allowed me to pursue my passion for a career. Thank you to Tom and Jean for trusting me to lead the business that has been their life's work. And finally, "Thank You" to my parents for instilling in me the values of hard work, service to others, and appreciation. I live a good life, and it is all possible because I am able to be myself and pursue things that light a fire inside of me that I want to show to the world.
Stay safe, stay smart, and stay enjoying the good stuff everyone. Cheers!