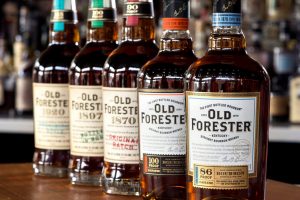 Happy Whisk(e)y Wednesday everyone! We're making some slight changes to our Virtual Happy Hour format for Whisk(e)y Wednesday beginning with pushing our start time back to 6:00 p.m. We are also going to be hosting our tasting over Zoom so that we can interact a little more. Don't worry, we'll still be hosting the live broadcast over Facebook so you can watch. Tom and I have come up with some pretty awesome ideas for events to come in the next few weeks that I will tease more below. This week's bottle raffle is full of hard to find stuff from Buffalo Trace, and a very good friend brought me something special this week.
Featured Flight
Judging by the feedback we've been getting from all of you, you're enjoying our Virtual Happy Hours just as much as we are, so we're going to keep them going. Much like the other aspects of our business that we are always looking to enhance the experience, we aspire to improve week to week with our virtual Whisk(e)y Wednesday. This week we'll be dual broadcasting our session over Zoom and through Facebook Live. We're doing this in an effort to create a more interactive experience for those that are tasting through the flight with us. When you stop in to grab this week's featured flight, your tasting card will have a Zoom Meeting ID number, as well as a password to join Tom and myself on camera. This should give us a better opportunity to receive instant feedback and carry on more conversation. If you don't want to be on camera, or you just want to watch us, you'll still be able to tune into our Facebook page for a live stream of the video. We're starting 15 minutes later this week, so don't panic if you can't find us at 5:45. Tom and I will go live shortly before 6:00.
For our flight this week, we've got a special surprise for you as we will be including FIVE whiskies for us to discuss together. No matter how hard I try, I can't pull myself away from Old Forester's bourbons, most specifically the Whiskey Row Series. If you follow me on Instagram, you might have caught that this past week I finally opened the bottle of Old Forester 1910 that I have at home, and I must say that is what has inspired me this week. Sadly, despite the fact that the 1910 inspired this week's flight, we don't have enough of it to include, hence the addition of a 5th whiskey. To make up for not having the 1910, I've decided to include our most recent Old Forester Store Pick Single Barrel, as well as Old Forester Birthday Bourbon from 2019. Rounding out the remainder of the flight then will be Old Forester 1870 Original Batch, Old Forester 1897 Bottled-In-Bond, and Old Forester 1920 Prohibition Style. Get all 5 for only $25, as well as tickets into this week's bottle raffle. Like I said, I am an incredibly big fan of these whiskies, and I think all of you will be as well.
Upcoming Tasting Events
As I mentioned earlier, Tom and I have been brainstorming ideas for tasting experiences in the near future, and we think we have some plans that you all will be excited to hear about. For you fellow bourbon lovers out there, you may have seen our bottle of O.F.C. 1994 sitting behind the back counter when you've stopped in. The original plan for this bottle was to open it at the Darius Rucker Bourbon Tasting Experience, but with all the madness related to COVID, we are anticipating this event won't be happening in its previously imagined scope. Good thing we are adaptable, so the bottle is still going to be opened and shared with you all. Our plan is to host this event virtually on Saturday, May 2nd, when the Kentucky Derby was supposed to be run. We want to give everyone a chance to put on their Derby Day apparel, and show off your biggest, most obnoxious headwear. It won't truly replace the show that is the Kentucky Derby, but it should be a fun time.
Two weeks later is Craft Beer Week, and to celebrate, we want to again provide you with a once in a lifetime tasting experience. Every two years, Sam Adams does a specialty release of a barleywine that they have dubbed Utopias. The bottles are a beautiful copper, and the beer inside is above 20% alcohol. It is certainly a specialty item that many search for, and very few find. We have both the 2019 release and the 2017 release that we have never opened, but certainly want to, so we will with all of you. Details on the specific day and time, as well as price for the event still need to be nailed down, but mark your calendars for May 11-17th as our event will be happening sometime then.
Whiskey With Z
In some exciting personal news, Kenadi and I have recently put in and had an offer accepted on a house. We are excited to become first time homebuyers, and look forward to having a yard that our newly adopted pitbull Sampson and Kenadi's golden retriever Mahli will be able to enjoy. In preparation for the impending move, I've made it a personal goal to move as few bottles of whisk(e)y as necessary. This requires me to fairly assess my stash and decide what I don't desperately need to have anymore. I must admit, it is difficult for me to let go, even of the items that I didn't deem every day drinkers, but I am making progress. I have named my efforts Operation Bottle Kill, and so far, I've moved through 4 bottles. None had very much left in them, but just finishing them gave me a bit of anxiety and fear of missing out. In the end though, I know that the less I have to move, the less likely it is that any will break, and if there's anything that hurts more than having an empty bottle, it's having a broken bottle that wasn't quite finished. 
Related to our imminent move, a great friend of mine stopped into the store on Tuesday to drop off a house warming gift. I knew he was getting me something, but believe me when I say that I was shocked to open the gift bag and find a Larceny Barrel Strength inside. I'll only give his first name for privacy reasons, but I can't express enough how much I appreciated this gesture from Terry. I constantly say that the best part about bourbon is the people, and this was a perfect example of why I say that. Terry and I have had a couple conversations about this specific product, and I was keeping an eye out for a bottle for him, so for him to beat me to the punch and then gift it to me says a lot about the kind of guy he is. Our world is a little chaotic right now, but that gesture reminded me why we do what we do. The people that I meet and converse with about something that you all are as passionate about as I am makes me forever thankful. 
Bottle Draw/Whiskey Gives Back
This week in our bottle draw is a heavy dose of Buffalo Trace products including Eagle Rare, Stagg Jr., Weller Special Reserve, and Blanton's, as well as Heaven Hill offering Henry McKenna 10 Year Single Barrel. We have 10 total bottles to draw for this week, and with an additional whiskey in the flight, we are adding a ticket to each flight to-go kit to give you an extra opportunity to have your name drawn.
To wrap up this lengthy Whisk(e)y Wednesday post, I want to highlight Balcones Distilling's efforts to support our industry. For every bottle of Balcones whiskey sold through May, Balcones will be donating $5 to the USBG bartenders emergency assistance fund, up to $25,000. This is a great way to indirectly help out some of your favorite bartenders as many of them are turning to the United States Bartenders Guild for support during these times while they are out of work. If you've ever been curious about Texas whiskey, now is the perfect time to pick up a bottle to try, and help out those in the service industry that are anxiously awaiting a return to work.