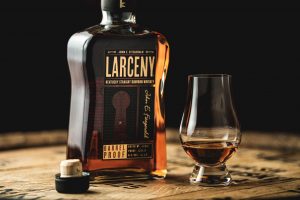 Happy Whisk(e)y Wednesday everyone. We've talked about how great you all have been about adjusting with us to the changes we have to make to our weekly flight program because of what has been going on with COVID-19, and we are again asking you to be flexible with our Whisk(e)y Wednesday program. Instead of doing a flight this week, we'll be doing a virtual bottle share. I'll touch more on why this is later. Last week was a record number of flights poured and virtual attendees. I promise this week Tom and I will be on the same page so that we can dual broadcast through Zoom and Facebook Live. This past Saturday night, I sat in with Sioux Falls Whisky Society and Balcones Brand Ambassador James Goad to discuss Balcones distilling processes and their products and I'll fill you in on that below. 
Virtual Bottle Share
Normally, this first section would be dedicated to telling you what we have available for our featured flight, but this week we have to hold off. We were contacted on Friday by the South Dakota Department of Revenue instructing us to cease our cocktails to-go and our flights to-go. This was a bit of a crusher for us, I won't lie. We have had incredibly positive responses to both of these additions to our business and were looking forward to growing them further. Nonetheless, we will remain focused on elevating your experience by continuing to offer our virtual Whisk(e)y Wednesdays, but in a little different capacity until we receive clarification on what we can and cannot do. 
This week we will instead give you the opportunity to share with us what you enjoy. I talk enough about my affinity for whisk(e)y, so now I want to give the platform to you all to share what you love about it. We can't offer a flight to-go, but we can offer you 30% off the list price on all whiskies in the store. This is a great chance for you to snag an old favorite, try something new, or pick up a couple bottles and experiment with building your own flight. Stop in and grab a bottle and while you're here we can chat about what you'll be enjoying and I'll get you hooked up with tickets for our weekly bottle draw which will remain as it has been. 
James Goad, Northern Californian Brand Manager from Balcones Distillery will be popping in for about 30 minutes to discuss their distilling processes and history. He'll be sharing what makes their products unique and how they, like many other distilleries, are giving back to the United States Bartenders Guild during the trying times of COVID-19. I was able to sit in on a tasting with James last Saturday and was incredibly impressed with his knowledge of the brand and their goals. I think that you all will enjoy getting to hear directly from someone who's sole focus is to build whiskey drinking all over the country.
I am taking suggestions for what I should enjoy while on camera this week, as I don't have my heart set on anyone specific whisk(e)y. Make a case for your best recommendation and I will reveal what I go with when we go live at 6:00 p.m. We'll be dual broadcasting on Zoom and Facebook Live this week as Tom and I are finally on the same page with how to get that set up, so if you want to just tune in and watch without being on camera you can catch us on the JJ's Wine, Spirits, and Cigars Facebook page. We'll be searching the Zoom crowd for the best background, so if you have something clever, bring it on.
Whiskey With Z
As I mentioned before, I got the chance to taste through the entire Balcones lineup that is available in South Dakota with Sioux Falls Whisky Society on Saturday evening. It was a great chance for me to spend a couple hours learning about something that I didn't have extensive knowledge of, as well as engage in conversation with new people. I had a good time and thoroughly enjoyed the socialization aspect of the experience. I found the whiskies to be quite unique to what I normally drink, as Balcones uses a pot still rather than a column still, and they also focus heavily on using heirloom grains such as blue corn. It creates a one of a kind drinking experience, and batch to batch variation is noticeable. It was a great chance for me to expand my palate and focus on nuances that I don't often find while drinking bourbon. I came away with a great deal of respect for Texas whiskey making as they deal with some peculiar weather that affects whiskey aging quite differently than the climate found in Kentucky and Indiana. Their incredibly hotter summers and cool winters create a greater influx of temperature changes throughout the year that make aging whiskey a quicker process. For example, their Baby Blue is only aged for 6 months, but has the color and flavor profile of something that has been aged for 2-3 years. It truly was fun to be able to see how much outside factors can influence the juice we drink.
Operation "Bottle Kill" has been in full effect as I gear up for the impending move, and it forced me to really dig through my collection. I rediscovered High West's Yippee Ki-Yay, a blend of straight rye whiskies that have been finished in Vermouth and Syrah barrels. This barrel finishing produces a whiskey that is rich with red fruit notes, is lighter on the palate, and has more of a cinnamon and baking spice component to it rather than the typical black and white pepper spice associated with rye whiskies. I've still got a few sips left in the bottle, and the likelihood is high that I will pick up another bottle at some point, but it was really nice to revisit something that I gravitated to early on in my whiskey drinking endeavors. If anything, I find I enjoy it more now because I can truly appreciate the subtleties that it carries.
If you haven't yet, tag along on my drinking adventures by following me on Instagram @WhiskeyWithZ.
Bottle Raffle
Luckily, we don't have to completely change the way that Whisk(e)y Wednesday works. We will still be holding our weekly bottle raffle, you just won't get as many tickets entered in as past weeks. I do still want to create some incentives for stopping into the store to shop, so here's how it will work: you'll get one ticket for stopping in and asking to be entered in the raffle, you will get another ticket if you purchase a bottle of whisk(e)y while you're in, and you will get a third ticket if you purchase one of the JJ's Store Pick Single Barrels that we currently have in stock. I'll also hook you up with the Zoom meeting ID number and password so you can join us for virtual pours and great conversation. If you can't make it in but would still like to be in the raffle, send me an email at zac@jjswine.com and let me know you'd like to be entered. I'll send you a confirmation email that we've got you in there. This week we have bottles of Weller, Eagle Rare, E.H. Taylor Small Batch, and for one lucky individual, a bottle of Larceny Barrel Proof.
Again, thank you all for continuing to support our business and for participating in our weekly virtual happy hour. I know I am having a ton of fun with this, and even though we have to make a few changes to how we do it this week, I still expect this to be great session. I look forward to seeing you all online. Cheers!