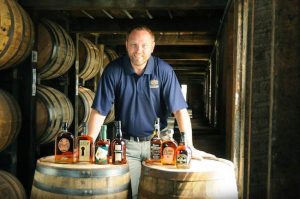 Happy Whisk(e)y Wednesday everyone. We're getting back to our previously established norm with you enjoying flights at home. We've got a loaded happy hour planned for this week's Virtual Whisk(e)y Wednesday, with two guests joining us on the call. Bernie Lubbers aka the Whiskey Professor and Brand Ambassador for Heaven Hill, as well as John Foster National Director of Sales and Marketing for Smooth Ambler will be dropping in to present and taste through some of their whiskies with us. We're releasing a new Store Pick Single Barrel from Elijah Craig just in time to take the shelf where pick #2 used to be. Our bottle draw has a lot, and I mean a lot of bottles in it this week, including a bottle of Old Fitzgerald 15 Year.
Flights at Home
Last week we had to get away from the flights to-go after the city expressed some concerns over the packaging. We've gotten that issue resolved, so we're bringing back flights to enjoy at home. To make up for missing out last week, we'll be tasting through not 4, not 5, but 6 whiskies this week, all for only $25. It's going to be a little different as the 6 whiskies will essentially be split into two different flights of 3. We'll open up the Zoom meeting at about 5:50 p.m. with our first guest slated to speak at 6:00 p.m.
Our first guest will be John Foster of Smooth Ambler, so we're going to try 3 different whiskies from them including their wheated bourbon Big Level, a blend of straight bourbons dubbed Contradiction, and Old Scout Single Barrel Select Bourbon. We have a very limited supply of the Single Barrel Select, so each customer will receive a ¼ ounce pour of that, and a ½ ounce pour of Big Level and Contradiction. For those that are "green" to Smooth Ambler, they are a craft distillery located in West Virginia. They got their start by "scouting" out barrels from other distilleries and then blending them together to create unique whiskies for us to enjoy. This line was appropriately named Old Scout and was the most readily available of their products. Recently, they have been able to introduce their own distillate to the market in the form of Big Level. They're a unique bunch that has put together some really nice whiskies. We're excited to introduce you to them, or refresh your memory.
Our second guest is Bernie Lubbers of Heaven Hill. We recently did a Heaven Hill featured flight, but with us releasing a new Store Pick Single Barrel from Elijah Craig now seemed like a great time to revisit some of their best offerings. Bernie is the Senior Brand Ambassador for Heaven Hill and has built quite the following in the bourbon community because of his dedication and love of the spirit. His unique take on educating people about bourbon through Bluegrass music has reached thousands of people all over the world, and has led to him being known as the Whiskey Professor. We're excited to welcome Bernie on to discuss the 3 whiskies that we will be tasting through which include our newest Elijah Craig Single Barrel, Evan Williams Single Barrel, and Old Fitzgerald 15 Year Bottled-in-Bond. Much like the Smooth Ambler Single Barrel Select, we have a very limited amount of Old Fitz 15 Year, so everyone will be getting a ¼ ounce pour of that and a ½ ounce pour of Evan Williams Single Barrel and the Elijah Craig Single Barrel.
Whiskey With Z
Kenadi and I are slowly making progress on packing and preparing for our move in about 3 weeks. I'm still going strong on "Operation Bottle Kill" and have put a pretty solid dent in my collection. I didn't realize how much malt whiskey I had until I rearranged the bar cart so I had everything I wanted to finish before we move on one shelf. I polished off a bottle of Hogback Bourbon last week which I had picked up in Denver well over a year ago. It wasn't my favorite bottle, and it was the first bourbon I've had that got worse when I mixed it with pop, but nonetheless, I hated to dump it down the drain so I finished it over the week.
For those of you that follow along with other bourbon blogs, I would imagine that you have seen that Buffalo Trace will soon be releasing their next offering in the Experimental Series. This new variation will be a 12 Year Wheated Bourbon that has the same mashbill as Weller and the Van Winkle line, but what makes this different is how it has been aged and cut with water. Normally, bourbon is proofed right off the still and once it is dumped from the barrel before bottling. With this experimental barrel, the bourbon has been dumped from the barrel at 4 years old and proofed down to 100, then placed back in the same barrel and aged for an additional 8 years. This process is totally new, with the goal being to show off the importance of water to the bourbon's profile. I can't say how much of this we will see in the state, but we're hopeful that a couple bottles will make their way into the store. We'll keep you updated as we hear more from our distributors.
If you haven't yet, tag along on my drinking adventures by following me on Instagram @WhiskeyWithZ.
JJ's Gives Back
At the end of last week we announced our gift card giveaway to support some of our fellow locally owned businesses. You all gave us some awesome recommendations for businesses to support, and your participation of buying gift cards from us was outstanding. All in all, we did $3000 worth of gift card sales which we then matched by purchasing $3000 worth of gift cards from 30 other locally owned businesses. It is incredible to see how much our community can rally together to support each other. Brighter days are ahead and things like this reassure us that we all will bounce back stronger than ever before.
Bottle Raffle/Upcoming Schedule
This week's bottle raffle has 13 total bottles in it, with a wide variety of distilleries and products represented this week. The two most sought after in the group includes Old Fitzgerald 15 Year Bottled-in-Bond and Caribou Crossing. We also have Blanton's, Weller Special Reserve, Eagle Rare, E.H. Taylor Small Batch, Henry McKenna 10 Year Single Barrel, and a bottle of Woodford Reserve Kentucky Derby 146. We'll split the raffle up like we did last week, so make sure you stay tuned for the duration of the meeting.
Our upcoming schedule for featured whiskies is set for next week. Our State Manager for Brown-Forman, parent company of Jack Daniel's, Woodford Reserve, and Old Forester will be joining us for a feature on Jack Daniel's. We'll be tasting through several of their more select offerings including Jack Daniel's Sinatra and Jack Daniel's Gold. I'm hoping to be able to find a couple more bottles of our Jack Daniel's Store Pick Single Barrel #2 to include in the flight, so if you have an extra that isn't open yet, let's talk about a possible trade.
If you can't swing in to grab a flight but still want to be entered in the raffle and get the Zoom meeting code, send me an email at zac@jjswine.com. Have a great week everyone, and keep enjoying the good stuff. Cheers!