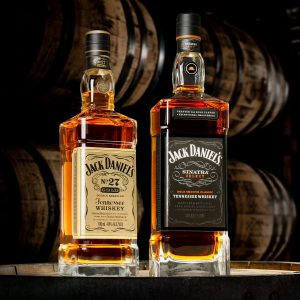 Happy Whisk(e)y Wednesday everyone! This week we will be highlighting the more select whiskey offerings from Jack Daniel's including my favorite ever store pick single barrel. Mike Galvin, our state manager for Brown-Forman will be joining us to talk us through the unique processes and barrels coming from Jack Daniel's. Last week we had a bottle of Caribou Crossing in the raffle and several people didn't know what it was, so I'll touch on it with my Whiskey With Z section. Our bottle raffle this week has the regulars as well as some special releases, including the new Blood Oath #6 that has been finished in Cognac casks. Find out all the details below.
Flights at Home
We got back to what we are good at last week with the flights at home, and we engaged in some enlightening conversations with John Foster from Smooth Ambler and Bernie Lubbers from Heaven Hill. It was great to get those guys on and be able to pick their brain about some questions that only those that are working with the spirit on a daily basis can answer. They have the kind of job that I aspire to have someday in which their main focus and job responsibilities are to talk about whiskey all day, every day.
We'll keep it going with guests this week, as our state sales manager for Brown-Forman, Mike Galvin will be joining us to discuss our featured flight. If I could have made it possible, I would have filled this flight with both editions of the Jack Heritage Single Barrel, and rounded it out with the two store pick single barrels that we have done, but there is only so much juice to go around. Instead, we will focus on some of the more select, but still readily available offerings from Jack Daniel's.
Our four whiskies will include Jack Daniel's Gold No. 27, Jack Daniel's Single Barrel Rye, Jack Daniel's Sinatra, and JJ's Store Pick #2 Jack Daniel's Full Proof Single Barrel all ½ ounce pours for only $25. Jack Daniel's Gold No. 27 is the same juice as Old No. 7, but it has been double charcoal filtered, and it is extra aged in maple barrels, lending a sweeter and smoother sipping experience. Jack Daniel's Single Barrel Rye is currently a whiskey that I believe to be highly overlooked, and not appreciated enough. I've been known to use this when I'm looking for something with more of the pepper spice typical of rye whiskey. Jack Daniel's uses a 70% rye mashbill for this whiskey, which when compared to other ryes in the market is quite high. This lends to more pepper notes and a touch of dark fruit. Jack Daniel's Sinatra is another unique and innovative offering. I won't give away the full story behind this project, allowing Mike to expand when he joins us, but the jist is that Frank Sinatra was a huge Jack Daniel's fan. So much so that he was actually buried with a bottle. As a way to honor Frank, Jack Daniel's launched a special edition whiskey. The barrels that this version of Jack Daniel's ages in have been spiral cut on the inside, increasing the surface area of charred oaked exposed to the aging whiskey, imparting more vanilla and caramel flavors and giving this whiskey a deeper amber hue. Finally, my favorite of the bunch and what I believe to be the best store pick single barrel JJ's has ever had, JJ's Store Pick #2 Jack Daniel's Full Proof Single Barrel. This bad boy comes in at 131 proof, the highest of any single barrel we've brought in, but don't let that high proof scare you away. This is a sipper, meant to be enjoyed neat or with a large cube, and with your favorite cut red meat. My go to, a nice T-bone cooked medium-rare, served with a side of garlic mashed potatoes, corn on the cob, and a few shrimp on a skewer. Loaded with cherry notes and a heavy dose of vanilla and caramel on the back end, Kenadi, my best friend John and his girlfriend, and myself picked this barrel out last year for my birthday. I still had the Jack Daniel's Heritage Barrel #1 on my mind when we went down, and I wanted to find something that was comparable to that but at barrel strength. We found a real gem, and I think that judging by how quickly that barrel moved, you all agreed. This should be a really fun week, and I'm hopeful that if you've turned your nose up to Jack in the past, this week will change your mind.
Whiskey With Z
This week is/was Cinco de Mayo which means tequila and mezcal were on the docket to drink. I've said before that if it isn't whisk(e)y that I'm drinking, it's an agave spirit in my glass. I'm typically a sucker for the aged stuff because I like that woody character, but Kenadi is more of a fan of the silver so I picked up a bottle of Milagro Silver for her and I to enjoy this past weekend. We made some killer margaritas using the 3.0 House recipe and it was a great way to enjoy our Saturday afternoon.
Earlier in this write up I mentioned discussing the Caribou Crossing. This was a whiskey that made its first appearance in our bottle raffle last week, and I'm not sure everyone knew what it was. The bottle certainly looked familiar and the caribou on top reminded you of the Blanton's horse topper, but what's the backstory and is it a product that's worth a shit? Well, let me see if I can help answer that. Caribou Crossing is owned by Sazerac, the same parent company that owns Buffalo Trace Distillery. Twice a year, barrels that were aged in Canada by Sazerac are shipped down to Buffalo Trace, where the most select barrels are chosen to be bottled as the first and only true Canadian Single Barrel whiskey. This is important because traditionally, Canadian whiskies have all the individual grains aged separately and then blended together right before bottling. This means that all the rye, all the malted barley, and all the corn distillate is aged in a barrel away from the others, making a true Canadian single barrel impossible to do. While we don't know the specifics on the Caribou Crossing mashbill, it is rumored to share the same mashbill as Blanton's, but it sets itself apart by being bottled at the Canadian tradition of 80 proof. It comes in the same bottle as the Rock Hill Farms, also the same mashbill as Blanton's, but this bottle is painted with Canadian wilderness instead of Kentucky horse farms. It is a lighter sipper, but it still carries great vanilla and caramel notes to it. Reminiscent of bourbon without actually being bourbon.
Bottle Raffle 
We've got a really nice selection of bottles available this week in the raffle, including some very rare and typically released once a year offerings. The newest and probably most intriguing is the new Blood Oath #6 finished in Cognac barrels. I snagged a bottle of this for us to put on the back bar, but we haven't had a chance to open it up and try it yet. If you're familiar with the Blood Oath brand you know that the whiskey is top notch and the story to go along with it is captivating. For those that don't know the story, check out their website https://bloodoathbourbon.com. We've got another bottle of Caribou Crossing in this week raffle, as well as Elijah Craig 18 Year, Henry McKenna 10 Year Single Barrel, Eagle Rare, E.H. Taylor Small Batch, Blanton's, and Stagg Jr. to round out this weeks bottles for the raffle. 
That's it for this week. We know there are a few places in town that are starting to open back up, but for the time being the 3.0 Cocktail Bar will remain closed until we can better assess what it will look like for us to reopen. Cheers, and have a great week everyone.