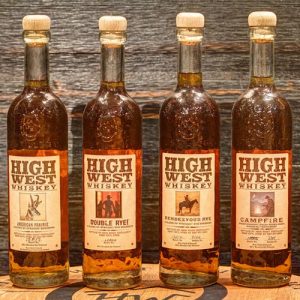 Happy Whisk(e)y Wednesday and American Craft Beer week! We're celebrating accordingly with a special pour of a very hard to find barrel-aged ale from Sam Adams, and we have another special guest joining us from High West Distillery. Last week was a good one for me in terms of pours enjoyed. Buffalo Trace announced the release of an 18 year old E. H. Taylor "Marriage" bottling, and Heaven Hill is following in the footsteps of Beam-Suntory and signing an exclusive wholesale contract with Southern Glazer's Wine and Spirits. We discuss all this and more in this week's Whisk(e)y Wednesday with Zac blog.
Flights at Home/Sam Adams Utopias
So I'll start this section this week by saying one of these days we will get everything right so we don't have any technical difficulties or mistypes on the flight card so we can have a smooth show. Last week, I fat-fingered the meeting ID number so there were some difficulties for some trying to join the Zoom live feed. That shouldn't be a problem this week.
We've been lucky to be joined by some great guests the last couple weeks, and this Wednesday should be no different. Chris Furtado, National Brand Ambassador for High West Distillery is joining the live feed this week to taste us through their core 4 products, as well as a specialty release, Yippee Ki-Yay. The four whiskies accompanying Yippee Ki-Yay will be American Prairie Bourbon, Double Rye, Rendezvous Rye, and Campfire. High West focuses heavily on rye whiskies, so if you're a fan of the peppery, almost smoky characteristics found in rye whiskies, this flight will be for you. There will be 5 total whiskies in this week's flight, all in ½ ounce pours for $25. Kenadi told me that last week's write up revealed too much about the whiskies before we tasted, so I'll be leaving tasting notes out this week to encourage you all to want to find out for yourselves what the profile of each of these whiskies will reveal.
In honor of American Craft Beer Week, Tom and I have decided now is the perfect time to open the 2017 Limited Edition Sam Adams Utopias that we have had stashed on the back counter for 3 years. For those unfamiliar with this product, Sam Adams Utopias is a 28% barrel-aged ale that is released every 2 years in a beautiful copper decanter. The 2017 batch yielded 13,000 bottles which may seem like a lot, but when we consider that it shipped all across the country (minus the 11 states that it is illegal because of its high alcohol content), it's scarcity makes it an item that beer lovers all over search far and wide for. Since I have not had this beer before, I can't give you too much on the flavor profile, but I can tell you this beer will be rich. Blended into it is 24 year old Triple Bock, previous Utopias expressions, and, this beer has been aged in a variety of casks including bourbon, ruby port, white carcavelos, and aquavit barrels. 1 ounce pours of this beer will be available along with your flight, or you can buy just the single pour of the Utopias. Either option is $25/ounce, and we will only be pouring 20 samples, so first come-first served. After the tasting, we will draw a name from those that purchased an ounce for an opportunity to buy the 2019 Sam Adams Utopias that we currently have for $249.99. 
Whiskey With Z
Operation Bottle Kill has been a bit of a flop the last few weeks, as I have purchased more whisk(e)y than I have finished. After our conversation with Bernie Lubbers a couple weeks ago I was inspired to pick up a bottle of Evan Williams 1783. I did this after I received a text from a good friend that had snagged a bottle the day we released and he had nothing but good things to say about it. I also might have picked up a few more bottles of JJ's Store Pick #2 from Jack Daniel's (as shown by Kenadi), and I have been enjoying both pretty consistently. The 1783 has become my go-to for everyday purposes until I get another bottle of Old Forester 1920, but I've promised myself nothing new until we move into our house.
Speaking of which, Kenadi and I close next Tuesday. That's going to change my schedule a bit as she and I are eager to get moved and settled so we can welcome Samson home to live with us full time. I will be around next week, but if you're looking for me specifically, your best bet will be to catch me in the afternoon next Wednesday, or all day on Friday.
Last weekend, I got out to "socialize" a bit and taste some whisk(e)y with friends. Don't worry, the group was small and we all kept our distance from each other, but it was nice to see the guys in person and enjoy some pours and BS around for a few hours. Our theme for the evening was Buffalo Trace products and we had a pretty solid selection of goods. 4 different Blanton's with 3 different dump dates, Weller 12, Weller Special Reserve, Weller Antique 107, E.H. Small Batch, E.H. Single Barrel, 3 different Buffalo Trace Single Barrels, Eagle Rare, Thomas Handy Rye, Stagg Jr. Batch #12, and 2 different years of George T. Stagg (2014, 2019). I don't know if there was one clear "winner" that everyone could agree was the best whiskey in house, but there were a few that were worthy of a revisit during the time we sipped.
In national and state whisk(e)y news, Knob Creek 12 Year has landed in South Dakota finally and will be hitting our shelves Wednesday afternoon. It is tough to nail down a specific time that it will be here as it is coming on a truck with another load from our wholesale distributors, but it will be an item that we begin to see more regularly so if you can't get any right away, fret not as there will be plenty more opportunities. Heaven Hill has announced that they have signed an exclusive wholesale agreement with Southern Glazer's Wine and Spirits to represent them and their family of products. This doesn't mean much for you as a consumer, but it is worth noting as usually with these new contracts we see some exclusive products come available in the market. Buffalo Trace has announced the upcoming release of an 18 Year Old Marriage bottling from E.H. Taylor that will be launching within the next month. The "marriage" denotation is in reference to the combining of all 3 of Buffalo Trace's unique mashbills. Total bottle quantity is undisclosed, but this will be an incredibly limited product. All 50 states will receive allocations, but like other bourbons of this age, allocation will be very slim. It remains to be seen how many the state of South Dakota will receive.
Bottle Raffle
We're a bit all over the board this week for what we've got in the bottle raffle. Buffalo trace products include Eagle Rare, Blanton's, Caribou Crossing, Stagg Jr., and E.H. Taylor Small Batch. From Heaven Hill, we have Henry McKenna 10 Year Single Barrel and Larceny Barrel Proof. From the Beam-Suntory portfolio, we have a bottle of Baker's 7 Year Single Barrel which is in the raffle for now, but we have received word that we should be seeing a consistent supply of it before the end of June, so it will become a regular shelf item.
Upcoming Schedule
We know your schedules are busy and there are lots of things vying for your time, so we are always incredibly appreciative whenever you join us for our Virtual Whisk(e)y Wednesday. My hope is that you are finding our tastings informative and most importantly, fun. We'll continue to do our best to bring in some celebrities from the industry to share stories and talk us through their products. Next week, we plan to have Brian Mcenany from Lux Row Distillery on to discuss their new line, Daviess County Bourbon. Of the 3 Daviess County available, 2 have been cask-finished, one in a Cabernet Sauvignon barrel, the other in French Oak. We'll also have some Old Ezra 7 Year, Whisky Advocate's #7 whisk(e)y of the year, in the flight and a bottle or two in our bottle raffle. This is a relatively young distillery, with many of their products not on people's radar yet, but we hope to show you the greatness that lies within.
As always, thank you for reading and joining us for pours on Wednesday nights. Stay safe, stay sane, and stay enjoying the good stuff.