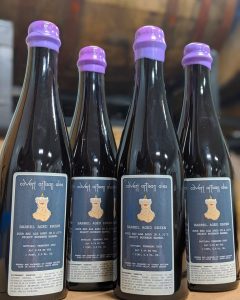 Hey all! It's Joe and Josh and this is J&J Beers! It would be cooler to call it "JJ's" Beers but apparently that name has been taken. With this page, Joe and I hope to update you on the new, seasonal, and returns of beers in JJ's Wine, Spirits & Cigars as well as beer news outside of the store! So without further ado, here is Joe!
Hey guys, so a few items I've been enjoying recently from the store have been the Operation CoHoperation series, Barrel-Aged Erzen from Covert Artisan Ales, and the 2017 Sam Adams Utopias that Tom was nice enough to open this week. In regards to Covert, they currently are offering opportunities to join their Attache membership with a mid-year deal. With your purchase, you will receive 5 beers and your choice of glassware, along with a few other perks. Today, they are releasing their first spontaneous beer, In Fate's Hands, which will be one of the beers included in the membership. All the beers I've received through this have been fantastic and I highly recommend signing up if you enjoy the wild ales they have been brewing. I had to make a quick trip up around the Twin Cities a couple of weeks back and was able to find some stellar offerings from Blackstack, Humble Forager and Weldwerks to name a few. All put out some great beers and are definitely worth keeping an eye out for if traveling around that area or possibly on your way to the lake/cabin in the coming months.
Josh here again! Joe is very-well versed in beer and the on-goings around it and we at JJ's love him for it. Personally I'm the young blood at JJ's who drinks beer he enjoys and beer that is close to him. And what better place to get that then JJ's! One beer that I've had a chance to try is the Odell Friek Raspberry Cherry Sour Aged in Oak Barrels. It has a lot of raspberry flavor and it gives you a nice pucker that isn't overwhelming at all. A second beer that I have enjoyed is the Boulevard Jam Band Berry Ale. Now I am sure a few of you have had a chance to try it, but Marli here at JJ's told me I needed to give it a shot and I wasn't disappointed! If you know anyone who loves a good berry beer without the beer bitterness, this is what you should recommend. It honestly tastes like fruit juice in a can. And finally, one that I have enjoyed on our draft list has been Ben's Pineapple Heat Cream Ale. For anybody who knows of Ben's Brewery knows of his brew called The Kenny Pepper. Well, this takes Kenny Pepper and puts it in his grave. This beer goes great with some Bloody Mary mix or just nice and cold in a glass. As weird as it sounds, it is like a smooth sweet pepper flavor. 
I hope you guys enjoyed what information we had to bring! Below you will also find a list of new beers that we have in the store. This list will include beers that we haven't seen in awhile, beers that are seasonal, or possibly just some brand new beers in general! Talk to you all next week!
Cheers!! 
Joe and Josh
New beers in this week!
Alaskan Ivy Bay IPA

Bell's Flamingo Fruit Fight Tart Ale

LeftHand Peach Beerllini Radler

LeftHand Galactic Cowboy Nitro Imperial Stout

LeftHand Gettin Tiki With It Nitro Wheat Beer

Lift Bridge Elevated Amber Lager

Lupulin CoHopperation IPA

Lupulin Fashion Mullet IPA

Monty Python's Holy Grail Ale 

Odell Friek Rasberry Cherry Sour

Odell Peach Stand Rambler Blonde Ale

Odell Tree Shaker Imperial Mango IPA

Shiner Weisse N'Easy Wheat Beer

Sierra Nevada Summerfest Pilsner

Take 16 Kick the Can IPA

Take 16 Luverne Copper Lager

West-O Strawberry Kiwi Sour Hard Seltzer