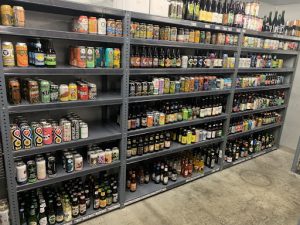 Hey guys, and a happy early Memorial Day to everyone. This is a day we celebrate those who have passed giving us the opportunity for freedom. So let's celebrate them by raising our glasses high and our glasses full! And what better way to do that than by stopping into our beer cooler. Don't know what you want? Perfect. This is why we have over 200 beer selections on our single rack for you to mix and match to your taste preferences. So stop in, check out the selection, and if you need recommendations don't be afraid to ask any of the staff wandering the store!
Josh here and this week I am a bit bummed but also have things to look forward to. This weekend would've been my graduation from Augustana University but instead of walking up and receiving a diploma, I will be taking a little break from the world and heading South to go camping with family and friends. But let me tell you about some beers I have really been enjoying this week and will more than likely be taking on my trip. One of them is actually newer to the store this week from Fair State called Beach Umbrella. In its description, it talks of tropical fruit cocktails and that pretty much hits the bullseye for descriptions. For me, I get a lot of notes of orange and pineapple as well as a hint of cinnamon which is actually a nice touch to take away from the super sweet fruits. Now sadly, we might already be totally out of this beer as we only received a couple of four-packs, but the Toppling Goliath Scorpius Morchella SLAPS! If you have had this before then you know exactly what I am talking about, but if you haven't, it is a double IPA that brings hops from the Pacific Northwest and the Southern hemisphere together in terrific harmony. If you can find this, I highly recommend giving it a shot. And finally, while it isn't one that I will drink a six-pack of, the New Belgium Sparkling Lime Lager is great for someone who wants a super-light beer. It is very similar to a White Claw Lime so if you enjoy those or know someone who wants that lime flavor, this is your beer.
To start, I'll raise a glass to all the grads like Josh, who unfortunately won't get to enjoy the graduation experience along with the recognition they deserve for all of their years of hard work.  I missed out on my diploma ceremony, but that was of my own choosing as we left for Europe the previous day, so I think I made the right choice. This past week I did a little bit of a fridge cleanout in preparation for beers that came in this week.  Some of the items I had were Central Waters Cassian Sunset & Peruvian Morning, both 2018 versions that held up spectacularly well.  The CW Brewer's Reserve series beers age very well for anyone looking to stash a few items away for a rainy day. I had to reach toward the back of the fridge for a Cinco de Mayo straggler, Dos Equis, which was right next to a Schell's Hefe that also had a bit of dust.  For those not aware, Lupulin Brewing released crowlers of DDH Hooey at their taproom.  For fans of their regular Hooey, this one should not be missed.   I hope everyone took Josh's advice last week and came in to try out the Pineapple Heat from Ben's Brewing.  I had to grab a growler to take home last week after giving it a try.  For those of you wondering what I needed to make room for, I've been patiently waiting for the drop of Brewing Projekt beers to make it back to town.  I also needed extra room for this year's release of Spirit Foul coupled with a new beer from Fair State that Josh mentioned above in the Beach Umbrella. Hope to see you guys in the store sooner vs. later.
Joe and I wish you guys a great Memorial Day. Stay safe out there as you celebrate as well!
Cheers
Joe and Josh
Again this weeks beer list includes beers we have had in the past, seasonal beers, as well as brand new things we have not seen before
New Beers:
Anderson Valley Bourbon Aged Stout 750 mL

Central Waters Bourbon Pecan Kringle Stout

Central Waters Peach Bellini New England Style IPA

The Brewing Projekt Major Vida Mexican Lager

The Brewing Projekt Cowabunga Gose Ale

Fair State Beach Umbrella

Fair State Party Forward IPA

Fair State Spirit Foul IPA

Fernson Berry Cherry Curio Sour Ale

Remedy Nonsense IPA