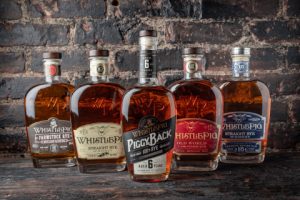 Happy Whisk(e)y Wednesday everyone. This week we will be highlighting some stellar options from WhistlePig, with an opportunity to get your hands on samples of their Boss Hog. The crew at JJ's threw a little party on Monday night, and I enjoyed some really good pours over the holiday weekend. Check out below for all the details.
Featured Flight at Home
This will be the last week that our flights are offered exclusively at home, as next Wednesday will be the official reopening of the 3.0 Cocktail Bar. With that, we'll continue to offer the flights at home for those that would like to continue to enjoy that way, but we will also offer for you to join us in store for the live tasting at 6pm. We'll be combining the online component with a live in store component, offering the same tasting and speakers but in a format that should accommodate all that wish to participate. From 3pm-6pm, you're welcome to join us in the bar to build your own ½ priced flight, followed by the live tasting of the feature flight in the event room from 6pm-7pm. We will continue to hold our bottle raffle at 6:45pm, and anyone that is present online or in the event room will be eligible to be drawn.
Building upon our flight at home program, we will begin offering ½ ounce and 2 ounce pours of any of our whiskies on the back wall in to-go sealed bottles available for purchase any day of the week. Tom and I haven't worked out the pricing details completely yet, but they will be offered at a discounted price from the regular bar purchase price. For those of you that love to try things before committing to a full bottle, this will be a great opportunity to try something new, or even just get a pour of something rare that you can enjoy in the comfort of your own home.
Now to this week's featured flight. WhistlePig Rye has made a gigantic splash since it found its way to market (insert little piggy goes to market joke here), and South Dakota was no exception. With core offerings bottled at 10 years, 12 years, and 15 years, and new releases making their way out now ranging from 6 years to 20 years, WhistlePig's products demonstrate how important the aging process is with flavor profiles, depth of character, and color all varying from product to product. Of the core four, we will be tasting the WhistlePig 10 Year and WhistlePig 12 Year Sherry Cask finished. Rounding out the flight will be WhistlePig Farmstock #03 and WhistlePig PiggyBack 6 Year Rye. You can get all 4 of these for $25. For those interested in adding to this flight, we will also be offering ½ ounce pours of WhistlePig Boss Hog Sixth Edition for an additional $25. Included with the Boss Hog will be a sampler pack of cigars while supplies last.
Whiskey With Z
I've fallen behind on updating my Instagram account dedicated solely to whisk(e)y the last few weeks, but now that Kenadi and I are all settled in the new house, I promise to get back to it. The last few weeks have been hectic, but it hasn't stopped me from enjoying some good pours when the time allows. To christen the new house, I cracked open the bottle of Larceny Barrel Proof that my good friend Terry gave me as a housewarming gift. Then I dabbled with Heaven Hill Bottled-in-Bond. On Sunday night, Kenadi and I had a fire in the backyard. I poured a tall glass of Jack Daniel's Barrel Proof Single Barrel and enjoyed that with a nice Oliva Serie O Robusto.
Memorial Day was also Kenadi's birthday, so I left the day pretty wide open to allow for any activities that she may want to do to celebrate. I wasn't surprised when she said she wanted to go for a drive as we often like to get out and drive around our beautiful city to see what new is happening and also look at houses we someday aspire to be able to afford. What did surprise me was when she grabbed my truck keys and informed me that she was driving. While cruising around, I got a FaceTime call from my parents and my sister. Not thinking anything of it, I answered, and I must say they did a great job of keeping me distracted as Kenadi made her way on the route to bring me to work. It wasn't until we pulled into the parking lot of JJ's that I began to question what was going on. Upon our arrival, I found the vehicles of our entire staff in the parking lot. It was then that Kenadi told me we weren't here to celebrate her birthday. I walked into the 3.0 Cocktail Bar to be greeted by our entire staff who had scheduled a surprise appreciation party. I was taken aback. I take a great deal of pride in getting to lead our team, as I truly believe we have the most knowledgeable, dedicated, and experience focused staff in Sioux Falls, and their commitment to JJ's is what makes this place so special. For a couple hours we ate great food, enjoyed some tasty beers, and gave each other a hard time about our bags playing abilities. I can't thank them all enough, and I owe a special thank you to Kenadi for giving up her birthday to spend time with the team at JJ's. I am surrounded by incredible people, and days like yesterday reiterate that Sioux Falls and JJ's Wine, Spirits, and Cigars is where I'm meant to be. I say it often and will continue to say it- Thank you. Thank you to the great customers that shop at our small business. Thank you to my incredible team for their hard work. Thank you to Tom and Jean for allowing me to lead this business. And thank you to Kenadi for being my rock and encouraging me to be the best version of me every day.
Bottle Raffle
This week's bottle raffle is going to be a little different. We'll still be drawing tickets at our regularly scheduled time of 6:45pm on the live feed, but we'll have a couple items available in the raffle that will also be available for regular purchase during the week. We have several bottles of WhistlePig Boss Hog Sixth Edition in stock, and more available to us through wholesale, so it will be in the raffle, but if your name doesn't get drawn and you would like to snag a bottle for yourself all you'll have to do is send me an email at zac@jjswine.com. I'm not going to push anyone into buying this bottle as it's retail cost is $499.99, but I do want to make sure that you all know that it is available if you're interested.
As always, you get one ticket for stopping in and asking, and you'll get additional tickets for purchasing  the featured flight. If you can't make it into the store but plan to tune into our Facebook Live feed, send me an email and I'll get you entered in the raffle. This week's bottles include Eagle Rare, Caribou Crossing, E.H. Taylor Small Batch, Weller Special Reserve, Blanton's, Larceny Barrel Proof, and the aforementioned WhistlePig Boss Hog Sixth Edition.
That's it for this week. If there's anything the team or I can do for you please let us know through email or the JJ's Wine, Spirits, and Cigars Facebook page. Have a great week, and hopefully we'll see you all soon in the 3.0 Cocktail Bar soon. Cheers!