When I was fifteen years old, I had a very unique Summer job. Not many people can say they did what I did that Summer. And I have to tell you, it was by far one of the most rewarding experiences I have ever had the privilege of having, and I'd like to share a little bit of that with you in this week's Weekly Wineguy. I know, it's not about wine, but it is important to me to tell this story of a truly amazing human being.
Mike Sealey was born December 25, 1946, the son of John and Agnes (Roberts) Sealey and grew up on the family farm near Meckling SD. After graduating from Meckling High, he attended SDSU. He then enlisted, at the age of 19, in the US Navy on May 19, 1966. He took his Basic Training at the Naval Training Center, San Diego, CA. Following basic training, Mike shipped out from San Diego to Okinawa, the USFJ (United States Forces Japan) and served as an engineman on board whatever ship he was assigned to. Like all service personnel, Mike and the crew from his ship were given occasional shore leave for a little R & R on the island of Okinawa. Mike got to see some of its beauty and experience the primarily Japanese lifestyle of the island.
After 18 months aboard ship in the waters off Okinawa, Mike was deployed to Danang,Vietnam where he spent the next 18 months on Supply/Gun ships, as chief engineer. The job of the boats was to transport supplies up and down the Cua Viet river, on the DMZ (Demilitarized Zone) between North and South Vietnam. Mike's job, now as a PO3 (Petty Officer 3rd Class), was to keep the boat motors running and provide backup on the guns if needed. The river was littered with underwater mines which some overloaded boats fell victim to, too often either just ahead of Mike's boat or traveling just a short distance behind it. North Vietnamese snipers and the sounds of distant gun fire were also a reason for constant vigilance on each and every trip up and down the river.
In November 1969 Mike received his Honorable discharge orders and returned to the USA. During his term of service, Mike was awarded the National Defense Service Medal; the Viet Nam Service Medal with FMF Combat Insignia with two Bronze Stars; the Republic of Viet Nam Campaign Medal with Device and the Navy Unit Commendation Ribbon.
Following his discharge from the Navy, Mike went back to school at SDSU. In 1972, following the Rapid City flood, Mike went out to help with rescue and recovery and took a job with a construction company. He later moved to Salt Lake City to work on a construction crew. He also worked as a mechanic for European Motors in SLC and Bozeman MT before returning to SD.
The Navy was not the only service Mike gave to his country. In the spring of 1974, he joined the US Peace Corps for a 2 year tour of duty. His assignment was Lesotho in South Africa. His duties were fixing machinery, building roads, building shelters and homes, teaching agricultural technology, and helping modernize a hospital with electricity. After his two years were up, Mike stayed on in Lesotho to help finish the work at the hospital. He had learned enough of the local language to converse adequately while teaching basic skills to his helpers with the project. During this time he met an entrepreneur from England who asked him to join his company. As an employee with Philroy LTD, Mike traveled through Europe, learned Spanish by living with a family in Spain for 4 months, and then traveled to South America to the fishing town of Concepcion, Chile. He spent the next 3 years building a fish canning factory, hiring the employees from this fishing community, and marketing their products to other parts of the world.
In September 1979, while on a trip home from Chile to visit his parents near Meckling, Mike, at the age of 32, was severely injured in a car accident caused by a drunk driver. He lost his speech and the ability to use his arms and legs. His world travels ended. A head injury left him totally disabled. From 1980 to 1988 Mike was cared for by his family at home both in SD and in AZ. Since then he has lived in a nursing home, first in Alcester, SD, then Vermillion, SD. Mike lived at the Sanford Vermillion Care Center in Vermillion SD for the last 20 years.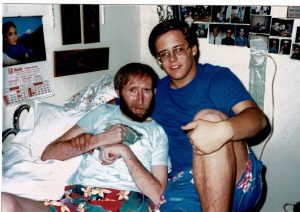 Since 1987 he used an augmentative device for communication. With the aid of his speech device/computer he could communicate and control his electronics (TV in particular), and would gladly share his story if you had a mind to listen. His favorite sport to watch was Tennis but he still watched an occasional football or basketball game. His druthers, though, would be a good game of cribbage and as his family and 4 very special friends who played with him at the home over the last 20 years would tell you – he had no mercy when it came to cribbage. Mike also loved remembering the escapades shared at Meckling High School – from football to stealing watermelons! Mike's life experiences were hardly forgotten during the last 40 years. Mike's Navy uniforms have been donated to the W. H. Over Museum. They are the only Vietnam uniforms found by the museum.
During the time that my Uncle Mike lived with us in Arizona (1986-1988), we had numerous people work for us as his caregiver. It was my privilege to take on that duty after my Freshman year in high school in 1986 for a Summer, then on weekends and during holidays and breaks through the next year or so. It was my full-time job to help him eat, keep him comfortable, take baths, watch TV, tell stories, play cards and do things most people do with family members (minus the bathing), but maybe not in such a unique way. It was a hard job for a fifteen (going on sixteen) year old, but I enjoyed it, and he and I developed a unique bond.
When he moved back to South Dakota to live in the Alcester nursing home, while it was a better situation for him, and for our family, it left a huge void in what had been our family unit for the better part of three years. I deeply regret not spending more time with him over the passed 30 years that he has been back in South Dakota. That being said, when we did see each other, we always shared a smile, and a blink, and a nod, and a whiskey. Play a game of cribbage, and adjust his ass in his wheelchair after hearing the computerized version of his voice proclaim… left hips. Or right, depending on what was needed at that time.
My Uncle Mike passed away on Sunday, peacefully. When my Dad called and told me, my heart sank. Not because I had lost yet another relative in a shot period of time, but because I lost my hero. And the world lost one hell of a human being. I truly looked up to him as a source of inspiration as he was bigger than life, before and after the accident. I would hope that others may read his story and find some inspiration in it as well, and then do something extraordinary in this messed up world.