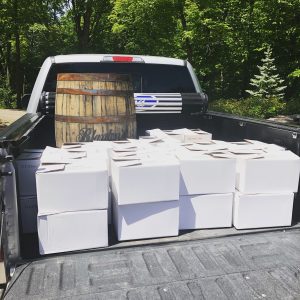 I'm going to start this week off a little different because I feel it important to say a few words about the current state of our country. What happened last week to George Floyd was incredibly sad, and has left me with several mixed emotions over the last few days. I'm angry that this continues to happen. I'm hurt for the family of George and those that knew and loved him. I'm upset that 3 of the officers that participated have not been arrested. I'm disappointed that peaceful protests are being hijacked into lootings and riots by those whose goal is not to advance the Black Lives Matter movement, but to destroy it. I find hope when I see how many people are protesting. Joining together with others to take a stand that we as a nation won't tolerate this anymore. Every human life is valuable, and as a society it is not too much to ask for us to cherish the lives of others in the way that we would cherish our own. I don't have all the answers to ensure this doesn't happen again, but I do have 2 ears to listen. Listen to the experiences of those that have been treated unjustly. I can't possibly understand what it is like to be a minority in America, but I can support those that are. The last thing I will say is that the solution to this problem starts at home and it starts with self. We'll see big changes when we as individuals make personal decisions to educate ourselves on the underlying roots, and better understand what we can do to prevent this from happening in the future.
Happy Whisk(e)y Wednesday everyone and welcome back to the 3.0 Cocktail Bar! We're reopening the bar with limited seating and social distancing measures in place, and we are incredibly excited to see you all enjoying drinks in our space again. This week's featured flight will highlight Jefferson's bourbon, but everything we have in the bar will be available with the standard half price half ounce flights. Don't want the featured flight, and still not sure that you want to sit down in the bar? Grab a flight to-go in our half ounce or two ounce glass bottles. Last week was a very eventful one for me, as I enjoyed several stellar pours, most with great company. And finally, Father's Day is approaching quickly and we want to help you all celebrate appropriately which is why we will have a special Whisk(e)y Wednesday featuring The Macallan Distillery. Check out below for all the details.
Featured Flight
We are incredibly excited to be getting back to having our half priced flights available for you all to enjoy in the 3.0 Cocktail Bar. It's been a long couple of months not getting to see your smiling faces in person. To kick off the reopening, we're focusing on the delectable offerings from Jefferson's including Jefferson's Very Small Batch, Jefferson's Very Old Very Small Batch, Jefferson's Ocean Voyage 15, and Jefferson's Chef's Collaboration Batch 15. If you enjoy in house with us, your total for the flight will be $12, but because of the cost of the glass bottles for the sample at home kit, those that wish to get the flight to-go will pay $15, with $3 being a deposit for the glasses. Bring them back and we can refund the deposit, or roll it over to your next flight you take home. This is going to be a great flight, and I'm hoping that it drums up some excitement for an impending single barrel selection that we hope to make with them near the end of 2020. If these 4 excite you, make sure to take a look at what else we have available for pours of Jefferson's on the bar side, including 2 other batches of Jefferson's Ocean and another batch release of Chef's Collaboration.
Our full whisk(e)y list will be available digitally, and will be updated weekly to keep you in the loop about what we currently have opened. The goal is that this should also make it easier for you to pick out what you would like to get in a flight. It will also give you the ability to shop online and take advantage of our ½ ounce and 2 ounce pours to-go.
How the featured flight will work tonight goes as follows. From 3pm-6pm you can come into the bar for half-priced flights. At 5:50 pm, we will move the group that would like to participate in the featured flight and bottle draw into the event room where we will join the live Zoom meeting that will have those that want to participate at home. As a group, we will all taste through the Jefferson's flight and have an open discussion. At 6:45, we will hold this week's bottle raffle which will be open to anyone participating in the featured flight virtually or in person. After the raffle, I'll stick around for a while for an open discussion and to answer any questions that people may have.
Whiskey With Z
A lot happened last week in the adventures of enjoying the good stuff. I'll be the first to admit that I probably drank a bit too much last week, but I promise I had good reasons to. On Friday night, Kenadi went out to dinner with a few of her friends and left me to babysit the dogs for the evening. Feeling thirsty, I started dabbling with my Early Times Bottled-in-Bond and just never really put it down. By the time Kenadi got home, about half the bottle was gone and I was feeling invincible. However, the next morning was a different story.
On Saturday, I met up with some friends and we had an Old Forester/Cocktail themed bottle share.We had a hell of a time, as we always do, and of course stayed up way too late and drank too much. I turned the group onto whiskey sours and before I knew it, we were about 4 deep and our Old Forester bottles were looking pretty empty. The night was a blast, but the coolest part was getting to try a bottle of Old Forester 86 proof that was from the late 1960s. One of the guys brought it as a gift from his neighbor, and it was unopened and in the original box. I wanted to buy it for myself, but after a little discussion we decided we needed to open the bottle and try it. It might have been the best Old Forester I have ever had, but I think I'll need to revisit it sometime when I haven't had so much to drink. I finally called it a night a little after 2:00 a.m.
On Sunday, Kenadi and I took a day trip up to Whale Tail Lake to snag our latest batch of bourbon barrel aged maple syrup that Don and Mary at Somerskogen Sugarbush had prepared for us. The drive up was beautiful and Don and Mary were kind enough to give Kenadi a tour of the grounds. The most fascinating aspect of their operation was the 5 miles of tubing that they have running between all of their trees. The maintenance alone on those takes days at a time as they check each individual line for leaks and regular wear and tear. They also replace each line every 5 years. All in all, it was great to get out of town if only for a day. Once we returned, we hosted the JJ's crew at our house for some barbecue and casual drinking. We opened the Pinhook Rye and Smooth Ambler Single Barrel bottles that the guys had gotten me a couple weeks back, and enjoyed conversation until the city curfew was issued and it was time to call it a night.
Bottle Raffle
Tonight's bottle raffle won't be super crazy, but we do have some solid items. One that hasn't made an appearance lately is the E.H. Taylor Single Barrel, but we have a couple bottles of that available this week to go along with Caribou Crossing, Rebel Yell 10 Year, Eagle Rare, and Weller Special Reserve. With our flights now being available virtually and live, we want to make sure everyone is clear how the raffle works. You get one ticket entered for stopping in or emailing me at zac@jjswine.com and asking for one. You'll get 3 additional tickets if you purchase the feature flight either to-go or in the store. If your ticket is drawn, you then have an opportunity to purchase any of the allocated whiskies that are available that week.
Upcoming Tasting Events
Looking ahead to a few weeks down the road, we will be hosting a special Scotch tasting with The Macallan for Father's Day. For $35, you will get 4 ½ ounce pours of The Macallan 12 Year Double Cask, The Macallan 12 Year Sherry Cask, The Macallan 15 Year Triple Cask, and The Macallan Rare Cask, as well as a Glencairn glass to keep that is engraved with The Macallan. We'll also have some hot pricing deals on their entire lineup, so when you're looking for something special for Dad this year, make sure to stop and see us at JJ's and let us help you find the perfect gift.
That's it for this week. We hope to see you all soon for some drams and cocktails. As always, stay safe, stay smart, and stay enjoying the good stuff. Cheers!