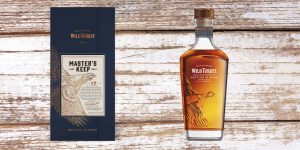 Happy Whisk(e)y Wednesday everyone! I had to go dig through the archives to make sure that what we are featuring today wasn't a duplicate of something we've done recently. Good news, it is a new flight, bad news, some of what we will discuss has been covered in a previous Whisk(e)y Wednesday from last September. This week's bottle raffle is small, but it is mighty. Several new items have found their way to the shelves lately, I'll fill you in on all you need to know about what is available. Check out below for all the details.
Featured Flight
As I referenced earlier, I had to go back through my Whisk(e)y Wednesday posts to make sure that what we taste and discuss this week wasn't a repeat of something we've already done. Last week, I was leaning towards doing a Barrell Bourbon Company tasting, but I was unable to secure enough bottles to pull it off this week. I've been in touch with my wholesale distributors and the good news is that we should be able to do it next week, as I have new batches coming in later this week. 
So what will we do instead? Well, we received a special bottle courtesy of Wild Turkey last week in the form of the newest Master's Keep release. I very selfishly wanted to open this bottle and put it on the bar side so that I could get a chance to try it, but after some thought, we've decided instead to put it in this week's bottle raffle.This inspired me to reexamine our stock of Wild Turkey and put together a flight to showcase their line of products. We did a Russell's flight last September, but since then, we haven't really visited anything from Wild Turkey.
Now I know what you're thinking, "Isn't Turkey kind of rough?" If you had asked me a year ago, my answer would have been a resounding yes. I'm sure many of you have had a similar situation to mine with Wild Turkey, we drank too much, had a rough night, and vowed to never do that to ourselves again. Mine came while I was in college, and until about a year ago I had flat out refused to relive that experience by just not drinking Wild Turkey. I'm in the business of selling and drinking whisk(e)y, so I came to the realization that I needed to put my fears to the side and give them another chance. I started with the Russell's line, then moved to some of their more premium offerings like Kentucky Spirit and Rare Breed, but the "Aha" moment came when Tom and I picked up a Store Pick Single Barrel of Russell's 10 Year Bourbon on our trip to Kentucky in January. It was then that I had to admit that my bad experience with Turkey was my own doing, and that they have some really good juice.
We won't be tasting the newest Master's Keep as the only bottle we received is going into this week's raffle, but we do have last year's Cornerstone Rye, the oldest rye released by Wild Turkey and the 4th release in the Master's Keep series. To round out our flight, we've got Wild Turkey Kentucky Spirit Single Barrel, Wild Turkey Rare Breed Full Proof Bourbon, and Russell's Reserve Single Barrel Rye. Those 4 whiskies will be $17.50 for the flight if you enjoy with us in house, or you can get the sample pours to take home and join us virtually for $17.50 plus a $3 deposit for the glassware. If you are bringing glasses back from last week the deposit will roll over.
Our featured flight will be available virtually or in the event room just like last week. We are also excited to announce that we have finally settled on a pricing scheme for our 2oz pours to-go. Any of the whiskies (or tequilas, rums, and gins) that we have opened on the bar side can be purchased to-go for 10% off the 2oz price listed on the bar menu. Our entire whisk(e)y list is published on the website so you can browse through the selection. The link to get there is www.jjswine.com/the-list. Pours to-go will only be available in 2oz offerings.
Don't forget that next week we will have a special Whisk(e)y Wednesday for Father's Day featuring Cameron Millar, National Brand Ambassador for The Macallan. Make sure to check out the JJ's Facebook page for all the details about the event, or visit www.jjswine.com/store/macallan-tasting-event for tickets.
Whiskey With Z
My adventures in whisk(e)y drinking last week were relatively subdued, as there wasn't anything super special that I opened or tried, but I was consistent. I put more of a dent in my Early Times Bottled-in-Bond, and nearly polished off what remained of my Knob Creek Single Barrel 13th Edition. That 13th Edition is stellar, and I'm a little bummed out that I didn't snag a back up bottle when we still had some in stock. I've had a bottle of Pyrat rum for about 2 years now, and haven't visited it often. It is by no means a bad rum, it has just never tripped my trigger until this past Saturday when I was craving a rum and Coke. My rum selection at home is very limited, and I didn't want to use my Pineapple Plantation Rum, so Pyrat it was. Saturday night was the perfect time for me to sit on the patio and enjoy a couple, and I even treated myself to a Perdomo Lot 23 cigar. The cigar was smoky and heavy, but my rum and Coke was sweet and refreshing. I found the two to be a great balance for the other.
This next section is going to be new to the Whisk(e)y With Z section, but I want to piggyback off my opening remarks from last week. Each week going forward, I will try to share a blurb about what I am doing to educate myself on the current state of our country, as well as the history that has led to the current state. I'm a big fan of podcasts and listening to information, as I often find myself without enough free time to read. Instead, I throw on a podcast while I'm working out, mowing the lawn, or completing computer work at home. After a few conversations with people in my life whose opinions I think highly of, I took their recommendations and started listening to 1619. To say that the lessons I learned in school about slavery and how our country was constructed around it were shallow would be an understatement. If you're like me and wondering what you can do to support those that have and are facing discrimination, I would highly recommend giving this podcast a chance as I believe the first steps to change are educating ourselves on the issues at hand, so we can better understand how to combat them. 
Bottle Raffle and New Whiskies
Our bottle raffle this week is smaller than usual, but the stuff in it is high quality goods. As mentioned before, the newest Master's Keep, a 17 Year Old Bottled-in-Bond bourbon, headlines this week's raffle. We also have a Larceny Barrel Proof, Henry McKenna 10 Year, Baker's Single Barrel, three bottles E.H. Taylor Single Barrel, and being pulled out of our library collection, a bottle of Knob Creek Single Barrel that is 15 years old.
For new whiskies hitting the shelves recently, Elijah Craig Batch A120 has arrived, as well as the newest rye release from Barrell Craft Spirits. Another new rye to the scene is the 2020 vintage release of Templeton's Cask Strength Rye. There are a few bottles remaining of the 2019 vintage release, so if you like to do side by sides this would be a fun one to try next to each other. Last but not least, Jim Beam Single Barrel is now being offered at 107 proof much like the Baker's Single Barrel. It is a younger whiskey, but the price point is much more in line with an everyday drinker, and it's readily available on the shelf all the time. Check it out if you're looking for something that has flown under the radar in the bourbon world.
That's it for this week. We should be receiving our latest run of Buffalo Trace Store Pick Single Barrels in the next few weeks, so keep an eye out for a release event with those. As always, stay safe, stay smart, and stay enjoying the good stuff. Cheers!