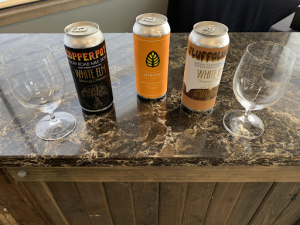 Hello everyone, it's June and the weather is definitely screaming South Dakota. Winds at 80 mph and temperatures reaching the upper 80's and surprisingly no snow…until next week, JUST KIDDING. Beer world is as good as ever and we have a fair selection of new beers on tap as well as in the beer cooler ready for weekend action and activities. 
Joe here, last Friday got off to an interesting start for me. Forager Brewing out of Rochester opened up a set of beers online at 8 am for purchase. I was lucky enough to get a set, with the only catch being I had to pick them up the same day, so an impromptu trip to Rochester was in order! With MN still restricting indoor seating at breweries and restaurants, I was lucky enough to have a friend that had a reservation for their patio shortly before I arrived. I highly recommend people to stop in and check this place out if ever in the area. They are pumping out some incredible beers, with awesome food to boot. With new beers in hand meant a small group of us got together to enjoy on Saturday. Some of the highlights were Nillerzzzzz Killerzzzzz and Grove from Forager, along with The Floue Floue, a peach wild ale collaboration between de Garde and Side Project. Another one I picked up from the store is the Lupulin Sophistry #6. Hopefully everyone has a fun and enjoyable weekend, cheers!
I need to take more adventures with Joe I think, but I have my own adventures almost every day here at the store. Joe's adventure didn't go missing from me as he messaged me and told me to order what I want from Forager and he would pick it up, what a guy. The beer he picked up for me is called Gypsy Outpost Imperial Pastry Porter and man does it have a chocolate splash! I would recommend probably only having one of these in a sitting. The last two beers I would like to mention are from the same brewery and they have been one of my favorites for stouts and they don't disappoint with these two. White Elm has a beer called Fluffaluffagus and yes I'm not exaggerating when I say, it's about the best beer to have by the campfire. It has super strong marshmallow and chocolate notes that it reminds you of a s'more without having to burn from the fire. The second White Elm product is the Copperpot. This is a rocky road stout that screams chocolate and a bit of nuts. Take a big swig of it and tell me if I'm wrong. 
Hope you guys are liking the blog, we know that Joe and I are enjoying the chance to share our knowledge and experiences with you guys! 
Cheers and Beers!
Joe and Josh 
New Beer List:
Brickway Jalepeno Pineapple Pilsner

Lupulin Sophistry IPA #06 (Orange Can)

White Elm Copperpot Rocky Road Milk Stout

White Elm Hibiscus Saison Belgian Style Ale

White Elm Space Grass Double IPA

Zipline Local Time Lager
New to the Draft List:
Oskar Blues Old Chub Scottish Ale

Severance Love Notes NE IPA

Severance Ties Series: Ross Blueberry Kettle Sour