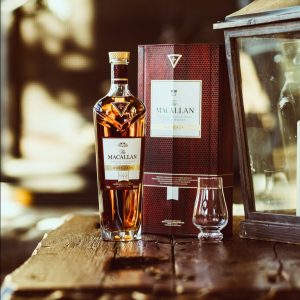 Father's Day is fast approaching, and we're celebrating with great deals on our favorite pours, and new ones we don't even know yet. Cameron Millar, International Brand Ambassador for The Macallan is joining us via Zoom this week for a special Whisk(e)y Wednesday event. Lots of new stuff just landed, and believe me you're going to be excited for this stuff. Keep reading below for all the details.
Featured Flight
Tonight's featured flight is going to be a great one. Cameron Millar is joining us to take us through some of the delectable products from The Macallan. Check out this quick bio: 
Cameron Millar is a member of the global ambassador team for The Macallan Single Malt Scotch Whisky. He is proud to represent the prestige and legacy of this single malt across North America from his home in Toronto, Ontario, Canada. As an accredited Scotch Whisky Ambassador, he has had the honour of representing award winning distilleries from both Scotland and Canada. Cameron has been educating on whisky since 2014, entertaining thousands of whisky fans in the process. He has been a key speaker at many of North America's largest whisky festivals and represented The Macallan in a number of major media outlets. Through his passion, Cameron creates innovative and engaging education on whisky, entertaining new-comers and connoisseurs alike. For more information, you can connect with him on Instagram @TheMacallanCameron.
Our feedback for this event has been incredible, and we're looking forward to enjoying this experience with you. As of me writing this post (Monday evening), we have over 50 confirmed participants. It could be a little cramped if everyone joins us in the event room, so I am recommending that everyone consider enjoying from home, or enjoying with a group of friends at a favorite gathering spot. We'll make sure that you're fully equipped with everything you'll need to enjoy this tasting from wherever you join.
Our whiskies of focus this week will be The Macallan 12 Year Double Cask, The Macallan 15 Year Triple Cask, The Macallan 12 Year Sherry Cask, and The Macallan Rare Cask Batch 02. Make sure to check out https://www.menti.com/my2y6bs5i3 to participate in an interactive poll that Cam will be hosting throughout the tasting. Bottles of each of the whiskies we will be tasting will be available for purchase, and we'll be honoring our Whisk(e)y Wednesday Sale pricing of 30% off list price from Wednesday through Saturday so you can snag something special for Dad at a great price.
Bottle Raffle/New Whisk(e)y
This week, a boatload, and I do mean a boatload of new whisk(e)y arrived in the store, and we reloaded on some items that haven't graced our shelves for a little while. A couple weeks ago we did a flight with WhistlePig, and if I would have known then what I know now, I would have waited a couple weeks so that I could work in the new WhistlePig 18 Year Double Malt that just arrived. Hindsight is always 20/20. I haven't tried it yet, but I'm hopeful that before Wednesday Tom and I will crack one open and I can give you some hints into what it's like. To go along with this new release from WhistlePig, we'll have a few bottles of Woodford Reserve Chocolate Malted Rye, Old Forester 1910, Angel's Envy Bourbon, and new to the South Dakota Market, Angel's Envy Rye. It's another high caliber week in the bottle draw, even though we're still awaiting some more availability on the hard to find Buffalo Trace products. Hopefully, we'll have some single barrels coming from them in the next couple of weeks that will provide us plenty of bottles to tide us over.
JJ's Gives Back
We've been without a true charitable component to our business for the last few months since we haven't been open in the bar, but we have a plan to bring it back. Last week, I sat down with Gail Dickerson of Big Paws Canine to discuss how we can get back to helping our community. If you are a fan of the yearly 4th of July fireworks show that the JC's put on each year, then you might have seen that this year they have decided not to host it in light of concerns about COVID-19. The fireworks show has not been cancelled though, and Sunny Radio is hosting this year, but in order to be able to make sure the show goes on, they're looking for help to fundraise enough money to put on a fireworks display that will engage our entire community. To help with their fundraising efforts, we will have donation jars out on the retail side and bar side until July 3rd, in which we will present the total collected, plus a matching donation from our owner Tom on behalf of JJ's Wine, Spirits, and Cigars. Check out their website for more information www.SiouxFallsFireworks.org.
Whiskey With Z
This past Sunday was National Bourbon Day, and I celebrated with a couple racks of ribs, some garlic parmesan potatoes, and a healthy pour of Old Forester 1910. Getting to finish the last few sips in bed was the perfect way to end my day. Following a great Sunday, I woke up and found the news that Sazerac, parent company of Buffalo Trace and Barton 1792, had purchased the rights to Early Times from Brown-Forman. There hasn't been much else stated with that, but it shows the focus that Brown-Forman has been trying to make the last few years by specializing in more premium products. It will be interesting to see how production is handled and if we run into any distribution issues.
Normally on this weekend I would be headed to Omaha, NE, to watch some College World Series Games for Father's Day with the family, but the plans have changed a bit and instead Kenadi and I will be headed to Kansas City to meet up with them in their new home. I haven't seen the family since Christmas, and with my sister home from Oregon it should be a fun filled weekend. I haven't decided what bottle I want to take home with me yet, so give me a recommendation when you stop in this week. Likelihood is pretty high that it will be left with my parents, so it's got to be something good that I'll look forward to drinking the few times a year I get back to see them. On our way down, I'll continue to listen to my current podcast, Code Switch which covers topics related to race and our current society by hosting journalists of color for all over. Episodes are between 20 and 40 minutes, so they're easy to cruise through, and great listens for those like me who want to have the tough conversations, but may feel ill equipped with all the information necessary.
Upcoming Schedule
Next week, we will be joined by Stefanie Bair from Barrell Bourbon to taste through some of their unique batches of whisk(e)y, as well as their new rum. I've been impressed with Barrell's business model for some time, and I'm looking forward to introducing the masses to their products, because they have some really great stuff. I'm still waiting on the arrival of two new bottles from them before I can set pricing, but next week will be a 5 pour flight that will be well worth the time and money.
That's it for this week. We hope to see you all at some point in the next few days. As always, if there's something myself or the team can do for you, let me know at zac@jjswine.com. Cheers!