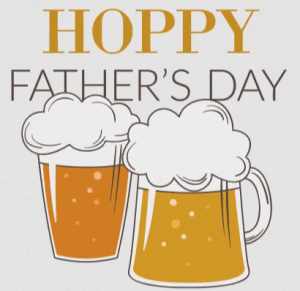 Happy Father's Day weekend everyone! We hope you get a chance to celebrate this amazing weekend with some amazing people we call our dad. For those of you that can't do this, our condolences go out to you and hope that you still find a way to celebrate the memories of your amazing dads. If you are still looking for a great gift, why not take a chance on some beer?! Stop in and we will do what we can to help you find the perfect beer to make his weekend the best ever.
This week, I had a chance to catch up with some friends at Wall Lake and take in the nice weather we had with a few great beers. One that I had was from Homestead Brewery called Walnut Caramel Apple Sour. The caramel is more distinct then you would expect, with the apple coming in nice to mellow out the sweet. Another one I had at the lake was the Rhuby Rhubarb Sour from Mankato Brewery. If you like your rhubarb this is your beer as stated in its title it tastes like….RHUBARB. And finally, Surly Grapefruit Supreme to end the night. It was perfect to end the night because it is super light but has a great forward grapefruit flavor that is crisp and goes down smooth. Just want to do a shout out real quick, HAPPY FATHER'S DAY BRIAN!! Also, make sure to check the tap list because we put five new beers on yesterday and they are all pretty tasty!
Something I have been looking forward to for a long time is finally happening…Covert Artisan Ales is opening their downtown location, Covert Cellars, tomorrow. I was lucky enough to get a sneak peak at the place, which is gorgeous, and even better that they released four new beers. I thought all four were fantastic, with the main standouts for me being the Pillow Fort: Fort Coffee Cake Stout along with Petulance, a barrel aged tripel with cherries. I highly recommend everyone to stop in for a pour or two and see what you think of the new place and find something your taste buds enjoy. Last weekend I ventured up around Willmar, MN for a small birthday party, which started off with a small road trip across the Wisconsin border. Being in Wisconsin meant I was obligated to buy some New Glarus, so I picked up a four pack of Raspberry Tart. This beer is one of my favorites from them that I can't turn down when I come across it. Before heading back to Sioux Falls I made a slight detour to visit my younger brother and his wife. The main downside of COVID-19 for me, has been that they were blessed with a baby boy in February and I haven't been able to visit as much as I'd like to. I took this chance to stop and see them spend some quality time with baby Cal. After firing up the grill for lunch, we enjoyed a 2017 CBS while catching up and enjoying the great weather. I'm definitely looking forward to things getting more back to normal so I can make that a regular occurrence. In closing I'd like to wish all the dads out there a very Happy Father's Day.
Hopefully all you dad's get a chance to enjoy your day before getting back to mowing the lawn and tending the grill with your green-stained New Balances.
Cheers and Beers,
Joe and Josh
Not too many new things in the beer cooler but again, check out our tap list for the new beers!!
 https://jjswine.com/247-2/