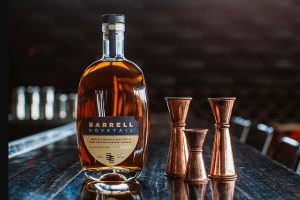 Happy Whisk(e)y Wednesday everyone. Last week was an exciting one with several new whiskies hitting the shelves, and more to come this week. Our newest single barrel from 1792 arrived, and we are now using it in the 3.0 Cocktail Bar to make our house Old Fashioned. Stefanie Bair is joining us this week for our featured flight of Barrell whiskies. I took a quick road trip to Kansas City to see my parents for Father's Day. I'll fill you in below on the goodies I found when I was down there.
Featured Flight
Last week's featured flight with Cameron Millar from The Macallan was a huge success. We had almost 70 of you tune in as we tasted through 4 spectacular offerings, and we learned the process behind Scotch distillation. I think this week will be equally as entertaining as we have Stefanie Bair, Brand Development Manager for Barrell Spirits joining us to taste through four whiskies and one rum that has recently been released into the South Dakota market. The whiskies in our flight will be Barrell Bourbon Batch 24, Barrell Rye Batch 3, Barrell Whiskey Batch 5, Barrell Dovetail, and the rum will be Barrell Rum B802 all for $26.50.
Much like High West, Barrell Bourbon has focused on creating outstanding whiskies by blending rather than distilling themselves. Each batch is truly unique, as none are ever repeated, and barrels used are sourced from all over the country. With their Infinity Barrel project, whiskies from 8 different states are combined into one, creating a drinking experience that can never be replicated, and is constantly evolving as new whiskey is added to the remnants of the previous batch. This week should be very educational, and quite tasty as Barrell Bourbon was selected as the "Best Bourbon of San Francisco World Spirits Competition." Pick up a kit to take home, or join us in the 3.0 Cocktail Bar at 6:00pm for the live presentation, with our weekly bottle draw at 6:45pm. You can purchase a flight online by visiting www.jjswine.com/store/events.
Bottle Raffle
We got a lot of great stuff last week, and we have more coming still this week. Our bottle raffle will have several goodies including Angel's Envy Rye, Booker's Granny's Batch, Knob Creek 15 Year, Weller Special Reserve, Eagle Rare, Old Forester 1910, Rebel Yell 10 Year, and WhistlePig 18 Year Double Malt. You can get a ticket entered into the raffle by stopping into the store or by emailing me at zac@jjswine.com. You can get an additional 3 tickets if you purchase this week's featured flight.
Whiskey With Z
I took a trip to see my parents in their new house in a suburb of Kansas City this past week. It's been a tradition that for Father's Day we have always met in Omaha for a College World Series game and dinner, but with it being cancelled this year due to COVID-19, we had to adjust our plans. My sister is home from Oregon after completing her second year as a Sports Information Director for Oregon State University, so the whole family was around for about 20 hours. It was a quick trip, but it was very lucrative. I took my parents the Jack Daniel's barrel that Kenadi and I had chosen back in March of 2019 so that my mom could start on a project she has in mind for our wedding, and in return, my dad gave me his push mower and snow blower. I think I ended up with the better end of the deal, but the real gift was getting to spend time with my family.
While I was down there, I of course had to make a few stops at local liquor stores to see what they had to offer that we can't get up here. I found a few bottles that got me really excited, so naturally I picked them up. The first bottle I found was Rowan's Creek, a bottle that I've been trying to track down since my first trip to Kentucky in September of 2018. It's more of a sentimental item as it reminds me of that first trip that I took. I opened it when we got back to Sioux Falls on Sunday night, and it was just as delicious as I remembered. I also stumbled upon an 8 Year Old Peg Leg Porker. I had tried this at Tom's for the company Christmas party and really enjoyed it so when I saw a bottle for under $55 I figured why not. The final bottle that I purchased was another bottle of Baker's Single Barrel. I've been thrilled with the current bottle that I had, but it's been so difficult to find another that when I saw it I just had to have it.
I had taken a bottle of our newest 1792 Store Pick Single Barrel and a bottle of Michter's Bourbon down with me so that I could leave it at my parents, so when I arrived and found that there was a bottle Booker's Granny's Batch and an Angel's Envy Rye waiting for me I was pretty ecstatic. My pour of choice for the evening was the Michter's, and oh my was I blown away. I've had the 10 Year Single Barrel before, but never just the regular bourbon. I enjoyed it on the rocks and was absolutely thrilled with it. For about $50, I think it's going to become a regular in my rotation.
This last week has been a great chance for me to reflect on life as of late. Getting to sit and chat with my parents was just the thing that I needed as Kenadi and I work through our plans for the wedding, being homeowners, how we are maturing professionally, and many more things associated with "grownup" life. I learned that my mom tunes into Whisk(e)y Wednesday every week just so she can see me on camera, as she mutes the sound. I wanted to be upset, but when I think about it, it's not much different than when she and my dad would come to watch me play football in high school and college. They couldn't ever hear what I was saying, but just seeing me do something I was passionate about was rewarding. We discussed politics and the landscape of our world right now. I shared with them some of the podcasts that I've been listening to, including Code Switch. Getting to sit with them and have these discussions took me back to the days in high school when we would stay up late after sporting events to talk as a family. I attribute a great deal of my personal growth and maturity to the fact that my parents prioritized these discussions with my sister and me when we were younger. They understood that our age didn't determine our ability to comprehend complex issues, and they pushed us to find creative solutions to the problems that we face. For that, I will forever be thankful.
New Whiskies
Several new whiskies hit the shelves last week. A few sold out within the first few hours they were out including Old Fitzgerald 9 Year Spring 2020 release, Belle Meade Sour Mash Bourbon, and Caribou Crossing, but we still have plenty of other fantastic options. Our 6th edition of 1792 Full Proof Single Barrel arrived and is now available, as well as a couple cases of Basil Hayden's 10 Year Rye. We also received Barrell Dovetail, Barrell Bourbon Batch 24, and Barrell Single Barrel 5134. We're hopeful that sometime this week Belle Mead Cask Strength will land and we will be able to offer that to you all soon.
JJ's Gives Back
We are continuing to revamp our charitable givings as a business, and are focusing this month on raising money for the Sioux Falls Fireworks show that will be happening on July 4th. For those that don't know, the JC's have decided not to host this years show in light of COVID-19, but that doesn't mean the show isn't going to happen. Instead, Sunny Digital will be hosting this year and is looking for donations to purchase enough fireworks for the show. We have boxes on the retail side and bar side that we will collect donations until July 3rd. For more information, check out www.siouxfallsfireworks.org. 
That's it for this week. Make sure to stop by and take advantage of 30% off the list price on all whiskies on Wednesday. If you like cigars, grab a stick from the humidor and enjoy it on our patio for 10% off anytime the 3.0 Cocktail Bar is open. Stay safe, stay smart, and stay enjoying the good stuff. Cheers!