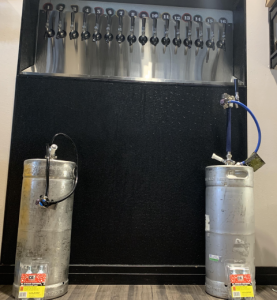 Hello guys, Josh here. Hope you all had a fun and memorable Father's Day Weekend spent with family, friends and hopefully some dads. Fourth of July is coming up, what better time to buy keg then our Independence Day. Didn't know we sold kegs? You've been missing out because we sure do. But there are some steps to follow first.
First

, you have to be or become a VIP Member with us. We just use this to keep track of who has our keg barrels.

Second

, go to our website, under the retail tab, in the beer tab, there is an option for kegs in stock.

Third

, if you aren't a VIP Member, don't see a beer you are interested in getting, or see something you like on our website, send an email to Zac at

zac@jjswine.com

and he will do what he can about the beer and get back to as soon as possible.

PLEASE INCLUDE: First Name, Last Name, and a phone number that you can easily be reached by on the email!
Just so you are aware, we have a few deposits you should know about. First there is a $50 barrel deposit for each keg you order. Second, if you need a tub to put your keg in with ice to keep cold, that is a $25 deposit. And finally there are the taps. Our taps are a $75 deposit. We also have two other options posted in the picture above. These two taps are available for rent and for purchase and don't worry we have a couple of them. The rental is a $50 deposit for either of the styles and a $25 non-refundable purchase of the two CO2 cartridges for the taps. If you are looking to purchase them they are both $100 and get two CO2 cartridges included for no cost. All deposits are refunded to you upon return of the equipment in the proper conditions. So come on in and get your gets and get ready for crazy awesome Fourth of July weekend. But now here is Joe with his beer adventures.
I got to celebrate Father's Day with lunch with my Dad back around home last Sunday. He enjoyed a couple Grain Belt Blues while I had some Keylightfuls, with some tasty barbecues and cowboy beans in between. Every day is a great time to enjoy a drink with your dad, not just the third Sunday in June. I'm definitely looking forward to sharing some more drinks with him soon while I'm raiding his sweet corn patch. I had to make an impromptu trip down to Sioux City on Tuesday, which of course meant a stop at Charlie's was in order. Among the goodies I picked was a 4-pack of last year's CBS. I believe the small allotment we got in town disappeared pretty much the same day, so if there is anyone that missed out and is looking for some I suggest you stop there next time you're nearby as they had quite a bit on the shelves. Founders has said they aren't going to brew this anymore going forward so maybe snag an extra 4-pack. While I have my doubts their season actually gets underway, I am excited MLB finally has a plan to resume play. I won't be making any trips to Target Field this year, but I sure hope to get a chance to cheer on the Twins from home with a beverage in hand!
Hope to see you all in the store soon asking about our kegs and some great beers! And keep your eyes and ears open for next week with new releases from Prairie Artisan, Drekker, and Brewing Projekt!
Cheers and Beers,
Joe and Josh
New Beer List:
Boulevard Cherry Lime Radler

Goose Island IPA Now

Kona Brewing Mai Time Wheat Ale

Lupulin West Coast Bias Double IPA

Prairie Artisan Rainbow Sherbet Sour Ale

Shiner Sea Salt and Lime