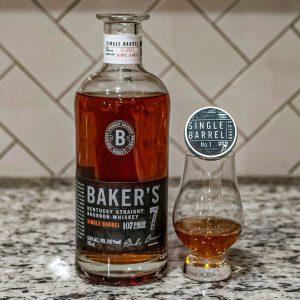 Happy Whisk(e)y Wednesday everyone! This week's featured flight highlights several new products from Jim Beam, and Adam Harris National Brand Ambassador for Beam Suntory will be joining us via Zoom to take us through the flight. Our latest single barrel from 1792 is moving quickly, and we have exciting news about the release event for our next 3 barrels arriving in July. This week's raffle has goodies form Angel's Envy, Old Forester, Henry McKenna, E.H. Taylor, and more. Check out below for all the details
Featured Flight
Last week was a big one for new items, especially those coming from Jim Beam Distillery. We saw the newest release from Basil Hayden's in the form of a 10 Year Old Rye, the first release of Booker's 2020 with Granny's Batch, and the new Knob Creek 15 Year Old hit the shelves as well. Because bottles of each were so limited, I figured the best way for everyone to get a chance to try them was to highlight them in this week's featured flight. As I was looking for a fourth pour to include, I noticed that the Baker's Single Barrel that I had put on the bar side a few weeks ago hadn't been cracked yet, so I decided to include that as well. To help us taste through, Adam Harris, National Sales Ambassador for Beam Suntory has graciously offered to join us for the evening. Tom and I are both really looking forward to getting him in front of you all to discuss the fantastic products we have lined up.
Bottle Raffle
This week's bottle raffle has a nice mix of bourbons and rye. Angel's Envy Rye is available again this week, as well as Knob Creek's Cask Strength Rye. For bourbons, we have Henry McKenna 10 Year Single Barrel, Old Forester 1910, E.H. Taylor Single Barrel, and Weller Special Reserve. We also have another bottle of Caribou Crossing this week for an allocated Canadian whisky.As always, you can enter by stopping into the store for 1 ticket, and you will get additional tickets for purchasing the featured flight. If you can't make it in but still want to be entered, send me an email at zac@jjswine.com and I'll make sure to get your name in there. Then join us on Facebook or Zoom for the raffle drawing at 6:45pm. No Blanton's you ask? Unfortunately not this week, but I have some great news below for those of you that like to tune in for the opportunity to snag a bottle of the highly coveted bourbon with a horse and jockey on top. 
Bridgeview Block Party
We received some awesome news at the end of last week about our next round of single barrels that Tom and I picked back in January. We've been anxiously awaiting the arrival of our Buffalo Trace, Eagle Rare, and Blanton's barrels, and our account handler Will informed us that they are bottled and ready to ship. We are expecting them to arrive the week of July 19th, and to celebrate we are going to host a series of mini parties with our neighbors in the next door building. That week will be the grand reopening of JJ's Axes and Ales, and this event will be a great way to kick off 4 days of celebration.
What's this party going to look like? Well, on Wednesday July 22nd we will have a once in a lifetime flight opportunity consisting of our newest Buffalo Trace, Eagle Rare, and Blanton's Store Pick Single Barrels, with special additions of the E.H. Taylor 18 Year Marriage Barrel and OFC 1994! Along with this flight, we will have package options to purchase bottles before the grand release on Friday, June 24. Those packages will be as follows: for $400 you will secure ONE bottle each of our store picks from Buffalo Trace, Eagle Rare, and Blanton's, as well as ½ oz pours of each of the whiskies listed above; for $550 you will secure TWO bottles each of our store pick from Buffalo Trace, Eagle Rare, and Blanton's as well as ½ oz pours of each of the whiskies listed above. Included in this price is also a ticket to the Blanton's release event that will be hosted on Friday, July 24, time to be determined. We are limiting the number of participants in this tasting to only 45, and payment must be made beforehand to guarantee your spot.
If you don't want to participate in the featured flight on Wednesday, but want to secure a bottle of our store pick Blanton's, you can purchase a ticket to the Blanton's release event being held on Friday for $100. Included in that ticket price is ONE bottle of store pick Blanton's, tasters of our other store pick single barrels in stock as well as some library store pick items that I've held in the back, and plenty of smoked meats courtesy of Tom and myself. At the end of the evening before you go home, you will have the exclusive opportunity to purchase up to an additional TWO bottles of Eagle Rare and Blanton's before it goes on sale to the general public on Saturday morning. When it goes out to the public on Saturday it will be a strict limit of ONE bottle per customer.
Visit the On Line tab of the JJ's website to buy tickets to both of these events. Reach out to me through email at zac@jjswine.com if you have any questions.
Whiskey With Z
This past week I've enjoyed a few pours, but as the wedding inches closer and closer I have realized that I need to get myself back into shape, so I am making a bit more of a concerted effort to drink less. I know, lame, but the pictures will last a lifetime and I want to make sure I look somewhat good. That hasn't stopped me from drinking entirely, and since I secured a second bottle of Baker's while I was visiting my parents, I have had no qualms about abusing the bottle that I already had open, so it's been my go to for a daily drinker.
I've also gotten into a fair amount of whiskey sours made with the newest store pick 1792 Full Proof that we have in. You might have seen a couple weeks ago when I was on Dakota News Now making this cocktail. It had been a couple of months since I had made one, so when I took a sip on camera I wasn't prepared for how good it was going to be. I was thankful that what I uttered wasn't picked up by the microphone as it definitely was not PG-13. Between a whiskey sour and a Lynchburg Lemonade it's tough for me to choose my favorite summer cocktail, but I can assure you that I will be enjoying some of both this weekend during my 4th of July festivities.
New Whiskies
A few highly allocated whiskies arrived just in time for Whisk(e)y Wednesday this week. Glenlivet Spectra is a 3 pack of 200ml bottles that are non-age stated and released without tasting notes to challenge the palate of all whisk(e)y drinkers. It is very much in line with the characteristics of Glenlivet's regular shelf items, but it creates a great opportunity for whisk(e)y drinkers to hone their nosing and tasting skills without biased information before consuming. Also new are two new expressions of Green Spot Irish Whiskey: Leoville Barton Bordeaux finished, and Chateau Montelena. Both of these expressions have been aged in ex-wine casks to add depth and character to an already rich and complex Irish whiskey.
JJ's Gives Back
Don't forget that this week is the final week to donate to the Sioux Falls Fireworks Fund. The JC's made the difficult decision not to host the Sioux Falls fireworks show, but Sunny Digital picked up the hosting responsibilities so the show could go on. They are trying to raise $20,000 for this years show, and we have partnered with them to help make it happen. Check out www.siouxfallsfireworks.org for more details.
That's it for this week. We hope to see you before the 4th, but if we don't, have a safe and happy holiday weekend. Cheers!