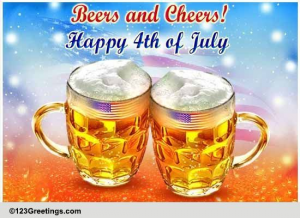 Happy Fourth of July everyone! We hope you are all ready for some grilling, some fireworks, and most importantly, beer drinking! Because what would Fourth of July be without a good beer? And Joe and I got the stuff for you!
Sunday morning got off to an early start as a small crew of us from the store and bar ventured down to Yankton to visit Ben's Brewing. WE got to participate in a new beer that is going to spend some time in one of the stores pick single barrels. We were also lucky enough to get a sneak-peak at an upcoming release from them, a strawberry rhubarb sour that I highly recommend everyone checks out once it is released. Once done with our collab and tour, we headed back upstairs to enjoy some fresh taps. My favorite was the Cold Brew Coffee Blonde. A giant thanks to Ben and his crew for showing us a fantastic time. I will definitely need to plan a return trip down in the near future!
It was a great trip and one Joe and I would like to take more time to do together. Right after this trip, Joe and I went to Covert Cellars downtown for a few of their brews. The first one I MUST talk about was their Pillow Fort: Fort Coffee Cake Stout. It was absolutely amazing and the coolest part is that it is their first stout they have made. Another one I had was their Barrel Patterns #2. I did try it next to #1 but I personally liked the flavor and the palate feel this one gave me. It was aged in tequila barrels so the tequila was nice addition to the fact that it was beer. For my last one, I finished with their Simply Red Sour Red Ale. It was fruity but sour enough that it made you want more.
We hope you all have a safe and fun Fourth of July celebration with many great foods, with great company, and great beers. Also, we still have some Brewing Projekt and a couple of the IPA's from Drekker!
Cheers and Beers,
Joe and Josh
New Beer List:
Summit Triumphant Session IPA

West-O Seltzer Orange Mango

West-O Seltzer Orange Mango
New Tap Beer:
Lupulin CoHoperation- Southern Prohibition New England IPA

Severance Herbifiation Project #1 Blackberry Lemon Mint Kettle Sour

WoodGrain Nap Culture: Blood Orange Gose
Click here for the complete list of what's on tap – https://jjswine.com/247-2/