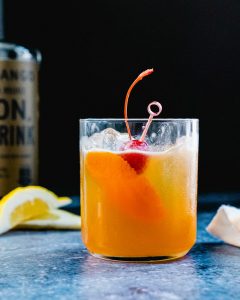 Happy Whisk(e)y Wednesday everyone. This week we're shifting our focus from flights to cocktails. I'll be back over on the bar side for a few hours because I've missed that face to face interaction time. Our weekly bottle raffle is going to be put on pause this week as we didn't receive any allocated whiskies last week. We have a special tasting event planned for the evenings of Wednesday, July 22, and Friday, July 24, that you won't want to miss. Kenadi and I had a quiet, but productive 4th of July weekend. Check out below for more details.
Cocktail Feature
I struggled to come up with what I wanted to do this week for a featured flight, and I couldn't get anyone lined up to appear on the Zoom feed as a special guest, so instead of focusing on a prepared flight we will instead shift our focus to a few of my favorite whisk(e)y cocktails. Typically, I enjoy my whisk(e)y neat or with a cube, but during the hot summer months I find myself indulging in a few refreshing chilled cocktails. I've also really missed the interactions that I get while I bartend, so this week I'll be jumping back behind the bar to whip some stuff up with all of you. We'll still have the live Zoom feed, it will just be a much shorter online session. You'll be able to stop in and pick up ingredients to make the drinks with me, or you can make some of your own with what you have at home. Each drink will be priced individually with ingredients packaged separately like our flights have been so you'll get the full experience of creating the drink from scratch. You can buy kits for one, two, or all three drinks with a discount applied if you purchase all three.
Our first drink will be a Manhattan made with Maker's Mark Private Select #2, Carpano Antica Sweet Vermouth, and Zucca Rabarbaro liqueur. This drink will be $10 for the kit and will require a glass that the ingredients can be stirred in with ice, as well as a fresh glass to strain it into to drink.
Our second drink will be our take on a Lynchburg Lemonade featuring Gentleman Jack, Magdalla Orange Liqueur, simple syrup, fresh lemon juice, and top with soda. This drink is meant to be built in the glass without the soda and stirred. If you would like, add some fresh fruit like strawberries or raspberries to give it an extra sweet kick. Once the drink is stirred, top with soda and enjoy. This kit will be $8.
Our third and final drink also happens to be my favorite. It is a Whiskey Sour made with 1792 Full Proof Single Barrel #6, Magdalla Orange Liqueur, simple syrup, fresh lemon juice, and an egg white. For this cocktail you will need a shaker and a fresh glass to dump into once chilled. If you don't have a shaker, a glass with a lid will work just fine. Combining all ingredients in the shaker with ice, you'll shake for 15-20 seconds or until the outside of the shaker is cold. Then you'll do what I refer to as a "dirty dump" into your fresh glass by simply pouring the ingredients out of the shaker without straining. For $7 you'll get everything you need to make this drink yourself at home.
If you would like all three drinks, you can pick up a kit to make everything for $20.
Bridgeview Block Party
On Wednesday, July 22, we are offering a once in a lifetime tasting opportunity as we open up our bottle of OFC 1994 to pour in a flight with E.H. Taylor 18 Year Marriage Barrel, and our newest single barrel releases from Buffalo Trace, Blanton's, and Eagle Rare. This tasting is being limited to 50 participants with two different ticket options available for you to purchase online or in store. The first option is $400 plus tax and includes the featured flight and ONE bottle each of our store picks from Buffalo Trace, Blanton's, and Eagle Rare. The second ticket option is $550 plus tax and includes the featured flight and TWO bottles each of our store pick single barrels of Buffalo Trace, Blanton's, and Eagle Rare. By purchasing either of these tickets you also secure your spot in our official Blanton's Release Event being held on Friday, July 24, in which we will be tasting through several of our library collection store pick single barrels, enjoying smoked meats, and having great conversations. This event will be the official release of our latest store pick Blanton's Single Barrel and will give you exclusive access to purchasing additional bottles before it goes on sale to the public on Saturday, July 25. For those just wishing to participate in the Blanton's release on Friday, July 24, tickets are available online or in store for $100 plus tax. We are limiting this event to 120 participants, and spots are filling up quickly.
For more info, check out our Facebook event https://www.facebook.com/events/3100904229952550/. If you have any questions about either of these events please email me at zac@jjswine.com and I would be glad to help you out.
For those looking for an opportunity to try some Scotch and Irish whiskies, join us on Saturday, July 25, at 4:00 p.m. for an imported whisk(e)y tasting following the Scottish Highland Games occurring in the field behind the 3.0 Cocktail Bar. South Dakota Highland Athletes is hosting the Backyard Games at Bridgeview Block Party beginning at 10:00, with such attractions as the caber toss, Scottish hammer throw, Braemar stone and the always popular weight over bar, live music, and a whisk(e)y tasting to follow. For more information, check out their Facebook event at https://www.facebook.com/events/1681246945366584/.
Bottle Raffle/New Whiskies
Unfortunately, we did not receive any allocated whiskies last week, so we'll have to put the weekly bottle raffle on pause. We did, however, receive a few new whiskies for the shelf including the Vatted Malt from Barrell Bourbon, as well as more of the Belle Mead Sour Mash Bourbon. We're still awaiting the arrival of the Belle Mead Barrel Strength and will update you as soon as that comes in.
Whiskey With Z
My 4th of July festivities were pretty subdued this year, as I worked in the morning, but Kenadi and I were able to head to Lennox in the afternoon for some great food and to watch their fireworks show. I enjoyed a pour of the 8 Year Old Peg Leg Porker that I picked up a couple weeks ago and a Drew Estate cigar from the Cigar's International collaboration project. I didn't drink anything else that night since I was driving us home, but I made up for it on Sunday. 
Kenadi and I have slowly been completing some small home improvement projects and Sunday's task was filling in the hole in the backyard from a tree that was removed before we moved in. It was very warm, and I underestimated the amount of time and work that I would need to invest to complete this project, so after a few hours of manual labor we treated ourselves to a nice dinner at Crave where I enjoyed a pour of their Private Selection Jack Daniel's Barrel Proof. After returning home, I had a couple whiskey sours made with Old Forester Signature 100 Proof before calling it a night. It was a pretty good day, and a great way to end a productive weekend.
That's it for this week. We'll have some exciting news to announce next week regarding the food menu in the 3.0 Cocktail Bar. Until then, stay safe, stay smart, and stay enjoying the good stuff. Cheers!