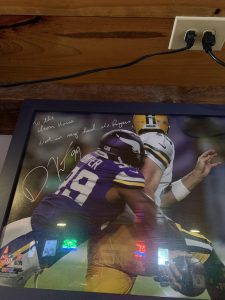 Greetings folks, and happy week following the Fourth of July. We hope that your livers are forgiving you after this celebratory time. I am currently in Iowa visiting my cousin and his wife! And trust me, there is going to be A TON of beer consumed this weekend. And I will gladly update you on all of them come next week. I am going to let Joe kind of take over this week! Stay tuned for my adventures coming next week.
After completing my write up last week, some great friends had a treat for us while we hung out on the deck at the cabin. A few weeks back I wrote about my trip to Forager Brewing for their NillerzzzzKillerzzzzz release. Well, Thursday afternoon they busted out a bottle of that to go along with a  bottle of Nillerzzz from this year's release. Both were absolutely stellar beers but I preferred the Nillerzzzzz by a hair. After some thicc stouts on a scorching afternoon, some lighter beers were in order. One of my all-time favorites, Starkeller Peach from the Noble Star series from Schells made an appearance. Being a bit over five years old, the peach has understandably faded a little, but this beer still held up fantastically well. Various crowlers from Junkyard and Forager followed as we all got a little too much sun while enjoying the 80+ degree water temps. While grabbing lunch at our favorite local spot that has a metric crap ton of sports memorabilia, I looked up next to me and got a chuckle from the photo. If you can't read it, it says "To the Iron Horse, Not in my house Mr. Rodgers." I don't think any more words are needed to describe the photo above takes care of that (YOU ARE WELCOME BARRY!)  The fishing this trip was a little slower than last trip, but that didn't stop me from enjoying some cans of Breakfast Budz from Brewing Projekt and AM from Blackstack. Hopefully everyone was able to secure the cans from Drekker and Brewing Projekt last week that they wanted. I know that I was not disappointed with the beers I picked up. Last week WoodGrain released this year's version of Night Work. I haven't had a chance to make it down to the taproom yet to try it but plan on doing so very soon. If this year's version is anything like the previous batches, we are all in for a big treat. Fingers crossed that Tom has a keg coming for us to enjoy in the 3.0 Cocktail Bar!
We just want to say thank you to everyone who takes the time to read up on these blogs. We hope you enjoy reading about our beer adventures as much as we enjoy telling you guys about them. This is week nine of our blog and we can't wait to see how many more weeks Tom lets us goof around on here! 
I didn't have a very good chance to check out the cooler for new beers but I know that we got in the new White Elm stash and I am sure it is going quite quick. We've also got a new Bourbon Barrel Aged Stout from Buffalo Ridge that was aged in one of our Buffalo Trace Store Pick Single Barrels that is new to this week's tap list. So get out to JJ's and ask our wonderful staff to check and see if there are still any available. I will let you know about the ones that I was lucky to snag before heading out today! Have a great weekend all!
Cheers and Beers,
Joe and Josh