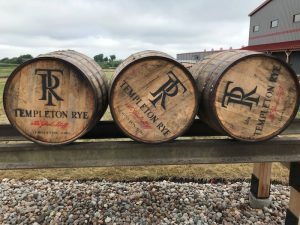 Happy Whisk(e)y Wednesday everyone. This week is going to be short and to the point. Templeton Rye is our focus flight tonight. Our bottle draw will have to wait one more week as we wait on our distributors to get in some good stuff. I experimented with a flight of my own at home the other night, and Kenadi and I (mostly Kenadi) completed another home project to make the place feel more like our own. Check out below for all the details.
Featured Flight
We're getting back to flights this week with a feature on Templeton Rye. For those that I haven't shared this with, I grew up about 20 miles away from Templeton in the town of Denison, Iowa. It wasn't until Easter of 2019 that I realized how close I had been. I must have driven by the turn to Templeton a thousand times on my way to sporting events and to go see family in Illinois. Oh, how crazy it is that I was so close to my passion while growing up, but yet so far away. 
As promised, I'm keeping it short, so without delay I present this week's feature flight of Templeton Rye 4 Year, Templeton Rye 6 Year, Templeton Rye Cask Strength 2019, and Templeton Rye Cask Strength 2020. The cool thing about Templeton's Cask Strength releases is that they vary slightly from year to year, so tasting these two different releases side by side should be a fun little experience. This week's flight is only $12.50 and will only be broadcast on Facebook Live. Since we don't have a bottle draw, I'm keeping it simple and only going to try broadcasting on one platform since I'm not super tech savvy and couldn't get the broadcast working last week.
Every other whisk(e)y flight is half priced, and with Axes and Ales opened up, tomorrow would be a great day to throw some axes and then join us in the 3.0 Cocktail Bar for flight of your favorite pours, or try something new.
Bridgeview Block Party
Next week, we have several great whisk(e)y tastings beginning with our OFC tasting on Wednesday. Tickets for this event are sold out for the bottle packages, but if you'd like to join us and fill a flight of your own with the OFC, you're certainly welcome. On Friday, we will be holding our annual Blanton's Store Pick Single Barrel Release Party on the patio with smoked meats, live music, and tastings of several of our library Store Pick Single Barrels. The tickets for the Blanton's bottles are sold out, but we still have tickets for the tasting available for $15 that will include tastings of our Store Pick Single Barrels and food. If bourbon isn't your thing, join us on Saturday afternoon for an Irish and Scotch whisk(e)y tasting following the Scottish Highland games that are going from 10:00 a.m. to 4:00 p.m. We'll have bagpipes and plenty of beer as Ben's Brewing will be joining us to keep everyone hydrated, and after the weight over bar throw, stick around as we taste through about 20 different whiskies from across the pond. Make sure to check out the Facebook Event at https://www.facebook.com/events/1681246945366584/ for all the details about the timeline for our block party.
Whiskey With Z
It's been an eventful 7 days for Kenadi and I. We finished a project on a closet upstairs that turned it from an old, outdated, waste of space into a creative and usable space that has the personal touch that Kenadi and I enjoy. I have to give the majority of the credit to Kenadi as she did most of the work, I just tore out the old boards and filled in the holes from the nails. She did all the painting and redecorating, and she did a fabulous job. 
On Saturday, we found ourselves at a friends house to help put a basketball hoop back up, and afterwards enjoyed a couple drinks and some great conversation. I brought my bottle of Heaven Hill Bottled in Bond which was a new bourbon for Terry, and in return he shared his bottle of Blade and Bow which was new to me. It was a great night that was capped off with a fireworks show from some of the neighbors to the south.
After revisiting the Heaven Hill BiB, I was inspired to create a flight with some other Heaven Hill products. A few months ago I got a bottle of Henry McKenna 80 proof (not the 10 Year Single Barrel that is so heavily coveted), and have enjoyed my drinking experiences with it. It's not overly complex, but it is flavorful and a great little sipper for nights that you aren't feeling like getting too wild. I paired that with Heaven Hill BiB, Larceny Barrel Proof A120, and Elijah Craig Barrel Proof B519. I worked my way up in proof with sips from each, before cycling back to the beginning and retasting each. If you're curious what my tasting notes on each were, stick around on the Facebook Live feed after the Templeton Rye tasting and I'd be glad to share.
That's it for this week. Next week is going to be a big one, and I'm looking forward to seeing lots of you for our kickass tasting events. Cheers!