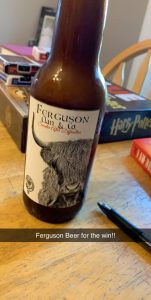 Hello all and welcome to the weekend! You made it! And to congratulate yourself, come in and buy beer. We have a full tap list as well as a freshly stocked beer cooler with loads of beer you could use for this weekend. Make sure to check out our tap list and come on in and buy a growler or come and sit in the 3.0 Cocktail Bar and have a couple with some friends. Now, sit back and relax and enjoy WEEK 10 of the beer blog with Joe and myself.
This past weekend I took some time to go and visit the goofball of a cousin, Nathan pictured with myself, and his wife, Gabby, in Delmar, Iowa. This picture is super old but it definitely describes our family bond and friendship that we have had ever since we were kids. He, like myself, loves a good beer. So our little group headed over to 7 Hills Brewery in Dubuque, Iowa. You may not have heard of it but if that is the case, now you do. They have some amazing beers on tap and some impeccable food. I think my all time favorite of theirs was their Mango Unchained Kettle Sour. I was a little nervous about it being a kettle sour, as they aren't my favorite, but it had a fantastic flavor of mango and it was perfect for the patio. When we were just hanging out, we were still drinking. I was lucky enough to have the new selection of the White Elm's newest releases, and my favorite was for sure the Fluffernutergus Peanut Butter Marshmallow Imperial Stout . If you have ever had their Fluffaluffagus, it is very similar except with a good helping of peanut butter. And to end the trip, when we were low on beer, we got to break out the homebrewed stuff that Nathan's dad brewed as well as Nathan himself brewed. I had everything including their IPA, Coconut IPA, Nitro Stout, and others. Nathan and his dad are definitely onto something with their beers and have the coolest label to go with it. I love visiting those two and can't wait for the next trip I take to see them. Love you, Nathan and Gabby!
Since Josh took a back seat last week and let me lead the blog, I figured I'd return the favor and let him shine this week.  It also worked out well for me as I definitely had a way less eventful past week compared to him.  Monday morning started with a surprise email from Toppling Goliath as I was picked for their Mornin' Delight release.  My batting average of their lotteries has been abysmal to say the least, so it was a pleasant surprise to get an email letting me know that I was a winner this round.  The highlight for me this past week however was last Friday when I went back to my hometown to celebrate my younger sister's 23rd birthday.  With everything going on Covid related we haven't been able to get together for many events.  Since my birthday came when everything started, they also surprised me with a DQ ice cream cake to celebrate mine as well.  I washed my cake down with a Spirit Foul while Anna enjoyed a Schell's Sangria.  To say it was a great time would be a vast understatement.
Now, we do have some super cool news here at the store. We have two beers on tap that we actually collaborated with the production of. The first is Buffalo Ridge Barrel-Aged Ungovernable Stout. It isn't a super heavy stout which makes it right for this time of year when you want to enjoy a stout in the heat. The second beer is Ben's Barry Brown Ale. This is the beer that we had mentioned in our beer blog about visiting! It has a lot of espresso flavor as well as red pepper. There will be another version of this beer that will be available in a few months, it is currently resting in one of our Blanton's barrels. So keep your eyes peeled for when this becomes available.
New Beers in the Cooler
Central Waters Key Lime Gose

Dragon Milk White Bourbon Barrel-Aged White Stout

Lupulin 8 Count IPA

Lupulin Fruitsmack IPA

Lupulin Cacao, Coconut and Vanilla Imperial Stout

Shiner Oktoberfest

Toppling Goliath Fire Skulls and Money IPA

Toppling Goliath Double Dry Hop Light Speed Pale Ale
New Beers on Tap
Ben's Brewing Barry's Brown Ale

Ben's Pineapple Heat Cream Ale

Buffalo Ridge Barrel-Aged Ungovernable Stout

WoodGrain Snobbery IPA
If there are any Untappd users, you can look us up on there and keep track of our changing taps. 
Have a great weekend and we hope to see you guys in the cooler!
Cheers and Beers
Josh and Joe