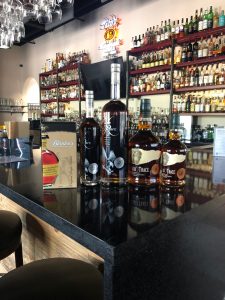 Happy Whisk(e)y Wednesday everyone. The big week has finally arrived! Our OFC 1994 is being cracked open this Wednesday, and we're making a slight change to the original plan and pouring E.H. Taylor Four Grain as the 18 Year Marriage Barrel will not arrive in time. We're releasing three new Store Pick Single Barrels this week, and celebrating with an event fit for kings. You're going to want to read below for all the details.
Featured Flight
This week's featured flight section is going to be pretty straight forward. If you purchased a kit for the OFC tasting, you can stop in on Tuesday or Wednesday to pick up the kit if you wish to participate at home, or join us live in the 3.0 Cocktail Bar on Wednesday, July 22, at 6:00pm. Tom and I will be experiencing this tasting with you which includes the OFC 1994, E.H. Taylor Four Grain, and the latest Buffalo Trace, Blanton's, and Eagle Rare Store Pick Single Barrels. You'll also receive your bottles of the Store Picks at that time. If you want to purchase additional bottles of the Store Picks you will have to come back to our event on Friday as we will not be selling any additional bottles on Wednesday.
For those of you that did not purchase a featured flight, don't be deterred from coming out. We will still have our half-priced flights for the entire night, and you'll have the freedom to build your own custom flight. If you'd fancy to try the OFC and Taylor Four Grain, you can include those in your private flight with 2 additional picks of your choice. We still have some of the Double Eagle Very Rare that we poured at this event last year, so if you'd like to venture into something exquisite, try the Double Eagle Very Rare, OFC 1994, Taylor 18 Year Marriage Barrel, and then any of the Buffalo Trace Antique Collection options that we have on the bar side as well.
We've hired a fantastic chef, and will have a few new food menu items for you to give a shot while you enjoy your flight. I highly recommend giving the Cubano a try. For those looking for something lighter, check out our salad options.
Blanton's Release Event
On Friday, July 24, we are hosting our annual Blanton's Release Event. Tickets for this event that include a bottle are sold out, but we still have tickets available for the tasting portion for $15. This $15 ticket gets you FOUR samples of our library collection of JJ's Store Pick Single Barrel Bourbons and Ryes as well as all the food that we are putting together for this event. If you purchased a ticket that includes a bottle of Blanton's you will receive unlimited samples of our library collection selections. Food provided will include pulled pork sandwiches, bacon wrapped BBQ meatballs, and beef brisket, and if we're lucky, Jean will be putting together some of her fantastic potato salad to accompany everything. Whiskies to be included in the tasting: 
Blanton's #2 picked March 2019
Buffalo Trace Aaron's 21rst Barrel picked September 2018
Buffalo Trace "Have You Met Brad" picked September 2019
Elijah Craig #2 picked September 2019
Elijah Craig #3 picked January 2019
Four Roses #3 OBSV picked March 2019
Four Roses #4 OESQ picked March 2020
Jack Daniel's Barrel Proof Single Barrel #2 picked March 2019
Knob Creek Bourbon #13 picked March 2019
Knob Creek Bourbon #14 picked March 2019
Knob Creek Bourbon #15 picked September 2019*
Knob Creek Rye #1 picked March 2019
Knob Creek Rye #2 picked September 2019 *
Maker's Mark Private Select #1 picked March 2019
Maker's Mark Private Select #2 picked September 2019 *
Woodford Reserve Private Select CMZT picked November 2019 *
1792 Full Proof Single Barrel #5 picked September 2019
1792 Full Proof Single Barrel #6 picked January 2020 *
*Indicates whiskies still available for sale on the retail side.
This is going to be a kick ass event, and we look forward to hosting everyone for the evening. Food will be available from 6:00pm until 8:00pm and will be served by JJ's staff who will be wearing gloves and sanitizing the food station to create a safe, and comfortable eating experience. Whiskey samples will be available from 6:00pm until 9:00pm. Because of the scheduled turn out for the event, we will be limiting the number of additional Blanton's bottles to one more per ticket. I realize that we had initially stated that everyone could get two additional bottles, but our numbers just won't work out to allow it. We will have the other two single barrels available the night of the event, so you can pick up an Eagle Rare (limit one per ticket), and Buffalo Trace (no limit).
Live music will be out on the patio during the event, and we encourage everyone to consider bringing a lawn chair as we will be closing off the north parking lot to allow everyone to spread out and enjoy the evening. When you arrive for the tasting, make sure to check in with me. I'll be floating around on the patio with a clipboard in one hand, and a Glencairn in the other. Upon check in, you will receive a ticket that you will turn in to the retail staff at the end of the night to receive your prepurchased Blanton's bottle. You will also receive a Glencairn at check in which you will use for all sampling purposes. Please do not lose track of your glass. When you are ready to leave for the night, you'll stop by the front counter where you will turn in your ticket for your prepurchased bottle and you will be offered a second bottle to purchase for $64.99. You can turn that offer down, but your name will be highlighted on the sheet and you will no longer be able to purchase another bottle if you change your mind.
If you have any questions, don't hesitate to email me at zac@jjswine.com.
Scottish Highland Games and Whisk(e)y Tasting
Our whisk(e)y tasting fun doesn't end with our event on Friday. On Saturday, July 25th, we have the Scottish Highland Games from 10:00am-4:00pm, capping it off with an Irish and Scottish Whisk(e)y tasting for $20. We're going to have roughly 20 whiskies out to sample, as well as live music, including an authentic bagpipes group that will lead us into our caber toss and weight over bar throw. Sioux Empire Pit Rescue will be here from 1:00pm-3:00pm with 4 of their Adopt-a-Bulls as well, and they would love to talk to you about what they do as an organization and how you can help support them. They're a group that is very near and dear to my heart as my pittie, Sampson, is an adopted pitbull that has brought incredible amounts of joy to mine and Kenadi's lives.
Bottle Raffle
We're bringing the bottle raffle back this week, but the selection of items is very limited. We don't have many items, but what we do have is some great stuff. Bottles available this week include Michter's Sour Mash, Old Forester 1910, Weller Full Proof, Blanton's, and Old Fitzgerald 9 Year Spring Release from 2020. We will be broadcasting the live OFC tasting on Facebook Live, so you'll be able to enter the raffle and be drawn even if you aren't participating in the OFC tasting.
Whiskey With Z
Sunday was a busy day for me as I met up with Terry earlier in the day to finalize all the details for our food offering at Friday's event. We checked out Look's Marketplace as Terry hadn't been yet, and I had yet to eat there. I enjoyed a pour of their Dickel Private Barrel selection while enjoying a burger and fries. I found the whiskey to be full of banana bread notes and it reminded me of when my mom used to bake for us as my sister and I grew up. It was a tasty dram, and had I not had more to do later that day I probably would have had a second glass. Following lunch, Kenadi and I took the dogs for a walk out at Great Bear, before heading to Covert Artisan Ales to grab a beer with Joe.
Week's that I get new bottles for my home collection are my favorite weeks, and last week was no exception. I've read and heard a lot of really good things about Smoke Wagon Bourbon, so when I got a text from our General Manager at Axes and Ales, Dylan Baker, that he had found some in Denver, I had him snatch it up right away. I cracked it open on Sunday afternoon and enjoyed a pour with some smoked chicken wings. It was hot and caught me off guard for something that was only 100 proof. I didn't let a little bite deter me from enjoying it neat though. I still have yet to cycle back and try it with some ice, but I have a feeling it will open up and become a little more palatable.
That's it for this week. We've got a lot going on and I'm pretty ecstatic for our events and getting a chance to talk shop with other whisk(e)y enthusiasts. We can't wait to see you all. Cheers!