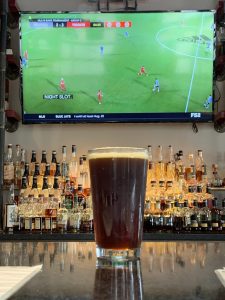 Hello everyone and happy July 24th! We hope you are all doing well and are making the smart responsible choices in order to keep everyone safe during COVID-19. This week we are going to keep things short and sweet! Have a great rest of the weekend and you will hear from us again next week!
New Beers!!
Alaskan Fireweed Blonde Ale 6 pack

Brau Brothers Raspberry Kettle Sour (Tap)

Lupulin S&M IPA (in cans and on tap)

WoodGrain You Look Like Helles Lager (Tap)

Fair State Crankin' Foamers

Fair State Double Universe (Limited Supply)
Josh's Week
This week I didn't spend a whole lot of time in my beer cooler. Instead, I spent a lot of it tasting and enjoying the beers off of our tap list. So at the moment I kind of have a few favorites that I have been consistently going back to. My first choice has been the Lupulin Operation CoHoperation: Southern Prohibition New England IPA. Sticking to a fairly standard style of New England kind of IPA, the aroma and flavor of an IPA while avoiding the bitterness. It is a lactose IPA so it has a sort of creaminess to it that I do enjoy and is followed behind with a bunch of tangerine and mango. Another favorite of mine is Severance DB Cooper's Big Jump IPA. If you are looking for a beer to get you started into IPA this is the one to try as it isn't too hoppy or bitter that it is a great start to get your taste buds rolling. And finally when you are looking for something a little fruitier and with a little acidity to it, the Ben's Strawberry Rhubarb Sour is the beer for you. Sitting at 5% ABV, this is perfect for a hot summer day to quench your thirst. 
Joe's Week
Last Friday was a day full of barleywine for me, which can be quite a dangerous proposition sometimes.  I started off stopping by WoodGrain to try this year's version of Night Work, which was great as expected.  As I was enjoying that something on their menu caught my eye, a new barrel aged barleywine that was aged in a Weller barrel for 16 months.  This was an absolute stellar beer, bravo to the crew there!  Later that day I got together with a small group of friends that has been a long time coming. The company was incredible as always and the beers weren't too shabby either.  Highlights for me were two more barleywines, Big Sxxxy from 3 Sons Brewing along with Pillar of Beasts from 3 Floyds.
As some in the beer community might know, one of our own is dealing with some health troubles.  Tim Gjoraas has been a valued member of the Washington High School staff for over 20 years.  He has also spent the last 15 years or so serving up beers to us at Monks on Sundays.  To say he is a craft beer enthusiast would be quite an understatement.  There will be a fundraising event next Friday, July 31st, at Newday Church in Harrisburg located at 27365 472nd Street.  Bring something to drink, and maybe even a specialty/fun/interesting beer to leave for Tim to enjoy.  There should be some small snacks but feel free to bring more, along with a lawn chair.  A free-will offering will be available to make to the Tim Gjoraas F&ck That F&cking Cancer Fund.  Any help will be greatly appreciated!
Until Next Time…
We hope you guys come on down and check out the beer cooler as it has just been refilled with all your favorite beers. Or come on down and try the beers we have on tap. There are a few new ones that we are super excited to have you guys look into and try. Check out the list on our website! 
Cheers and Beers
Joe and Josh